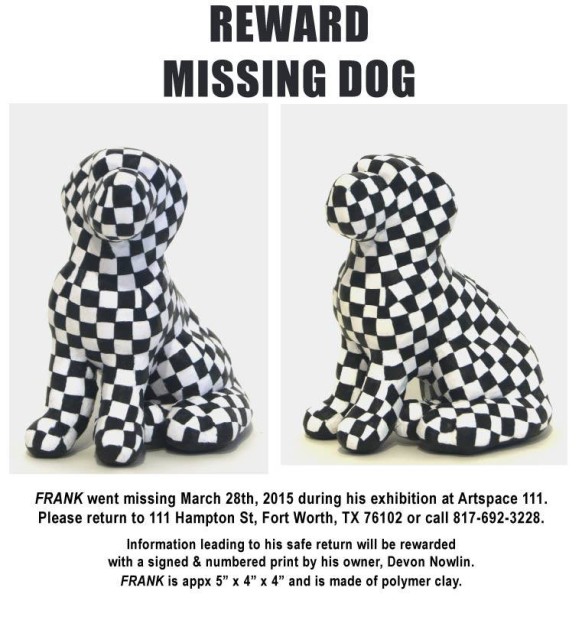 Fort Worth artist Devon Nowlin has posted a "REWARD/MISSING DOG" sign on social media requesting the return of (or information leading to the return of) a small artwork that was stolen off a pedestal last Saturday night at a gallery opening. Nancy Lamb's retrospective was the big draw that evening at Artspace 111 during Fort Worth's Spring Gallery Night. Several of the gallery's other artists had some works on show in the multi-room space as well, and Nowlin's small prototype sculpture, "Frank," was among them; he disappeared into the crowd right around closing time.
Frank is a small 3d-scanned figurine that Nowlin meticulously hand-customized thusly: "The checker pattern is made by 'caning' the polymer clay (like the swirl of a candy cane), then slicing the cane and applying the pattern to the figurine. That is then baked to harden the clay. This process takes FOREVER for such a small thing." She's been using the 5-inch-tall sculpture as a model for her current body of work. Nowlin, known for her virtuoso paintings and currently working toward her upcoming solo show at Artspace 111 in May, explained Frank's importance to Glasstire: "[The piece] didn't even have a price on it, because I made it to use as a model for paintings and didn't imagine that anyone would want it for the value that it means to me. I don't think that way about my other work… it's an anomaly in that way."
If you have any info, please refer to the contact info under the image above or send an email to: [email protected].