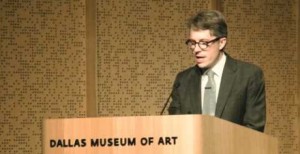 For every new art season, KERA and the Dallas Museum of Art pair up to bring us the State of the Arts conversation series, with one of the evenings dedicated to a discussion with local visual artists and/or people involved in the contemporary art scene.
It's hosted by KERA's Jeff Whittington at the DMA. The next installment takes place on September 11, and Whittington's guests are Devon Nowlin (Fort Worth artist and founding member of Homecoming!Committee), Arthur Peña (Dallas artist and founder of the recently retired Ware:Wolf:Haus, an alternative art space), and Darryl Ratcliff (Dallas community activist).
Whittington makes an affable host and the conversations tend to be lively and honest and usually revolve around—you guessed it—the state of the local art scene (though also about the individuals' work and processes). For more info about tickets, etc, please go here.
State of the Arts, KERA/DMA, September 11, 2014 at 7.p.m at the Dallas Museum of Art.