Glasstire counts down the top five art events in Texas.
For last week's picks, please go here.
1. Dan Jian: The Bow Whispers to the Arrow
Women & Their Work (Austin)
July 15 – September 7, 2023
From Women & Their Work:
"Dan Jian's drawings are meditations on the act of looking; her work reminds us that our stories are constantly evolving. In The Bow Whispers to the Arrow, motifs, scenes, and topographies flow ambiguously, leading the viewer to imagine a narrative of place both familiar and distant.
Jian constructs work mainly using dust. Charcoal dust and burned ashes are first mixed and fixed on translucent paper; the process allows the medium to form gravitational washes, similar to the effect of ink. Then, through an incremental process, she uses scissors, an Exacto knife, and glue to create introverted landscapes filled with imaginary narratives and symbols. The result is her interpretation of an inner world of images on the dusted ground."
2. Admit One
The DeLuxe Theater, organized by FLATS (Houston)
July 21, 6-11 p.m.
From FLATS:
"FLATS and Houston Cinema Arts Society proudly present our collaborative event, Admit One, where we invite you to journey back to the golden age of film. Mark your calendars for Friday, July 21st as we showcase the extraordinary works of Texas filmmakers, captured through the captivating lens of analog, at the historic DeLuxe Theater. The resurgence of celluloid in major motion pictures has reignited the magic, and we're here to honor the traditional formats that laid the foundation. "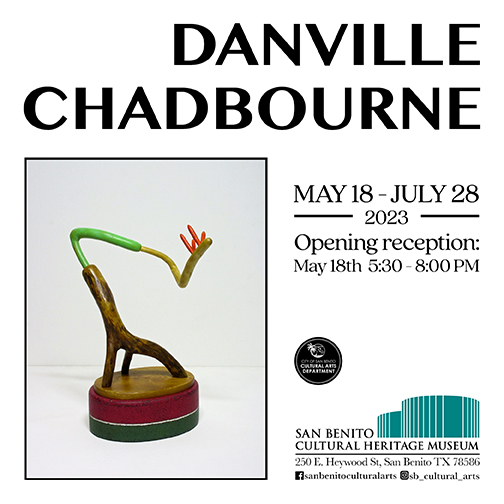 3. Danville Chadbourne 2023
San Benito Cultural Heritage Museum
May 18 – July 28, 2023
Read our review here.
From the San Benito Cultural Heritage Museum:
"The San Benito Cultural Arts Department continues to work with regional artists to bring quality programming to the City of San Benito and the surrounding areas. Recent Works by nationally renowned artist Danville Chadbourne is a colorful exhibition inspired by nature. It explores how the artist transforms organic materials, found objects and woodwork into poetic, and mesmerizing works of art. The exhibit bridges ecology and art, and is in dialogue with the Rio Grande Valley's biodiversity and natural resources. One of our continued missions for the San Benito Cultural Arts Department is to create a collaborative environment that promotes, encourages, and shares the narratives of our region. Danville Chadbourne's work adds to the conversation and inspires us to be more curious, and observant of the natural world around us – perhaps it will reveal aspects of ourselves."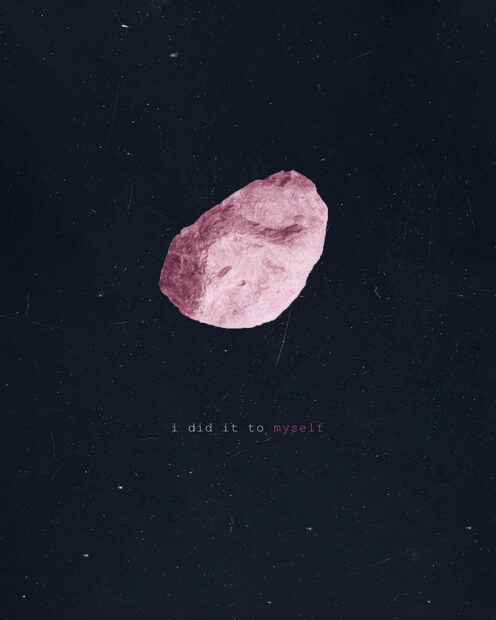 4. Mark Anthony Martinez: I did it to myself
January (San Antonio)
July 8 – August 4, 2023
From January:
"Artist Statement: I did it to myself, a solo exhibition, featuring new installation based work by Mark Anthony Martinez. The installation grapples with the idea of 'the end of the world' and how the concept has just become a casual conversation point online, works of fiction and geopolitical circles — most especially post-pandemic. It is a conversation most dramatically foregrounded by the unceasing 'doom scroll,' perniciously provided by algorithms across social media platforms. The work will employ the use of text, sculpture and original multimedia works to convey the tensions present within the artists day to day."
5. T.C. Oliver: Tough Shit
Plush Gallery (Dallas)
June 17 – July 22, 2023
From Plush Gallery:
"T.C. Oliver is a Denton-based educator and artist. With a firmly low-brow approach, he is as comfortable showing his work in off-beat and commercial, as well as gallery settings. He has illustrated for bands and businesses, vended at markets throughout DFW, and recently released a line of merchandise through Everything Ellum. His work fuses a love of vintage music iconographies, cartoons, and tattooing as a way of connecting his present creative output to his childhood interests. Oliver has participated in group shows in various spaces, including Plush Gallery and at the Texas Art Education Association Member Showcase.
For his first solo show, T.C. will show playful illustrative works made by cutting, carving, and painting ordinary construction grade wood. In this series, the artist explores his own identity through images which unite his adult interests with youthful experience. This premier solo exhibition builds upon the illustrative woodworking he has been showing locally over the past two years."
Also, closing at Plush Gallery this weekend: Lost / Found and Dwayne Carter: Greed