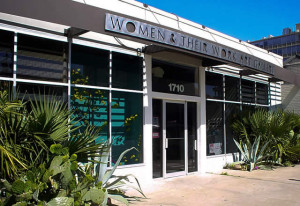 Long-running, acclaimed Austin non-profit Women & Their Work has sent out a reminder for its Call For Entries deadline: August 19 is the last day to apply for a solo show for the 2016-17 season. A solo show at their downtown building includes a curatorial advisor, a writer-commissioned essay about your show, and a 1700 square-foot exhibition space with movable walls (and AV equipment, too). There's an honorarium and you can sell your work out of the show.
Some of our favorite artists — at varying stages in their careers — have had solo shows there in recent years, including Sara Frantz, Danielle Georgiou, Leslie Wilkes, and Kelly O'Connor.
Here's what W&TW says about eligibility:
Women artists residing in Texas who have not had a solo exhibition at Women & Their Work within the past five years are eligible. Recently created work in all media will be considered. Artists must be able to exhibit their work by May, 2016. We strongly encourage artists to create new work for exhibition at Women & Their Work. We will choose artists to premier in 6-week solo exhibitions occurring between May 2016 and May 2017.
For more info, go here and here.