Glasstire counts down the top five art events in Texas.
For last week's picks, please go here.
1. The Range
12.26 Gallery (Dallas)
June 10 – July 29, 2023
From 12.26 Gallery:
"12.26 is pleased to present The Range, a group exhibition co-curated by Ari Myers (The Valley, Taos). This exhibitions examines the figure of the cowboy in contemporary culture and their place in the Western imagination. Participating artists include: Karla García, Andrea Joyce Heimer, Oscar yi Hou, Grace Kennison, Michael Lombardo, Dave Muller, Adrian Norvid, Caleb Hahne Quintana, Kenneth Tam, Janet Werner and Gray Wielebinski."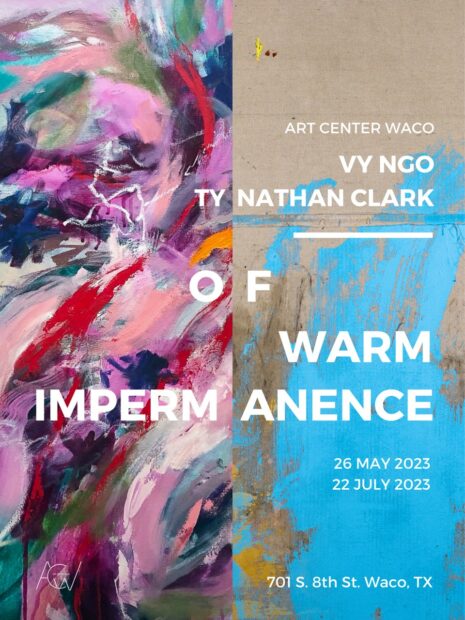 2. Ty Nathan Clark, Vy Ngo: Of Warm Impermanence
Art Center Waco
May 26 – July 22, 2023
From Art Center Waco:
"Through paintings, sculptures, and installation works, the exhibition explores complex and universal themes of trauma, heartache, healing, and triumph, drawing from each artist's personal experiences. Both artists use many layers of various mediums, vibrant colors, and organic shapes to create pieces that are highly emotive and show the power of resilience and hope in the face of adversity and deep-seated scars. Long-time friends, Ngo and Clark found synchronicity in their creative process and played with memories, music, poetry, and human connection to inform their work."
3. Collecting the Future: Photography and Generative Art on the Blockchain
Assembly (Houston)
May 26 – July 22, 2023
Read our review here.
From Assembly and Art Blocks:
"Collecting the Future presents photography and generative artworks that speak to the historical trajectories of artists presenting and preserving their work through blockchain technology. Art Blocks and Assembly Curated are among the first platforms to embrace 'Web3' as a generative tool, a method of cultural preservation, and a new frontier of dissemination for artists. This exhibition highlights several of the boldest uses of technology to fuel digitally native artistic practices and embraces the fluidity of artistic presentation on screen, as prints, and as sculpture."
4. Michael Velliquette: The Direct Path
Contemporary at Blue Star (San Antonio)
July 7 – September 3, 2023
From Contemporary at Blue Star:
"Michael Velliquette: The Direct Path features an extraordinary display of intricate paper sculptures, making it the most comprehensive exhibition of these works to date. Velliquette's installations create intimate spaces that invite viewers into these structural collages. Through layering, complexity, and vibrant colors, his works communicate a sense of ornate preciousness. However, their material and meditative creation process — meticulously measuring, cutting, composing, and gluing paper — reveal a delicate yet ordinary quality. This convergence of methods symbolizes transformation, showcasing unexpected metamorphoses of materials and offering moments of reflection to viewers as they visually enter these temple-like constructions."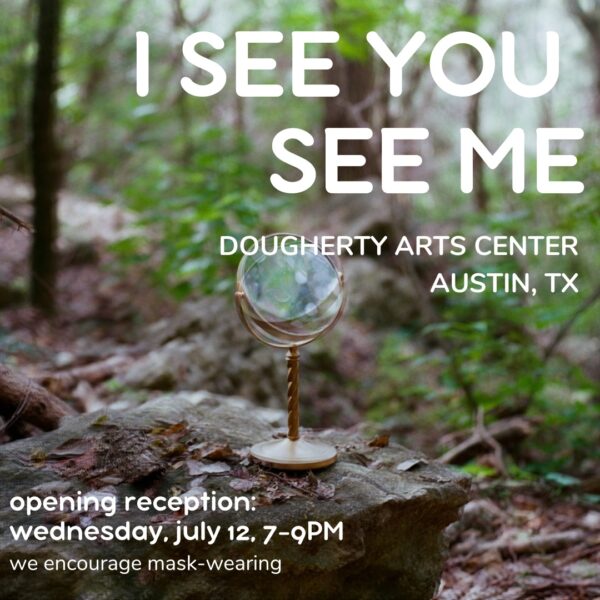 5. I See You See Me
Dougherty Arts Center (Austin)
July 8 – August 12, 2023
From the organizers:
"I See You See Me extends beyond the language, assumptions, or stereotypical ideologies about what queerness and disability are 'supposed' to look like. It acknowledges, welcomes, and affirms the many intersections, nuances, and multifaceted representations that comprise one's identity expressions, beginning with residents from Austin, Texas. Begin Collective's exhibit asserts that people who exist outside of Western society's hegemonic norms are valuable and have stories worth sharing."