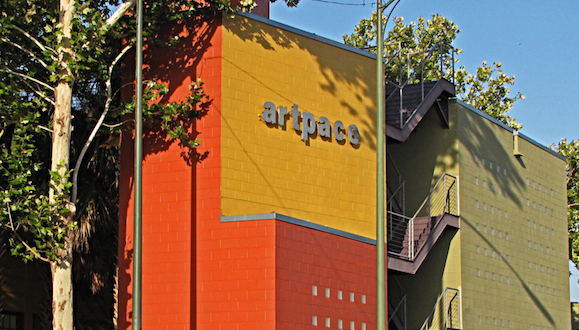 If you're a Texas-based artist interested in exhibiting at Artpace in San Antonio, we have important news for you: August 1st is the deadline for Artpace's Texas Open Call, the organization's "primary resource for identifying artists who are interested and eligible for participation in Artpace's various artist programs." This application is a catch-all for solo and group shows in the organization's various gallery spaces, and for the Texas artist in its triannual International Artist-in-Residence program.
Housed in an old Hudson automobile dealership, Artpace was founded by San Antonio patron, artist, and collector Linda Pace as a place for artists to experiment with new ideas. Since then, it has become known for its artist-in-residence program, with each round of the program featuring one international (non-U.S.) artist, one U.S.-based artist, and one Texas-based artist. Residencies happen three times a year for two-month periods, with each resident receiving a studio space, a furnished living space, a $6,000 stipend, and up to $10,000 for production of a project. You can read about past artist-in-residence shows below:
Fall 2017: Lili Reynaud-Dewar, Martha Wilson, and Heyd Fontenot
Spring 2017: Robert Hodge, Nicholas Frank, and Kate Newby
Summer 2016: Juan William Chavez, Andy Coolquitt, and Rachel Maclean
More information about the Texas Open Call is below. Applications are due by 11:59PM CST on August 1st.
Why Apply?
—Your portfolio will be reviewed by renowned international curators.
—Over 100 artists from our Texas Open Call receive studio visits with guest curators and Artpace staff each year.
—The Texas Open Call database is Artpace's central resource for programing residencies, exhibitions, programs, and more throughout the year.
Who is Eligible to Apply?
The Texas Open Call opportunity is available only to artists currently living and working in Texas. Texas must be the artist's primary residence for at least one year. Applicants from other states or countries will not be considered. Current students, Artpace staff, and members of the Board of Directors—as well as their spouses or domestic partners and immediate family—are not eligible to apply. While past Artpace artist residents are not eligible for future Artpace residencies, they may apply to Texas Open Call for Artpace's other artist programs: exhibitions, educational programs, and special events.
Payment
—$15 per application
—Application fees support the administrative costs associated with Texas Open Call
—No refunds
—Free for Artpace members