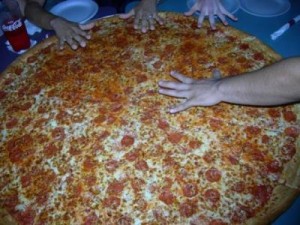 Along with symphonies, dance companies, and theater groups, visual arts projects in Texas got a share of the 863 National Endowment for the Arts Grants in various categories announced last week:
In Houston, The Contemporary Arts Museum Houston received $21,000 for the group exhibition Radical Presence: Black Performance in Contemporary Art, organized by CAMH Senior Curator Valerie Cassell Oliver. FotoFest got $30,000 for  FotoFest 2012. Project Row Houses got $40,000 for residencies in Houston's Third Ward. The Museum of Fine Arts, Houston's Glassel School gets $34,000 to support the Core Residency Program. As I reported Monday, Voices Breaking Boundaries got $20,000 to support their Living Room Art series.
The Lubbock Arts Alliance, got money for the Lubbock Arts Festival, specifically featuring an exhibit by crayon sculptor Herb Williams.
The McAllen International Museum received a grant for Running the Numbers, an exhibit of work by digital photographer and environmental artist Chris Jordan.
Artpace got $40,000 to support the International Artist-in-Residence program.
Ballroom Marfa got $25,000 to support two shows: Deluge, curated by Rachel Gugelberger and Reynard Loki, presenting artists who develop visual interpretations of digital information; and Carbon, curated by David Buckland, new site-specific work about climate change by artists Antony Gormley, Cynthia Hopkins, and Ackroyd and Harvey.
In Fort Worth, The Amon Carter Museum got $68,000 to support Color! an exhibition of American fine art color photography with accompanying catalogue.
The Austin Film Society got $20,000 to support the presentation of several curated film and video series.
The 863 grant awards total $22.5 million, encompass 15 artistic disciplines and fields, and support projects in 47 states, the District of Columbia, and Puerto Rico. In March 2011, the NEA received 1,686 eligible applications, of which 49% percent recieved funding.