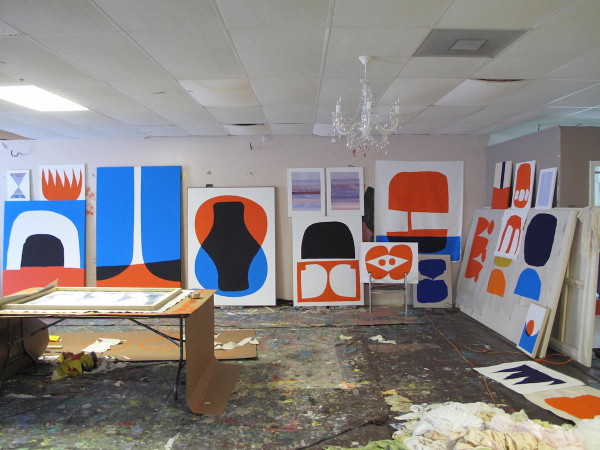 Paul Kremer invited me to Mark Flood's Party-Tyme studio on North Main St. last week to see some new paintings he was about to ship to New York. Flood was in Austin, filming a movie (what else!), and with typical generosity, had loaned Kremer his space, a former quinceañera reception hall and dress shop, to work in for a month.
Kremer is a graphic designer. His most well-known project, Great Art in Ugly Rooms, curates famous works into crummy apartments and laundromats via the magic of Photoshop. He's been working on making his art less virtual: this time last year he realized Great Art in Ugly Rooms as a show of digital prints on canvas at The Brandon in Houston. Now, under Flood's tutelage, he's getting his hands dirty: painting, and painting big.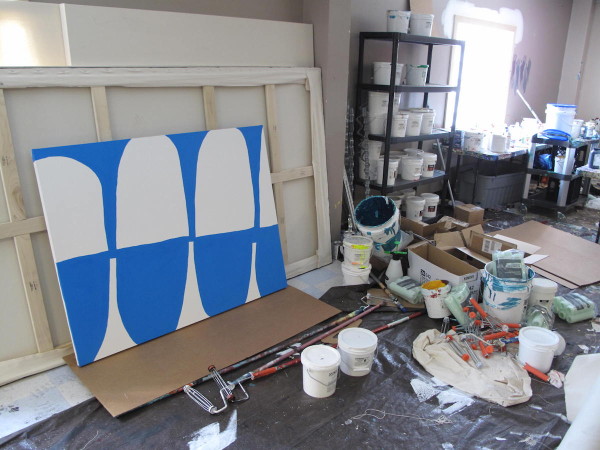 Kremer's new paintings are hand-painted with a workmanlike, unfussy neatness. No paint-flinging, scumbling, or canoodling. Bold and graphic (as befits a former web artist) the emaphasis is almost entirely on the image, not the manufacturing process.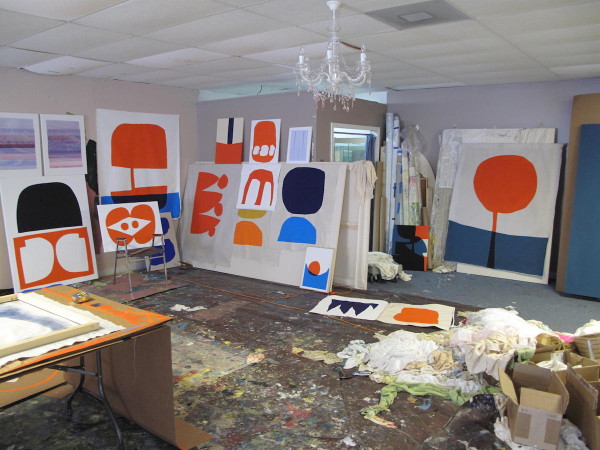 The images combine Swedish modern kitchen towels and a nostalgia for four-color process printing, heavy on unnaturally vivid tomato and cyan. Many create the illusion of overlapping shapes through Josef Albers-style color interactions, as if Kremer had pasted sheets of transparent colored film onto his canvases.
What was startling about Kremer's new work was its speed and breezy lack of introspection. In three weeks, with no sign of struggle, he had produced dozens of large-scale paintings, framed and ready to hang, and a suite of attendant works on paper. This was no mystic kiva or ego-boxing ring: it was simply a painting factory, a temporary workshop set up to produce a run of objects based on Kremer's designs.
Kremer is the latest Houston artist to suddenly develop an instant body of paintings for the New York market, following Flood's "if you paint it, they will come" career path: Chris Cascio's drug maps, and Lane Hagood's black snake paintings have all been shown at DJ/Curator Peter Makebish's gallery in the past year.
The ease of it is hard to swallow. In Flood and Kremer's world, art isn't hard: paintings are just big flat things you hang on the wall, and sell to rich people who don't look too hard. It's wonderfully freeing at the same time disheartening to us romantics who want every piece of art to be either treasure or trash, but it recognizes a basic, obvious truth we willfully ignore: there's a lot of room for OK.
Some of Paul Kremer's new paintings are on view at Zürcher Gallery, 33 Bleecker St. NYC, as part of Salon Zürcher, a "mini art fair that seeks to represent an emerging art world inside and outside of New York",  from March 2-8