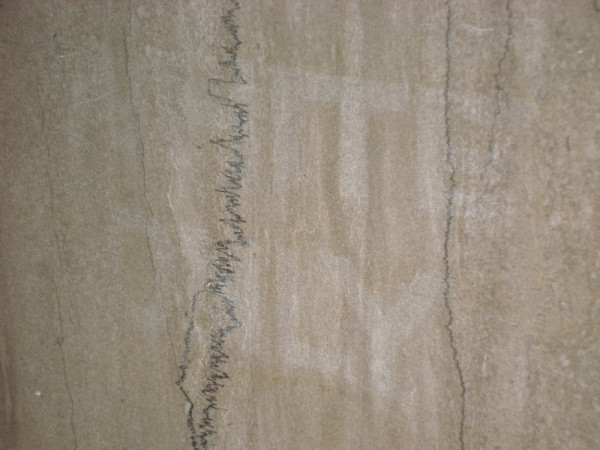 Last Thursday, I attended a dinner at the Nasher Sculpture Center that featured conversations around artist Lauren Woods sculpture/installation A Dallas Drinking Fountain Project at the Dallas County Records Building. Woods' work consists of a functioning water fountain underneath the remnants of a Jim Crow era "White Only" sign. The fountain plays a 45-second video of civil rights era footage whenever someone drinks. Woods talked about her work with curator Anna Smith, and then each table discussed themes in her work ranging from race to social practice over a family-style dinner.
After dinner, Smith asked some of the tables to share what they had talked about, and one group—led by Sara Mokuria, senior research associate at UTD's  Institute of Urban Policy Research—declared that they felt that the Dallas Arts District was a "White Only" sign. There was general head nodding and affirmation from the minorities in the room, and questions about "how can we fix this" from the older white participants.
Mokuria responded that it would take a radical reimagining of the arts district and wondered what would happen if a tenant like the Black Dance Theater received as much support and attention as the Winspear Opera House? Vicki Meek pointed to the makeup of the staffs of our area museums as a reason why the Arts District might have a metaphorical "White Only" sign. As is often the case, time ran out before any meaningful discussion of these points could be had.
However, the conversation did cause me to think about diversity in the contemporary art scene in Dallas, and I thought it might be helpful to try to add some facts to the dialogue.
One of the most valuable opportunities for an artist is the chance to exhibit a body of work in an established and reputable gallery space. I decided to look at the past 15 months of exhibition history of galleries that are part of The Contemporary Art Dealers of Dallas in order to see how diverse this prestigious group of galleries is when it comes to the artists they choose to exhibit.
The Contemporary Art Dealers of Dallas (CADD) is an invitation-only nonprofit membership group of thirteen of the leading galleries in Dallas: Circuit 12, Conduit, Craighead Green, Cris Worley, Cohn Drennan, Galleri Urbane, Holly Johnson, Kirk Hopper, Photos Do Not Bend, RO2 Art, Public Trust, Valley House and 500X. Part of their stated mission is "to be the means by which artists reach the public and collectors gains access to art."
I used the CADD website, individual gallery websites, Glasstire, artist websites, and Google Images as resources in assembling my analysis. I chose this group specifically because its activities are well documented.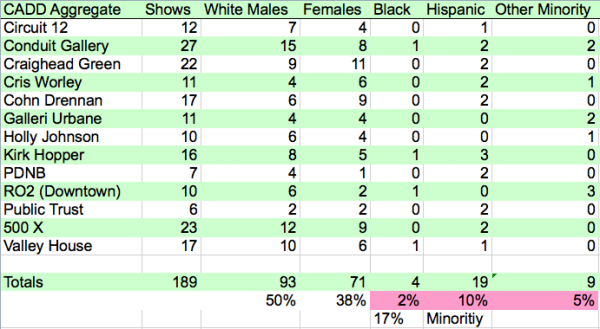 From January 2013 to March 2014, there were 189 opportunities for artists to show a body of work in a CADD gallery. For the purpose of this analysis, group shows are excluded from the data set. I had the pleasure of attending around 70% of these exhibitions. Out of the 189 shows, 93 of these opportunities were given to white males, 71 were given to women (regardless of race), 19 were given to Latino/Hispanics, 9 were given to other minorities, and 4 were given to people of African descent.
To put it in terms of percentages: 50% of shows went to white guys, 38% of shows went to females, and 15% went to racial minorities. Only 2% of shows during this time period went to black people. In terms of overall diversity, Conduit leads the way, with Kirk Hopper and RO2 a close second.
The good news: women fared better than I expected, especially when compared to representation percentages at museums. Although, the 38% number is either a glass half full or half empty depending on your perspective, it isn't abysmal. In fact, Craighead Green, Cris Worley, and Cohn Drennan all gave more of their solo shows to women than to men during this period.
It still isn't bad to be a white male artist in the Dallas contemporary art scene, though. Every other opportunity in the last fifteen months went to that group. It was, however, horrible to be a Hispanic artist, with only 10% of opportunities going to this group. Given the population percentages in our areas, this number is even more indefensible. And one has to look no further than the current Hecho En Dallas show at the Latino Cultural Center to see that the talent pool exists to do better.
Finally, it was abysmal to be a black artist in Dallas over the last fifteen months, with only four shows going to this group. For a city the size of Dallas, four shows out 188 is embarrassing. Without Conduit, Kirk Hopper, Valley House, and RO2, which each hosted one show by a black artist, it could have been even worse.
The U.S. Department of Housing and Urban Development recently concluded that Dallas' affordable housing practices violate civil rights laws. It is 2014 and Dallas is being accused by the federal government of segregation. As much as our creative community enjoys considering itself as progressive, the numbers suggest that we are more segregated than the city as a whole.
In CADD shows, it is definitely "White Only." Anyone who claims to value diversity should be embarrassed to be associated with an arts community that looks like this. It's not just CADD, whose public visibility makes statistics easy to compile; it's the entire contemporary arts community in Dallas. I will have some new numbers for you in a couple weeks. The great court philosopher Rasheed Wallace said it best: "Ball don't lie."
The Data