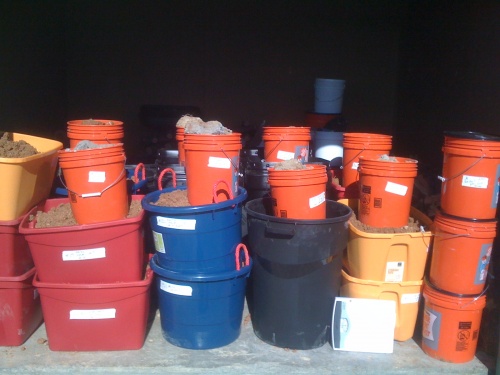 After studying and practicing architecture in the 80s and 90s, working in the clothing industry and studying business management, Adam Silverman couldn't ignore his deep leanings toward ceramics anymore, a hobby he'd practiced since high school. By 2002, it was time to go all in. Silverman threw off all of his other hats to become a full-time potter, establishing Atwater Ceramics in Los Angeles. Since then, he has become a partner in and studio director of the iconic California ceramics line Heath Ceramics. Silverman is also exhibiting his pottery internationally, including his highly acclaimed, large-scale installation Boolean Valley, which was on view at the Nasher Sculpture Center last spring.
When Silverman heard that the Kimbell Art Museum in Fort Worth had commissioned Renzo Piano to design an expansion to Louis Kahn's original architectural masterpiece, the architect/artist's creative wheels started turning. With Tadao Ando's Modern Art Museum of Fort Worth next door, here was a site where a triumvirate of modern masters formed a history-making architectural enclave. Silverman knew he wanted to make something from and about that collection of museums, so he contacted the deputy director of the Kimbell, Malcolm Warner, and pitched him the rather nebulous scheme of doing something—making art—from the excavation site at the Piano addition and from detritus surrounding the other two buildings by Kahn and Ando.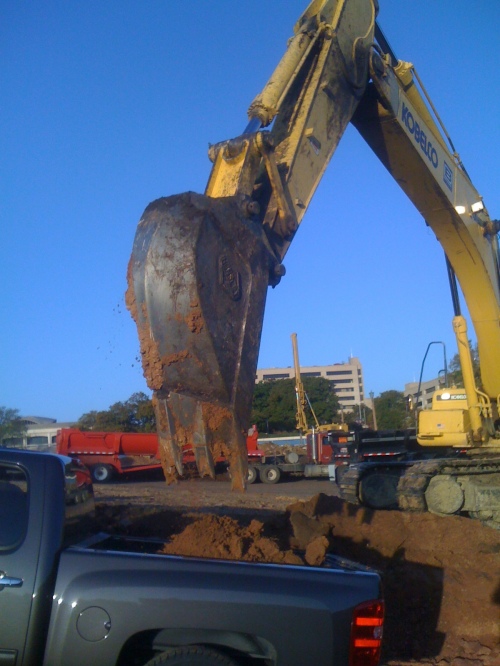 Silverman calls the project Reverse Archaeology and is cataloging it on a blog of the same name. As Silverman explains, "Reverse Archaeology proposes a cultural version of the country potter's practice—to harvest materials from a culturally significant site and imbue the work with that significance. Architecturally speaking, it is hard to imagine a more culturally significant and complicated place to try this idea out."
Since gaining access to the land near the museums late last year, Silverman has gathered truckloads of clay, roots and nature-bits, keeping some in storage units in Fort Worth and shipping some back to LA where he tests out the materials in the studio. He comes back to Fort Worth and visits the construction site for the last time in July to fill a 24-foot truck with about 10,000 pounds of materials, including building materials from the new Kimbell construction site and rust fragments from Richard Serra's massive sculpture Vortex at the Modern. Then Silverman will haul it all back to LA where the mud and detritus saturated with Fort Worth's iconic art and architecture sites will continue to take shape at his hands.
I chatted with Adam Silverman recently about his project—its genesis and where he hopes it will go.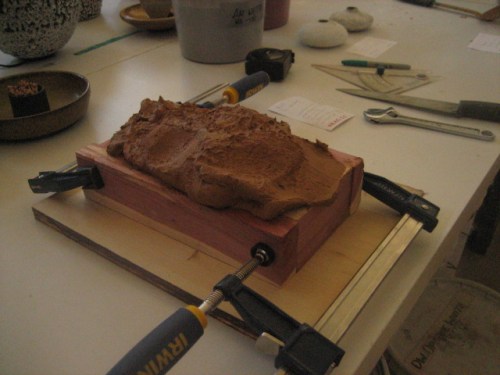 ……..
 Lucia Simek: First off, I'm wondering about when the idea for your Reverse Archeology project first came to mind? What was the trigger that set you off on this course of digging at the new Kimbell site in hopes of using what you found there toward some artistic end?
Adam Silverman: I have had the idea for awhile of trying to excavate materials from a culturally significant site, and then to try to imbue some meaning into the work that is relevant to or reflective of the culture surrounding the site. The Kimbell is significant in many ways, to the world at large and to me personally. Then the combination of Ando and Piano addressing Kahn and the Kimbell was like a perfect cultural storm for me. Once I got access to the geological report and saw that there was clay in the ground there, it started to really come together.
LS: Did you know much about Texas soil and its particular clay-ness before you embarked on this project?
AS: No, I had no idea. I had visited the Kimbell and spent a lot of time in Dallas while doing a project at the Nasher, but I had no idea about Texas clay or soil, or much about Texas for that matter. Spending so much time in Texas over the last two years has been great—getting to learn more about the place and meet so many great people. I have felt very warmly received there.
LS: How is the quality of the clay shaping your project? Do you find yourself ever at odds with the clay?
AS: At this point I am still testing different mixes of five different clays that I have from the site. Once I determine a final formula for the mix, if the clay wants to be wheel thrown, hand built, or slip cast in a mold, and what temperature it wants to be fired to, then that will ultimately have a large influence on the project. So far the clays are telling me about themselves. I'm not pushing very hard yet, just trying to listen and learn.
LS: You have a background in architecture yourself, and here you are with all this clay from these important architectural sites, so do you find yourself wanting to do something with the clay that is more architecturally-leaning, as in the bricks you've been making with it? Something more edifice than object?
AS: I have inclinations in both directions. The scale of the project is undetermined, and the research and clay testing will also influence that aspect. I think a project or an object can be equally powerful regardless of the scale. So yes, I am thinking about scale as it relates to this project, both large scale and intimately scaled. There may also be more than one project in this endeavor. For example, I hope to make something to celebrate the 40th anniversary of the Kahn building in October 2012, which may or may not be part of the larger project.
Regarding the brick specifically, I think that making bricks is something that I'm obliged to try, but that is also a fairly superficial reading of Kahn. A more true and respectful reading is to try to determine what this clay wants to be, which may or may not be a brick. And try to determine what I (as opposed to someone else) should make with this clay.
LS: You've spoken on your blog, "Reverse Archaeology," a good bit about that: Kahn's notion of a material's own desire—the shape stone, or wood, or clay seems to want to take by nature. So far, what has this clay from the site told you about itself—what does it like to do and not like to do?
AS: So far I have determined certain things about each of the five different clays I have from the site. But now I am trying to determine what blend of the clays makes the most hearty, resilient, flexible and strong clay body.
LS: Is working with this clay that has come, literally, from the roots beneath these buildings' ground (as well as some of those roots themselves) influencing how you approach your work with these materials?
AS: Well, I am much more respectful and protective of this clay than any other clay I have ever worked with. It is a finite amount of material. The hole in the ground is closed up, so what I have is all there will be.
LS: So are you finished gathering materials at the Kimbell site?
AS: I'm done in the excavation. I will be back in July to get some materials from the new building itself—some concrete, steel rebars, wood, etc.—so that both buildings, as well as the site, Ando and even Serra are all literally represented.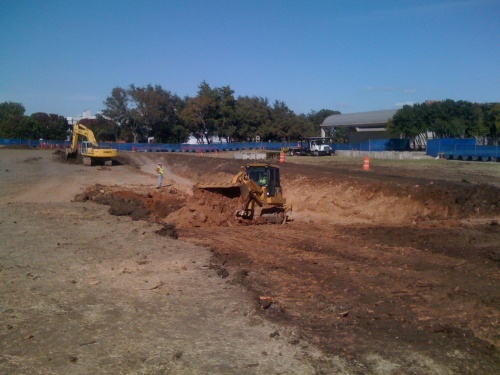 Lucia Simek is an artist and writer based in Dallas. She and her husband, Peter Simek, founded the much-loved, short-lived arts and culture site Renegade Bus in 2009. She has also written for THE Magazine and People Newspapers, and is currently a frequent contributer to D Magazine's arts blog, FrontRow. She also acts as the arts commentator for the kids blog Tiny Dallas.