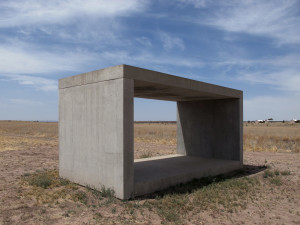 Just as Marfa's Stonehenge (artist Donald Judd's untitled, half-mile-long series of concrete boxes) beautifully frames and fractures light, landscape, and viewers' own meditations, so does the CineMarfa film festival with its own series of engaging rectangular projections each spring.
I wrote something about the setting, attendees, and general vibe of the CineMarfa 2013 fest here. But, of course, the cinematic experience is what really matters about this or any other film festival.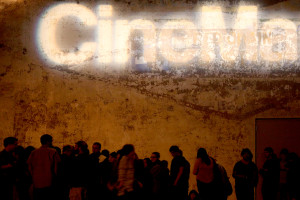 CineMarfa always includes a mix of historic discoveries and brand new contemporary works. The festival's programmers don't pay too much attention to categories, or explain much about their curatorial conceits. Rather, they set in motion a smart selection of stuff and let the experience unfold organically—a good thing in my book. This year's five-day festival included a number of different experimental takes on ethnographic filmmaking, and the loose theme of creative anthropology nudged viewers to create connections between seemingly disparate work. Inspired dialogue among festival-goers stemmed from the fascinating "conversations" between the films on screen.
The tone was set by the opening film, Street. The hour-long, extremely slow-motion document of movements and gestures along New York city streets was made by painter/filmmaker James Nares, and scored by musician Thurston Moore. Street (now on view at the Metropolitan Museum of Art) finds the choreography of a metropolis and brings to light the details, hidden moments, and fleeting interactions of people on the city's streaming sidewalks.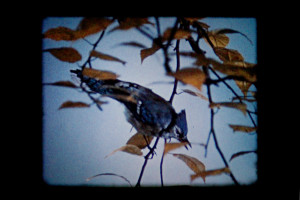 Older gems shown on 16mm film included the long-unseen explorations of filmmaker Hermann Schlenker made in the 1960s and 70s (CineMarfa hopes to be involved in the restoration of Schlenkler's work soon) and the 1982 film Reassemblage, a poetic and personal document of Senegalese village life by Trinh T. Minh-ha (under whom CineMarfa co-founder David Hollander studied at UC Berkeley). Even the festival's Sunday morning family program, "CineKids," featured a selection of interesting, 16mm ethnographic shorts, accompanied by complimentary cereal and juice boxes.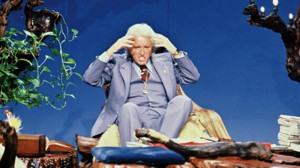 Director Werner Herzog has always been drawn to impossibly driven characters. CineMarfa screened his early God's Angry Man, a television documentary made in 1981, a year before he won the Best Director award for Fitzcarraldo at the Cannes Film Festival. The film (its original German title translates to "Faith and Currency") is about American TV preacher Gene Scott, whose angry tirades, goofy hats, and long periods of dead air staring into the camera until sufficient funds were raised for the church made for really strange viewing in the 70s and early 80s. I expected to laugh and gawk at footage of Scott's live on-air performances (which, by the way, top any performance art I've seen recently), but I was not expecting for the film to humanize him to the extent it does. In an interview with the monomaniac, Herzog interjects, as only the soft-spoken German filmmaker could, (do your best Herzog impression here) "You seem lonely." Scott agrees, and admits questioning his faith and fantasizing about leaving his constant obligations to find a beach somewhere where he can just read and do his own thing. You and me both, Gene.
One of my favorites of the festival was Leviathan, an unusual, new documentary set in a moving universe of life, death and work aboard a groundfish trawler in Atlantic waters. Directed by Lucien Castaing-Taylor and Véréna Paravel, and produced through Harvard's Sensory Ethnography Lab, Leviathan throws overboard the typical explanations, interviews, and analysis to convey the experience of commercial fishing through mostly close-up and moving views of sea and air creatures, the massive boat, and the fisherman doing their grueling, repetitive work over long hours. The film's unique imagery was shot handheld and with a number of small cameras positioned all over the ship and surrounding water. Long-held shots alternate between enchanting abstractions and stark realities, as does the fantastic sound design. It's a truly mesmerizing, immersive sensory experience. And, more than any other film in the festival, Leviathan brought connective dimension to the other films in the festival.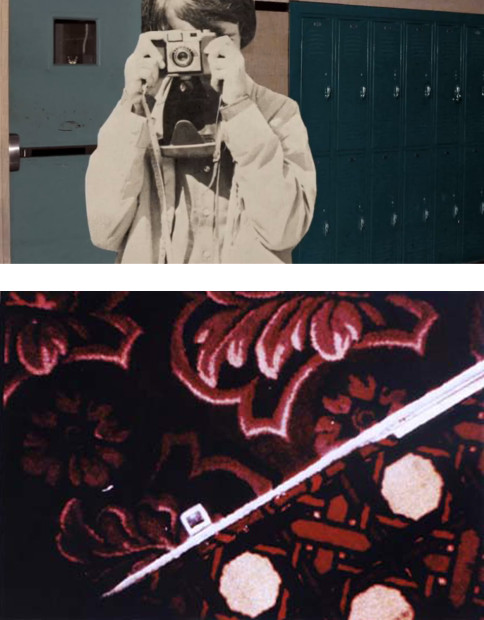 This context gave me unique perspective on even the smaller, personal and experimental films, such as Austin-based filmmaker Scott Stark's Hotel Cartograph—one moving shot mapping an endless succession of rug designs in a hotel's halls and elevators—and Kelly Sears' alternate-history horror film created from old high school yearbook photos, made while she was in residence at Houston's Core Program. (I'd previously seen Sears' Once It Started and liked it, but hadn't before considered it as ethnographic intervention.)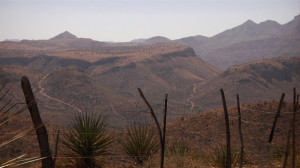 West Texas Cloud Appreciation Society, a Texas-paced, work-in-progress documentary essay by Marfa-based filmmaker Joseph Cashiola, provided glimpses of the area's diversity of characters and happenings—from ranching and cowboy poetry to punk rock house parties, UFO conventions, and art parades. The wilder life is brought down to earth with shots of the landscape and sky, and by scenes with folks like Marfa bar owner Ty Mitchell and Valentine, Texas artist Boyd Elder. This painted an intriguing portrait of the unique planet that is West Texas, and its screening being packed with enthusiastic locals reminded me that I was in the middle of it.
One of the festival favorites was a 30th anniversary screening of the great and too-rarely-screened documentary Seventeen. This was completed in 1983 as one part of the PBS six-film "Middletown" series, inspired by cultural anthropologists Robert and Helen Lynd's seminal study of life and culture in Muncie, Indiana in the 1920s. Seventeen, however, was never aired due to sponsor objection to its inclusion of profanity, alcohol and drug use, and interracial dating (though it later won the Grand Jury Prize at the Sundance Film Festival). The intimacy with which directors Joel DeMott and Jeff Kreines capture the lives of a group of high school seniors is astonishing, and the experience is, well, as exciting, weird, and excruciating as being a teenager. The film's time capsule elements (music, clothes, décor), its fluctuation between absolute boredom (Home Ec class) and shocking drama (racial tensions, teen pregnancy, the death of a friend), and the ease with which the kids speak frankly and openly consume beer and weed all make Seventeen surprisingly raw and riveting.
The brilliance of Seventeen's inclusion in the festival was not only the rarity of its celebration as a masterpiece of vérité filmmaking, but also its placement in the slot immediately before Spring Breakers, the widely-released, new movie about a group of teenage girls who turn to crime to fund their spring break vacation and end up getting in deeper than they'd planned.
Spring Breakers director Harmony Korine has had a cult following since writing the film Kids and his directorial debut, Gummo, in the late 90s. But because of his bizarre sensibility, most of his fans (myself included) never thought they'd see the day when he'd have a movie with big-name actors and wide theatrical distribution. And I'm guessing that CineMarfa's organizers couldn't have previously imagined that they'd ever be showing a popular, current film—not only unusual for the edgy festival, but also a first for the town (with no first-run theater, Marfa residents have to drive to Alpine to see new movies). But showing Spring Breakers actually made sense and worked surprisingly well. Korine's earlier work was previously featured at CineMarfa, and this year's festival—heavy in documentary work and with a focus on examining humanity—was perhaps the best possible context in which to see Spring Breakers. It helped that, in his introduction to the screening, Korine called it his "little pop poem." It helped that moments from Seventeen and a web of other film documents and cine-poems were swimming in the heads of the audience members, making the film's narrative motivations and poetic vignettes stand at least as strong as Franco and the girls' rabble-rousing. And it helped that I happened to be on my own spraaang road trip searching for new perspectives (though I promise I didn't resort to violence or DTF shorts.)
Thinking about it now, a consistency among the films, and of CineMarfa 2013 in general, was understatement. Literally. Many of the films, and the best on-screen moments from even the loudest, talkiest ones, had no spoken dialogue or specific explanations. Moving images, sounds, gestures, and moments revealed truths between and beyond words, leaving the relation and reflection to the audience.
STREET (2011):
LEVIATHAN (2013):
SEVENTEEN (1983):