I generally don't like movie remakes. I do, however, really love films made with a combination of personal passion, obsessive ambition, and extreme limitation. There is no better example of this than Raiders Of The Lost Ark: The Adaptation. I do not say lightly that seeing this kid-made, home video epic in a packed theater some years back was one of the most joyous cinematic experiences of my life. The upcoming, rare public screening of this on Friday, February 28 at the Museum of Fine Arts, Houston (co-presented by the Aurora Picture Show and with the now all-grown-up co-director and star Chris Strompolos in attendance) is not to be missed.
Not long after the original release of Raiders Of The Lost Ark in July of 1981, two enthusiastic, fantasy-prone 10 and 11-year-olds in Gulfport, Mississippi decided to remake this favorite, big-budget Hollywood action adventure epic in their own backyards. With no training and few resources, the kids had their work cut out for them. What they did have going for them was inspiration, naïve ambition, little-to-no supervision, a borrowed Betamax video camera, and, as it turns out, tenacious perseverance. Eric Zala, Chris Strompolos, a soon added third collaborator, Jayson Lamb, and a small army of other kids, spent the next SEVEN summers (most of the 80s and their childhoods from the 5th grade up through all of high school) creating the best fan film ever made.
This was before any home video release of the movie, so they sneaked an audio tape recorder into screenings to capture the dialogue and music and took copious notes on the photography. They studied those, along with the Raiders comic and picture books, and came up with a detailed plan. They recruited kids for the cast and crew. They built their own props and sets (the big boulder took several tries). They begged parents, neighbors and local businesses for the use of boats, trucks, locations. Every birthday and Christmas, the boys asked for props and costume pieces they needed. Allowances were spent on pet store snakes and videotapes. Eric's backyard stood in for the jungles of Peru. A garage was transformed into a Nepalese bar. A local dirt farm was the Sahara desert. With twenty kids dressed as Arabs and Nazis (and Chris' dog Snickers in tow to play the role of the monkey), they went to Biloxi to shoot the Cairo scenes.

The kids figured out, often the hard way, how to do their own stunts and special effects. Their only "adult" supervision was a slacker in his early-20s who was more than happy to help them hang off of moving vehicles and set stuff on fire. (Production was briefly halted by the kids' moms after they saw shocking footage of Eric engulfed in flames.) After seven long years, during which the kids grew up and two Indiana Jones sequels came and went, they premiered their homemade, feature-length remake of Raiders to an audience of friends, family, and locals, before going off to college and getting on with their adult lives.

If the pre-teen boys who'd concocted this crazy idea had no clue that the project would consume their entire childhoods, they really had no idea that it would resurface and become a cult favorite 15 years later. Raiders Of The Lost Ark: The Adaptation was shown at Austin's Alamo Drafthouse Cinema in 2003, and then at a handful of independent cinemas (including Houston's Aurora Picture Show). Spielberg sent the trio a personal letter praising their spirit and ingenuity. A story of the film's making was optioned, and there are plans for both a documentary and a feature film.
The real, hugely popular Raiders Of The Lost Ark was essentially a fantasy remake of the swashbuckling, adventure movie matinees that sparked the imaginations of George Lucas and Steven Spielberg when they were kids. It's made for boyhood fantasies, and the perfect movie for kids to disappear into. And whether big fans or not, all of us somehow know that movie inside and out. Iconic scenes and images, memorable lines, even little details are familiar enough for viewers of this remake to "sing along" with the struggled cinematic karaoke the entire time.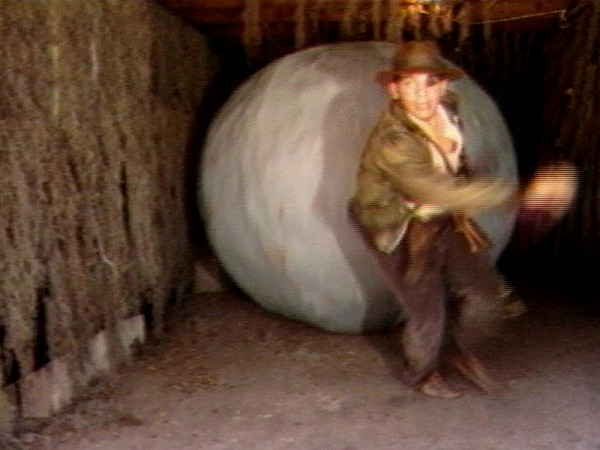 Total familiarity with the original movie allows viewers to easily and enthusiastically follow the plot and root for the hero, while simultaneously seeing, in contrast, that this is not at all a Hollywood movie but really a raw, personal document of children's lives. It is, after all, extensive footage of what these kids did in every waking moment of every summer for seven years—a video document not only focused on them and their fantasy world, but also meticulously and painstakingly created by and for them. It's weirdly the most sincere and autobiograhical of elaborate fictions.
The word "adaptation" in the title is a funny and perfect misstep, given that it was never their intention to veer from the original and make their own unique version. They always wanted to make as close to a shot-for-shot remake as they could pull off. But of course, the result most certainly is a unique adaptation—not just for its funky homemade qualities or the wonderfully awful, washed out colors and tracking lines of 1980s home video, but because of the kids themselves. It was filmed during the period when we adapt the most—ages 11-18. Since it was shot out of sequence over those years, the kid actors occasionally jump the puberty line from scene to scene—their voices, body shapes, and hairstyles changing in an instant, and then back again. Its structure—a familiar format of narrative consistency—contains and aligns the rougher edged, jumbled collage that is coming of age. One can't help but think about the lives beneath the story and between the shots, and marvel at what must have been a sort of filmmaking Lord Of The Flies situation in the backyards of Gulfport throughout the 80s.
A desperately adoring homage on the edge of collapse at every turn, Raiders of the Lost Ark: The Adaptation ends up presenting an even more compelling fantasy scenario than a world-traveling, whip-cracking archeologist: a bunch of kids constructing an entire universe for themselves and creating an epic masterpiece for no good reason. Co-director and star Chris Strompolos will be in attendance for the screening, and is sure to have some great stories.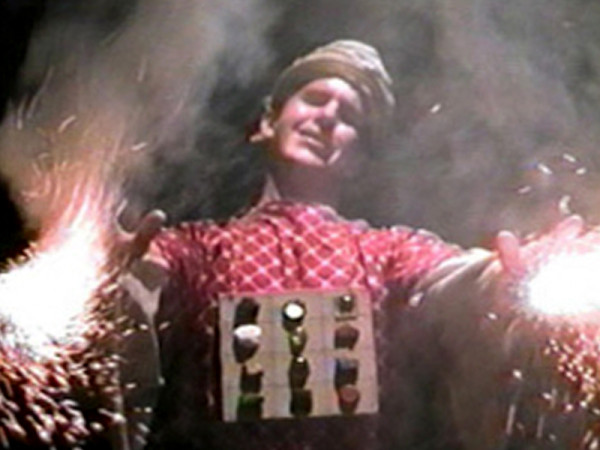 Raiders of The Lost Ark: The Adaptation screens once at the Museum of Fine Arts, Houston on Friday, February 28th at 7 pm.