Last week, I hit the long road west from Houston to Marfa to see some films. I didn't know much about the CineMarfa festival to begin with, as most don't. But I'd been impressed when I came across last year's program, and I was curious to see what this little festival was about.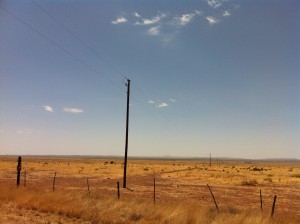 While I was there, I heard more than one Marfan speak about the virtues of the town's remoteness with the phrase "distance is a filter." By this, they meant that even after the recent 60 Minutes profile, Marfa's inconvenient location guarantees only cool, weird, engaged, open-minded and/or extremely lost visitors. I would generously check "all of the above" for myself, and the travelers and transplants I encountered there all seemed to fit at least a couple, if not all, of those categories. But, having experienced quite a few rolling hours under a big sky to get there, I couldn't help but interpret the "distance filter" another way. There's something about the act of traveling through time and space in west Texas – about the hours and miles passing, about sustained fast-driving slow motion – that evaporates life's little stuff and clears the palate. The long, bright day of seemingly endless road in front and back of me, followed by standing still in a silent, dark and motionless small town with a sea of stars overhead was, for me, very much like a stretched version of that magical moment that all of cinema hinges on: when the lights dim to the deepest black and you surrender. I had arrived in Marfa distance-filtered and ready for the festival.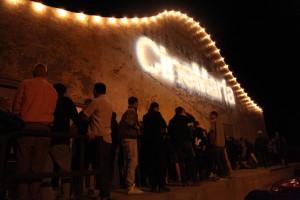 The 3rd annual CineMarfa fest took place over five days (May 1-5) with screenings of 10 feature-length films and dozens of shorts held at the Crowley Theater, a nice, simple venue in a renovated building that was originally a feed store in the 1940s. The artist-run, volunteer-powered festival is dedicated to showing all kinds of rarely screened archival and contemporary films, and to highlighting Texas visions. CineMarfa is known for smart programming, though thankfully, it's loosely enough organized not to be too clever, and understated enough not to force importance. This year's programming had a slight anthropological bent, which placed everything in the realm of human exploration and produced some surprising connections between seemingly disparate experimental, documentary, narrative, and hybrid films. More about that in my follow-up piece on the festival <here>. But first, a bit about the festival and its attendees.
CineMarfa is not to be confused with the fancier Marfa Film Festival, which took a two-year hiatus and is now going to return in late June. CineMarfa co-founders (and husband and wife) David Hollander and Jennifer Lane previously contributed to that festival's programming, but in its absence they got together with local artists and film enthusiasts to start up their own year-round nonprofit and an annual film festival. MFF seems great for what it is, but the independent, non-commercial CineMarfa fest has a little more of "the Marfa thing," focusing on the intersection of visual art and film, showcasing local filmmakers, and making all screenings and events intimate, creatively engaging, and free of charge.
Hollander and Lane are both artists, and together they produce film works by visual artists (they're currently finishing production on a 35mm animated film by Austrian artist Mathias Poledna that will be in the upcoming Venice Biennale.) Their genuine passion for film and their personal connections with local and national artists and curators have built a strong family for CineMarfa in just a few years.
When I spoke with Louis Black, who was in attendance to introduce the rarely-seen 1983 documentary Seventeen, he couldn't stop praising the festival for being prescient and perfect for Marfa, specifically praising Hollander for his deep cut, boundary-pushing programming. "David does an incredible job of finding things that aren't yet in the cultural discourse and mainstream." That's high praise from the SXSW co-founder and founding editor of the Austin Chronicle. But the level of audience enthusiasm and dialogue throughout every part of the festival spoke even louder about the film selections and unique vibe of CineMarfa.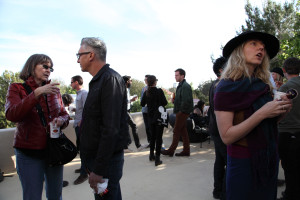 Because it is relatively small, free, laid back, and has an audience heavy in artists and cultural investigators, there was little distinction between the intermingling festival organizers, official guests, and audience members – all of whom were there simply to see films and to share their thoughts and ideas. (Of course, that should be the case at all film festivals, but believe me, it's rare.) Discussions about the films, and art and life in general, spilled out between screenings onto the front steps, and in pockets at the Lost Horse Saloon and Padre's Bar and Grill, at the festival's rooftop cocktail hour at Hotel Paisano and the closing party at the Chicken Coop.
Texas-made experimental films and documentary portraits were strong in the program. Austin-based filmmaker and curator Caroline Koebel was there to present "The Friendship State," a program she'd put together of experimental films by five Texas-based artists, including herself, Scott Stark, Kelly Sears, CineMarfa co-founder Jennifer Lane, and Houston-based filmmaker Lyndsay Bloom, who was also in attendance. Several local filmmakers were there to present new found-footage films, made through a CineMarfa studio program advocating creative reuse of discarded 16mm film prints. David Fenster's short documentary portrait of West Texas medicine ball maker, homoerotic art and lamp collector, dog rescuer, and self-proclaimed communist Lineaus Lorette was great, and a perfect appetizer for West Texas Cloud Appreciation Society, a feature-length documentary film essay on the area and its characters made by filmmaker Joe Cashiola, who also happened to be one of the festival's dedicated projectionists.
Visiting guests from around the country included artist Mark Allen of the LA-based collective Machine Project, Thomas Beard of Brooklyn's film and electronic art venue, Light Industry, and director Harmony Korine, the latter there to present a screening of his latest and most commercially successful film, Spring Breakers, to a packed house. Yes, that Spring Breakers. That film may seem like an odd inclusion if you're not familiar with Korine's other work (Gummo, Trash Humpers) or his previous history with the CineMarfa festival, but it actually worked quite well among the various other film portraits, essays, and investigations …but I delve more into that and the festival's other films (on which I've barely scratched the surface here) in my follow-up piece.