A "cheat sheet" for arts documentaries and live cinema performances happening in Houston this Thursday-Sunday
I posted something earlier (here) about the upcoming Houston Cinema Arts Festival's street photography-themed gallery show and screenings. Now, I'm taking a machete to the entire festival program in order to provide a manageable shortlist of films and events to consider attending. It's not been easy to chop it down to just one or two per day. I'm cutting a whole lot out here, including the three Merchant Ivory films shown with director James Ivory in attendance, all the programs inconveniently scheduled during weekday working hours, and all of the narrative movies (which have the most chance of showing up on other screens). I encourage you to go beyond my picks and investigate the whole program. What I'm focusing on here are just a few arts documentaries and unique presentations that one might not see elsewhere and that I'm excited about. Click on the titles if you'd like more info or to purchase tickets.
Thursday, November 13: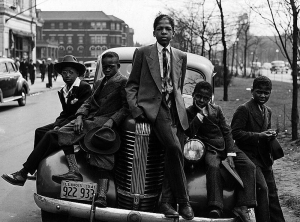 6:15pm, El Dorado Ballroom
Director Thomas Allen Harris in attendance.
Indicated by its subtitle, Black Photographers and the Emergence of a People, this film is a thorough and poetically interwoven exploration of the photographic histories of Black America. It's a priceless assemblage of important and often unseen images, interviews with a number of insightful photographers, and ruminations on photography in relation to cultural identity and social change. The screening will be held in the Eldorado Ballroom, an historic African American venue for jazz and blues between the 1940s and 70s, now run by Project Row Houses. Following the screening, you might want to stick around as director Thomas Allen Harris hosts the "Digital Diaspora Family Reunion Roadshow," for which people are encouraged to bring photos by local photographers and from personal family albums.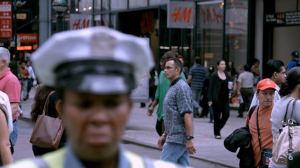 7pm, The Menil Collection
Director James Nares in attendance.
It is unfortunate that the scheduling of these two Thursday picks conflict–they'd both be of interest to enthusiasts of social landscape photography. Shot from a car in super slow-motion, Street is a transfixing, continually moving photographic study of New York City pedestrians' movements, gestures, and interactions, complimented by a musical score by Thurston Moore of Sonic Youth. (I've written a bit more about it here)
Friday, November 14: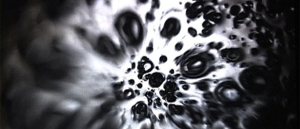 7pm, Aurora Picture Show
Live projector performance by Ken Jacobs
Ken Jacobs is a legend. He's been pushing and pulling at the medium of film and the possibilities of cinema since the 50s, and he's been making experimental 3D films since the 60s. For this special, cinemagical event at the Aurora Picture Show, Jacobs will first present his short film, Opening the 19th Century: 1896, in which manipulated footage from Lumiere films (some of the earliest cinematic imagery) will be viewed through 3D Pulfrich filters. He'll then give a live performance of his hallucinatory Time Squared via "Nervous Magic Lantern"–an ingeniously primitive light projection invention.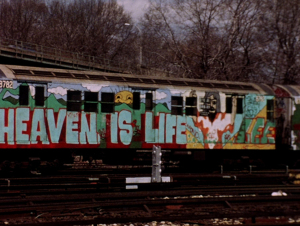 8pm and 9:15pm, Brandon/Café Brasil Courtyard
This rarely-seen, 45-minute document (shown here in a restored digital version) is a quiet, lyrical observation of the long-gone New York City of the late-1970s. Shot in 1977 and finished in 81, its photography finds walls, bridges, billboards, graffiti, and people amidst the city's elevated subway trains. It's most notable for capturing a ton of otherwise unseen graffiti art (whole-car burners) of the era. Two informal, free-admission, Friday night screenings will be held outside in the shared courtyard between Café Brasil and The Brandon Gallery. I suggest wearing a jacket, and ordering a beverage and a bite beforehand.
Saturday, November 15: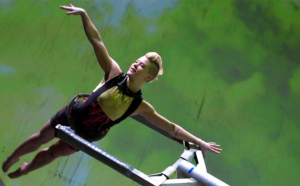 3:10pm, Sundance Cinemas
Choreographer Elizabeth Streb and Director Catherine Gund in attendance
Elizabeth Streb has long been in the practice of harnessing forces and inventing extreme actions. I'm not an expert on contemporary dance, but I like a choreographer who quotes Evil Kneivel and describes the process  of making glazed donuts as "beautiful." Born To Fly charts Streb's inspirations and innovative career, explores the motivations of her dancers to participate in her unusual and dangerous works, and captures the artful acrobatics and high velocity contraption-interactions of her latest pop action activities. Streb and the film's director will be at the screening for introduction and Q&A following the film.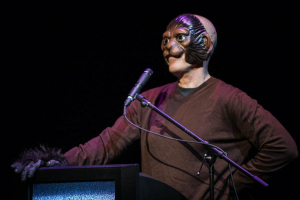 7:30pm, Rice Cinema
Live Performance by Deke Weaver
I have to admit that I don't exactly know what to expect with this event, but I'm intrigued and sufficiently convinced it'll be interesting and unusual. Supported by a Guggenheim Fellowship, artist Deke Weaver's ongoing, long-term project Unreliable Bestiary includes an original multimedia performance created for every letter of the alphabet, with each letter representing an endangered species. Wolf is the third chapter in Weaver's series exploring animals and our relationships with them, and playfully explores the history, science, and mythology of that animal.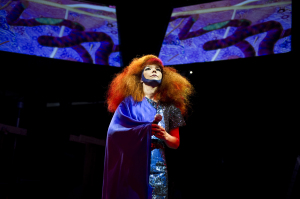 9:50, Sundance Cinemas
Filmed last year in London's Alexandra Palace, Biofilia Live captures the Icelandic artist's monumental multi-disciplinary project in concert. I'm not the biggest Björkie, but I am impressed by her continual integration of innovative music, fashion, video, new technologies, etc. I'm thinking that this will be the easiest, cheapest, clearest, most comfortable way ever to experience her latest work. (Extra weirdo points if you go to both Deke Weaver's Wolf performance and Björk's Biophilia!)
Sunday, November 16: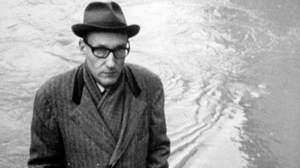 4:45pm, Sundance Cinemas
Lost and unseen for decades, this is the first and only film made about and with the cooperation of legendary writer William S. Burroughs. Just this year (appropriately, the centennial of Burroughs birth), the materials were finally found and restored. Filmmaker Howard Brookner managed to obtain 5 years (1977-82) of unparalleled access to and enthusiastic participation from Burroughs, and with the help of his friends Jim Jarmusch and Tom DiCillo, filmed the eccentric writer and his contemporaries (including Allen Ginsberg, Brion Gysin, Francis Bacon, Herbert Huncke, Patti Smith, Terry Southern, and Lauren Hutton) for an exploration of his wildly unconventional life and unique literary style. A big hooray for Brookner's nephew, who spent years hunting for the missing celluloid and raising money for its restoration.