Houston Cinema Arts Festival Preview, Part 1
The upcoming Houston Cinema Arts Festival features about 50 film screenings and events over its main five days (November 12-16)…which is, of course, way too many in way too little time. But, while the menu is dizzying, there are some dishes in there worth tasting if you can. I've taken some time to research and preview many of this year's offerings, and I'll share some observations and suggestions with you in this and a follow up piece. Here, I'll highlight a few programs in the annual "Cinema On The Verge" section– really an entire festival within the festival that often contains some of HCAF's most interesting works, guest artists, and creative inquiries.
A theme of "street photography" connects a gallery show and a handful of related film screenings in this year's Verge section. It's an interesting springboard–a category hard to pin down but enlightening to wrestle. The history of street photography traverses the simultaneous and overlapping evolutions of documentary and art photography. Very basically, the term indicates photographers' improvised interactions in public spaces to find and frame moments which, at best, capture something of both specific contexts and culture at large. While we tend to associate street photography with images taken in dense, bustling metropolises like New York City, the term umbrellas as many different locals as it does different styles, motivations, and approaches to artist/subject/space interaction. It is amorphous and continually evolving, so collective consideration becomes a patchwork investigation of physical and cultural landscapes and the nature and practice of photographic arts. With the booming folk art activity of smart phone photography and the rapid unfolding of a dense online landscape of self-ethnographic media, it's an interesting time to consider such things.
We generally tend to think of street photography in terms of still images–frozen moments in time that capture poetic gestures and forms through the instantaneous artistic decision of a single click (what French photographer Henri Cartier-Bresson termed "the decisive moment.") That's the biggest hurdle in exploring its extensions into moving image media. With the continuous flow of time, more of the artist's process of moving, finding, seeing, and framing is revealed, and the "decisive moments" become those of the viewer. A great translation into contemporary, moving image street photography (and a highlight of this year's Cinema Arts fest) is James Nares' Street. The video captures pedestrians on crowded New York City streets through very, very slow-motion photography shot from a moving car. While not completely freezing time, the manipulation transforms everyday scenes into a succession of momentary portraits and mid-movement intersections. Its complex urban life, slowed to the speed of passing clouds and accompanied by music by Thurston Moore, is transfixing. Nares has mentioned a connection to Robert Frank's On The Bus photographs from the late-1950s, but moreso he has emphasized the inspiration of "actuality films" from early cinema. Nares will present a special, free screening of Street (2011) and another of his films, Pendulum 1976 (2007), at the Menil Collection on Thursday evening at 7pm.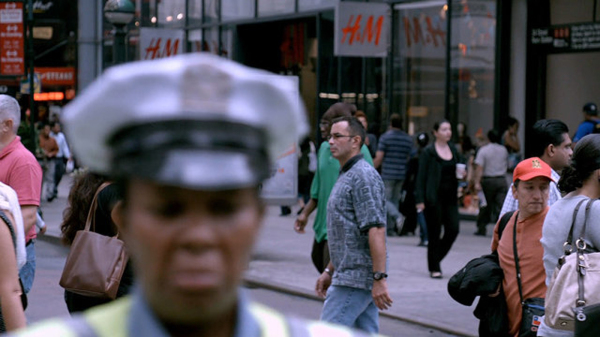 Street will also be on view in the festival's "Street Scenes" gallery exhibition of photography and film/video works at The Brandon (next door and connected to Café Brazil) Nov. 12-Dec. 10. Street will be projected in the gallery's main space (when that central screen is not in use for other related screenings and presentations). The central room will also feature recent street photographs by Cheryll Dunn. The east room of the gallery will contain works by Jem Cohen, including a series of street Polaroids and his film NYC Weights and Measures. The west room of the gallery will house work by Ken Jacobs, including his recent 3D video Wire Fence, and a looping selection of shorts that includes his first film Orchard Street shot in the Lower East Side of Manhattan in 1955 as well as a number of more recent films such as Street Vendor and Canopy. Also included in the show will be two images selected by Cheryl Dunn from the festival's online street photography contest, submitted via Instagram #hcafstreet. (I tend to be a kneejerk cynic about such contests, but it will be interesting to see what's selected and to view others with the tag.) Overall it's a really ambitious, themed group show including some impressive artists, and I'm excited to see it come together.

The gallery show and street photography theme will be complimented by a number of intimate, free-admission programs held at The Brandon. On Wednesday afternoon at 4pm, Cheryl Dunn will be there to talk a bit about her photographs and present a screening of her new, feature length street photography documentary, Everybody Street (2013). On Thursday afternoon at 3:30pm, Ken Jacobs and Jem Cohen will discuss their work in the show and screen short films, including a restored version of Jacobs' first film, Orchard Street (1956) and recent short films by Cohen including Helianthus Corner Blues (2013) (They've titled this event "In the Street," which I'm guessing is a reference to James Agee's influential 1948 film.) On Friday evening, Manfred Kirchheimer's Stations Of The Elevated (1981)–shot in New York in 1977 and capturing a treasure trove of the city's subway graffiti art–will be screened in the outdoor patio at 8pm & 9:15pm. On Saturday, afternoon at 4pm, James Nares will present an hour-long program of short film and video motion studies spanning 35 years, including early films Roof (1975), Game (1976), and Poles (1976) as well as recent films including To Make a Prairie (2010).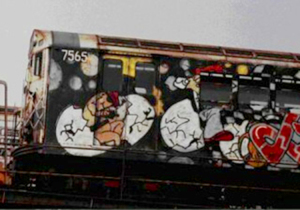 I highly recommend checking out the gallery show and attending at least a couple of the free-admission highlights I've mentioned here. But also be aware that there's much more to investigate if you're interested and able to dig in deeper into the festival's street-themed presentations. For more information on the featured artists and a full list of related programs, visit (HERE)