Movie-lovers and image-makers should be extremely excited about the upcoming opportunity to see some of the best movies ever in the best way possible.
In recent conversations, I've realized that alot of people who claim to love movies­ have actually seen very few of the great, classics and rarely see films as they're best experienced: on 35mm prints projected large in a darkened theater. As a believer in and preacher of the magic of moving image art, it's a bit shocking for me to realize that people are so rarely engaging in great cinematic experiences. (Even some of the photographers, filmmakers, and video artists that I know don't seem to be going beyond netflix and youtube for inspiration.)
Let the preacher set you straight. Watching a video at home, whether streaming or on blu-ray, is only a mere reference to the true experience of a great film. Even the best movies — perhaps especially the best movies — suffer greatly in the translation to video, and to small screens (by "small" I mean anything smaller than two or three times your height), and to the distractions of one's living room. They become something you watch, as opposed to a big, vivid experience that you surrender yourself to. There is nothing in the world so moving as seeing a good print of a good film in a good theater. And nothing so healthy for one's perspective and creative thought than doing this often.
That's why I'm grateful for the handful of film champions in this city, and especially excited about the coming weeks at the Museum of Fine Arts Houston. For the month of February, the MFAH's nice Mies van der Rohe-designed movie theater is turning into a repertory cinematheque, showing beautiful new 35mm film prints of over a dozen great movies made between the 1930s and the 2000s. Their series celebrating the 100th birthday of Universal Pictures brings to the screen a wide range of American cinema classics, beginning this Friday night with a screening of Alfred Hitchcock's The Birds (1963).  Some others in the series that I'm excited about attending: Robert Mulligan's To Kill a Mockingbird (1962), Douglas Sirk's Magnificent Obsession (1954), Clint Eastwood's High Plains Drifter (1973), Spike Lee's Do The Right Thing (1988), and the ridiculous, Technicolor camp classic, Cobra Woman (1944).
I also want to mention a film that's not actually part of the Universal series but will also be screening at the museum early this month on 35mm. The Umbrellas of Cherbourg (1964) by French director Jacques Demy features a young Catherine Deneuve in her first film role, brilliant colors (clothing, sets, photography), and music by Michel Legrand.
This month of great 35mm screenings at the MFAH is a tremendous gift to the city- a rare opportunity for us to see some movie masterpieces as they were intended to be seen. I've included a full schedule of films below. I really encourage making time for at least a few of these gems. And if you are studying film and/or making your own moving image work, maybe go to every single one!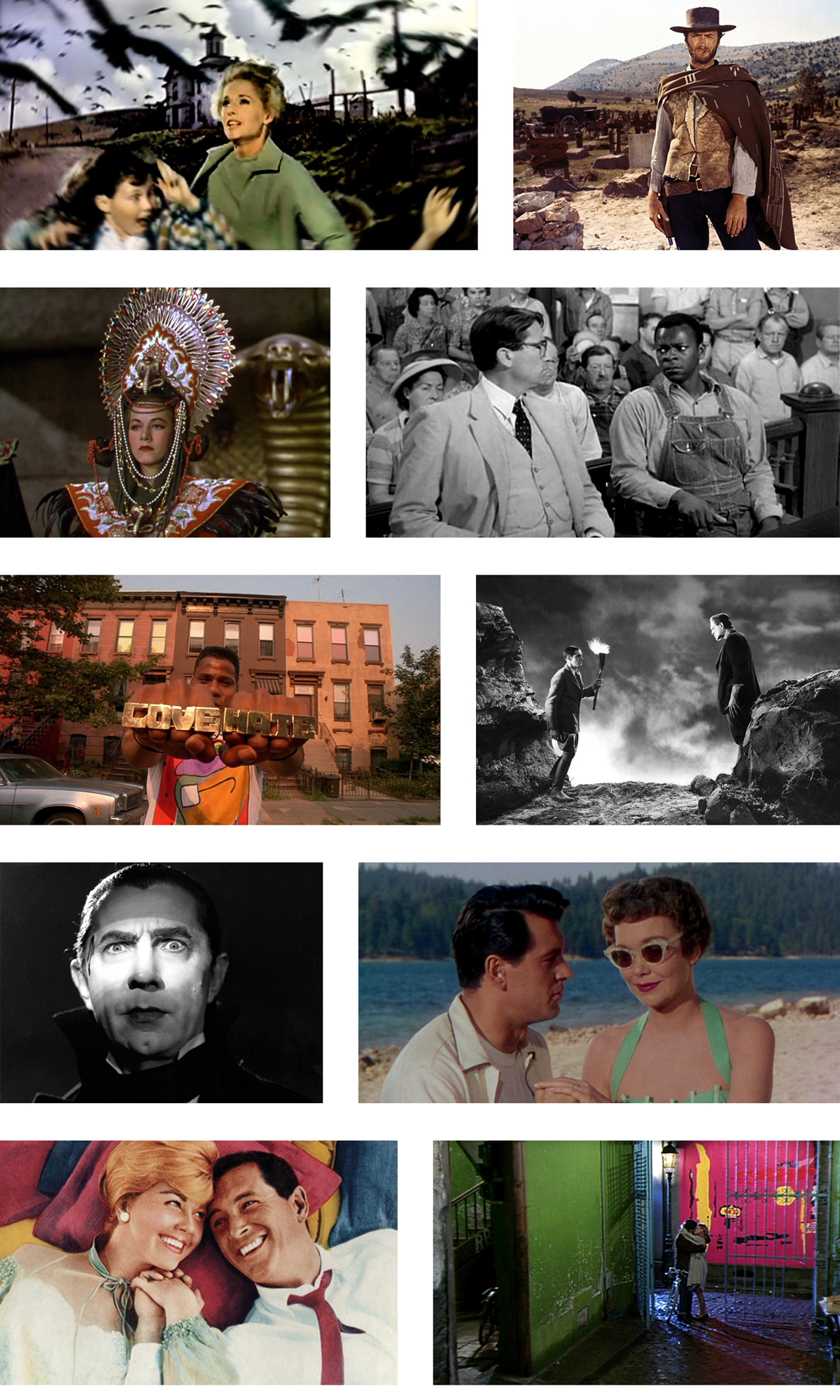 Universal Pictures: Celebrating 100 Years – Museum of Fine Arts, Houston:
Friday, Feb. 1 (7PM)
The Birds (1963, Alfred Hitchcock)
Saturday, Feb. 2 (1PM)
To Kill a Mockingbird (1962, Robert Mulligan)
Saturday, Feb. 2 (6PM)
All Quiet on the Western Front (1930, Lewis Milestone)
Sunday, Feb. 3 (4PM)
Inglourious Basterds (2009, Quentin Tarantino)
Tuesday, Feb. 5 (7PM)
The Umbrellas of Cherbourg* (1964, Jacques Demy)
(*Not part of the Universal series.)
Friday, Feb. 8 (7PM)
Magnificent Obsession (1954, Douglas Sirk)
Saturday, Feb. 9 (7PM)
Do the Right Thing (1989, Spike Lee)
Sunday, Feb. 10 (5PM)
Show Boat (1936, James Whale)
Saturday, Feb. 16 (6PM)
Dracula (1931, Tod Browning and Karl Freund)
Saturday, Feb. 16 (7:30PM)
Frankenstein (1931, James Whale)
Sunday, Feb. 17 (1PM) (NOTE: NEW DATE/TIME)
Pillow Talk (1959, Michael Gordon)
Sunday, Feb. 17 (5PM)
Apollo 13 (1995, Ron Howard)
Friday, Feb 22 (7:30PM)
High Plains Drifter (1973, Clint Eastwood)
Saturday, Feb. 23 (7PM)
Cobra Woman (1944, Robert Siodmak)