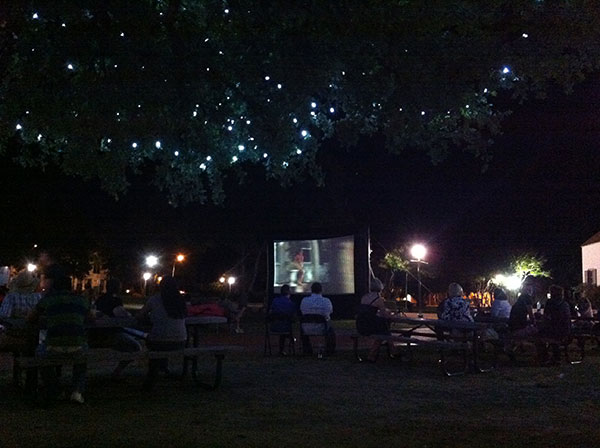 Attending the third annual Hill Country Film Festival in the enchanting town of Fredericksburg April 26-29 was a treat. I arrived opening night for the free screening of short films being shown outdoors at the Marktplatz— the historic park in the center of town. Over 120 people were anchored in lawn chairs and spread out on quilts. Kids ran around and couples sat on park benches. Twinkling lights in the trees and perfect weather made for a warm and fuzzy welcome, and for a moment I sort of felt like I was in an episode of Gilmore Girls.
Film festivals have been popping up in Texas and everywhere else— not just because making a film is more achievable than ever, or that festivals can help raise funds for a local non-profit or film society— but because independent filmmaking adds a new dimension to a community. Festivals provide a much-needed cultural connection for audiences burned out on Hollywood and cable TV, and they help generate a new community of artists and patrons that can legitimately support the future of the medium.
Where some larger and more established film festivals have seen stagnation and financial strain in recent years, smaller festivals have room to grow. They serve an audience unable to attend Sundance, Cannes, Toronto, or SXSW, and they create active outposts where filmmakers can connect. While those larger festivals are invaluable for making bigger waves, smaller festivals bring in local residents and visitors who might not otherwise experience such a thing. Also, smaller festivals are more relaxed. There's no pressure to be first in line, and your wallet isn't totally drained afterwards. Also, you can walk down the street in Fredericksburg with your beer. (Biergartens everywhere!)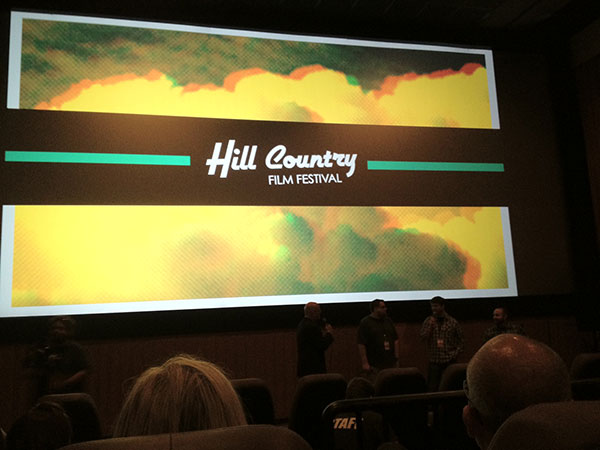 L.A. may still be the industrial center for movie-making, but Texas has a close-knit community of filmmakers that continue to belt out award-winning shorts, features and documentaries. The organizers of HCFF have ties to both places (Festival Director Chad Mathews is himself an actor, writer and producer). It's inspiring to see a group of passionate and dedicated volunteer staff ushering and documenting the event from start to finish. It also doesn't hurt that the Texas Film Commission regularly supports and attends festivals like these, while also helping resource big-name projects (like the True Grit remake and the NBC series Friday Night Lights).
All of the screenings at HFCC were held in one place, which allowed everyone to share the same experience. (The King-Ranch style leather seats at the Stagecoach Theater weren't bad either.) The accompanying events— happy hours, afterparties and a classy but relaxed awards party at the Hangar Hotel— were integrated rather than segmented. The point is that while larger festivals are unmatched in their demographic numbers and metropolitan prowess, smaller fests like HCFF are connecting local audiences with the film fest phenomenon. No longer is filmmaking an elite medium. No longer are filmmakers just names in the credits. You can shake the director's hand and tell him/her what you thought. That's a big difference from the average cinematic experience.
Feature films at HFCC included the Waco-based Sironia— a story of a frustrated songwriter who moves back with his family to Texas from L.A. Utilizing known faces and first-time actors, the film portrays a relatable narrative of transformation and is based on real experiences shared by director Brandon Dickerson and lead actor (and songwriter) Wes Cunningham. Dickerson, known for his music videos, started with Cunningham's original songs and constructed the movie around the music. The sincerity shows and makes for an authentic, collaborative crossover.
Another highlight was Andrew Disney's Searching for Sonny, a comedic film-noir-ish caper that follows reunited high school classmates clumsily solving a murder mystery. Nick Kocher and Brian McElhaney— two of the funniest sketch comedians emerging right now— punctuate the film's absurd and twisting plot. Shot in Fort Worth, Disney demonstrates how a strong cast and good production can be achieved without a major studio, and that a film can be funny without Zack Galifianakis.
For me the short films are a big draw. No where else are short films collectively experienced like they are at a festival. Programming shorts is akin to assembling an art exhibition, and blocks of shorts back to back are a always a curious sample of style and perspective.
UT graduate and director Bradley Jackson— when told by a grown man in the audience that he began to well-up during Jackson's short film The Man Who Never Cried— gave a joyous fist-pump during the Q&A. Jackson's project has gathered acclaim at over a dozen festivals, tearing up proud men all over the country. Other notable shorts included Time Freak, a humorous, Oscar-nominated short about a guy who can't stop trying to re-do the last few hours, and The Carrier, Scott Shaeffer's tale of a mother retracing her son's love life after his death. I could go on, but as you might expect, you really had to be there.
From the observations of festival hosts, the HCFF doubled in size since 2011. All signs point to that trend continuing. That's good news for filmmakers, festivals and the communities they engage.
________________
John Aäsp is currently Visual Arts Director at Rockport Center for the Arts on the Gulf Coast of Texas, where he also serves as Managing Director of the Rockport Film Festival. He received his MFA from RIT in 2006. Other than writing, making video art and electro-beepy music, John can't stop making excuses for his cats and his love for motorsports. johnaasp.com, johnaasp.blogspot.com, beachblanketblammo.com