Jessica Fuentes, William Sarradet, and Brandon Zech discuss their anticipated exhibitions in Texas, including an outdoor sculpture show just north of Houston, a group exhibition examining artists' day jobs in Austin, an exhibition exploring five decades of screen-inspired art in Fort Worth, and more.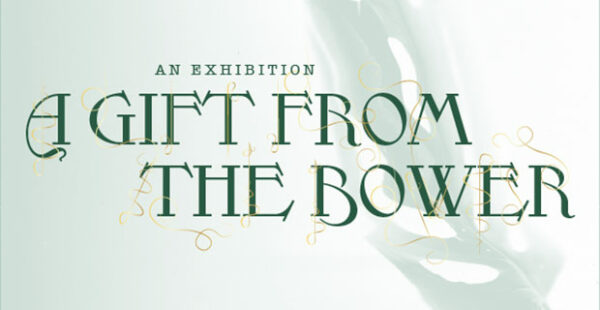 A Gift from the Bower
Organized by DiverseWorks, on view at the Locke Surls Center for Art and Nature @ Splendora Gardens (Cleveland)
April 22, 2023 – October 31, 2023
From DiverseWorks:
"Conceived by nationally-renowned artist James Surls, A Gift From The Bower is a sculpture exhibition that takes place in a series of natural galleries formed by small clearings in the woods of Southeast Texas. Curated by Surls, Jack Massing, and Xandra Eden, new works by thirteen artists and artist teams are being created for the project in collaboration with musicians, performers, and writers to create a unique, outdoor experience.
This highly anticipated project is produced by DiverseWorks and the Locke Surls Center for Art and Nature @ Splendora Gardens (LSCAN). Opening festivities are scheduled to take place on Earth Day Weekend, April 22-23, 2023."
Day Jobs
Blanton Museum of Art (Austin)
February 19, 2023 – July 23, 2023
From the Blanton Museum of Art:
"One of the typical measures of success for artists is the ability to quit their day jobs and focus full time on making art. Yet these roles are not always an impediment to an artist's career. This exhibition illuminates how day jobs can spur creative growth by providing artists with unexpected new materials and methods, working knowledge of a specific industry that becomes an area of artistic interest or critique, or a predictable structure that opens space for unpredictable ideas.
Day Jobs, the first major exhibition to examine the overlooked impact of day jobs on the visual arts, is dedicated to demystifying artistic production and upending the stubborn myth of the artist sequestered in their studio, waiting for inspiration to strike. The exhibition will make clear that much of what has determined the course of modern and contemporary art history are unexpected moments spurred by pragmatic choices rather than dramatic epiphanies. Conceived as a corrective to the field of art history, the exhibition also encourages us to more openly acknowledge the precarious and generative ways that economic and creative pursuits are intertwined."
I'll Be Your Mirror: Art and the Digital Screen
The Modern Art Museum of Fort Worth
February 12, 2023 – April 30, 2023
From the Modern Art Museum of Fort Worth:
"The Modern Art Museum of Fort Worth presents the landmark I'll Be Your Mirror: Art and the Digital Screen, a thematic group exhibition that examines the screen's vast impact on art from 1969 to the present. This exhibition surveys more than sixty works by fifty artists over the past five decades. The artists included examine screen culture through a broad range of media such as paintings, sculpture, video games, digital art, augmented reality, and video.
Screens affect nearly every aspect of life today. Their pervasiveness has bred a 24/7 breaking news cycle, the looming corporate-sponsored virtual-reality 'Metaverse,' unlimited accessibility and content, and an ease in how ideas and images are distributed, undoubtedly shaping culture in profound ways. This exhibition starts in 1969—the year of the televised Apollo moon landing and the launch of the internet's prototype, ARPANET—as this was the watershed year where collective connectivity through screens was first mobilized in mainstream culture. This era forged what the media theorist Marshall McLuhan presciently deemed in the 1960s a 'global village,' a place where distance is collapsed and people from across the world readily interact. Following this trajectory, contemporary life is hybrid and increasingly mediated through screens. These flat and finite surfaces embody more than what meets the eye—they hold up a mirror to society and contribute to forming meaning in life and mainstream culture."
Hyperreal: Gray Foy
Menil Drawing Institute (Houston)
April 21, 2023 – September 3, 2023
From the Menil Drawing Institute:
"Between the 1940s and 1970s, American artist Gray Foy (1922–2012) created a body of extraordinarily meticulous drawings, most often rendered in graphite on paper. This exhibition celebrates two recent gifts that have been made to the Menil Collection the foremost repository of Foy's work. Intrigued by Surrealism and Magic Realism as a young artist, Foy characterized his artistic method as 'hyper-realism.' His exacting technique—which required intense concentration and even months to complete a single drawing—rewards sustained looking. The exhibition spans the entirety of Foy's career, from his early Surrealist compositions to his later inventive botanical and geological renderings. Also included are a selection of the artist's commercial illustrations, which will be displayed publicly for the first time."
Amy Cutler
Ruby City (San Antonio)
April 6, 2023 – February 25, 2024
From Ruby City:
"The surreal work of artist Amy Cutler will be the subject of an exhibition at Ruby City from April 6, 2023, through February 25, 2024. At the center of the exhibition will be Cutler's interactive, multi-media installation Fossa (2015), a recent gift from the artist. Cutler is known for her finely detailed paintings, drawings and prints of women working at domestic or mysterious tasks in intimate, magical settings, and Fossa creates the experience of walking into one of her works. Also included in the exhibition will be Cutler's large drawing of the same name, acquired by Ruby City earlier this year, along with a selection of loaned works from two other series. Amy Cutler's exhibition will be on view in Studio, in Chris Park on Ruby City's campus."
Cerámica Suro: A Story of Collaboration, Production, and Collecting in the Contemporary Arts
Dallas Contemporary
April 20 – December 31, 2023
From dallas contemporary:
"cerámica suro: a story of collaboration, production, and collecting in the contemporary arts will be the first comprehensive american presentation of the studio's influence on contemporary art vis-à-vis the collection amassed by josé noé suro and his wife marcela. selections from this collection, which is made up of over 700 pieces, are curated into the exhibition by executive director and chief curator of guadalajara's zapopan art museum (maz), viviana kuri, who also organized the previous iteration of the exhibition at maz.
cerámica suro: a story of collaboration, production, and collecting in the contemporary arts features three thematic elements that together tell a single story of a personal collection: pieces produced in the cerámica suro workshop by artists who have used high-fired ceramic or other techniques or materials; productions aimed at the fields of industrial design and architecture; and a representative survey of the history of contemporary art from the late twentieth century to the present day, with pieces by both mexican and foreign artists who have been associated with the workshop through collaborative efforts and exchanges."
There is a Woman in Every Color: Black Women in Art
El Paso Museum of Art
February 3 – May 14, 2023
From the El Paso Museum of Art:
"There Is a Woman in Every Color: Black Women in Art examines the representation of Black women over the past two centuries. Featuring more than forty works of art from the Bowdoin College Museum of Art's collection, the show will confront the history of marginalization and make visible the presence of women of color in the history of American art. The show will feature works by a number of important 20th and 21st century artists, including Emma Amos, Elizabeth Catlett, Alma Thomas, Carrie Mae Weems, Betye Saar, Faith Ringgold, Barbara Chase-Riboud, Kara Walker, Mickalene Thomas, LaToya Ruby Frazier, and Nyeema Morgan. Supporting these works will be a selection of 19th century works of art that highlight the continuity of experiences of Black women in America."