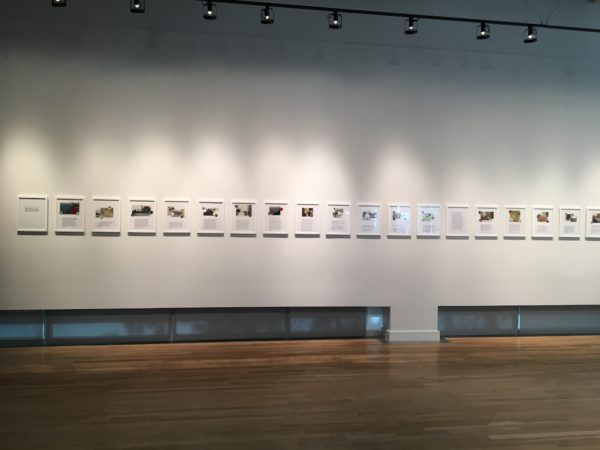 Pablo Helguera's exhibition The Fable Is To Be Retold at DiverseWorks in Houston is not very visually interesting. But it's not really meant to be. Consisting of collages, videos and an interactive installation in an Ames room, the purpose of the show is primarily didactic. It's designed to convey specific political messaging. Helguera is a social practice artist who "combines performance, visual art, community outreach and political activism to examine the social and cultural function of conventional teaching and memory systems." He's also the Director of Adult and Academic Programs at the Museum of Modern Art in New York.
Since the 1990's Helguera has fashioned his artistic career as an extension of his role as a museum administrator. The Administrative Artist, the title of one of his 2003 essays, is an apt description of his view of art as an extension of institutional bureaucracy. In interviews, essays and lectures Helguera consistently rejects the model of the individual artist who makes objects for sale. His pedagogical approach is to teach young artists that instead of self-expression, their primary motivation should be to enact broad social change through an ideology that values institutions over individuals.
I missed the opening-night performances (one of which was recorded in the Ames room and is viewable as a video in the exhibition) but I researched many of Helguera's past performances online. In The Dictator Game, a hybrid performance-lecture developed for Creative Time's 2012 annual summit, Helguera offers lessons in several ways a dictator might redistribute wealth. Between each lesson Helguera plays guitar and sings Spanish-language protest ballads against projected text backdrops with slogans like "I love you in mutual disgrace but not in uneven success." The participants generally seem confused and the social implications of the slogans are pretty creepy.
Formally, Helguera's collages are aggresssively boring. Cut from textbooks, their texture is uniform. The shapes of the paper are squares, rectangles and perfect circles. There's hardly a torn edge or a diagonal line to be found. Because the source material comes from mass-produced reproductions in educational material, the color palette is limited and uniform. In the Arlington Heights series the collages are punctuated by enigmatic texts that read as vaguely leftist-progressive. Helguera's mission is not to trigger intellectual or emotional insight through visual intrigue, but to deliver standardized social messages.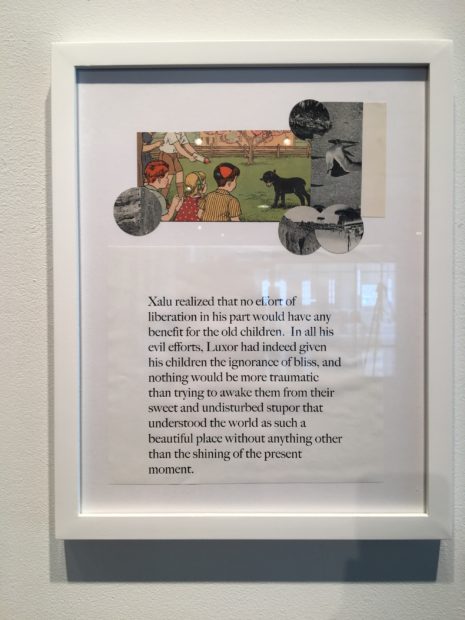 Much of Helguera's educational and political philosophy is outlined in The Fable of the Ancient Children, a series of twenty collages that stretch across the longest wall in the gallery and read from left to right in the form of a children's storybook. Here, Helguera tells the story of a brave explorer named Xalu who finds amazing plants, animals and treasures on his travels. Lest we confuse Xalu with a colonialist, Helguera writes that he was not wealthy and gave all of his treasures back to the townspeople in the lands he explored. As a fictional narrative device, one wonders why the townspeople would need Xalu to give their own riches back to them.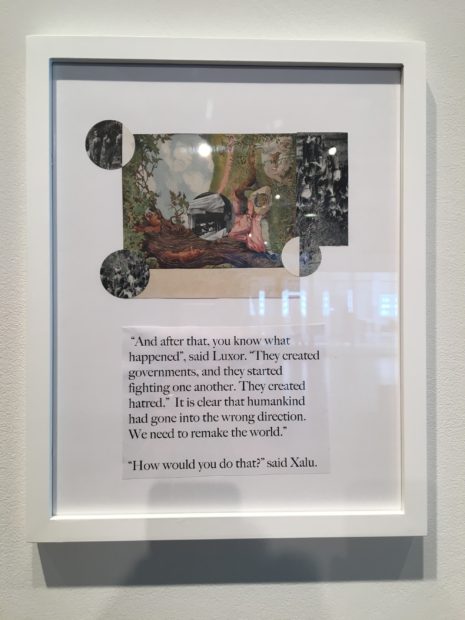 Reading Xalu as an allegory of Helguera's notion of a social practice artist, this apparent inconsistency becomes clearer. During a Q&A after a lecture at the Chicago Art Institute, a student asked Helguera how a social-practice artist can overcome their outsider status when they intervene in communities that are not their own. Helguera's reply is that artists are always outsiders and as much as they may "want to go and live with them and do the anthropologist thing, you're never going to be one of them," [emphasis mine]. My immediate question was, who are these "thems" Helguera is talking about?
If you go to DiverseWorks' website under their DW Teens program you will see a recently closed application to "provide an opportunity for ten to twelve teens from underrepresented communities to learn about multi-disciplinary art and different professions in the arts." I suspect Helguera's "them" usually reside in the "underrepresented" communities referred to in the DiverseWorks project. Helguera's response to the student's question perfectly highlights why "socially-engaged" art drives me nuts. Xalu basically reads as a social-practice artist who opens the eyes of the natives to the riches they were too blind to understand were surrounding them all along.
Later in Helguera's fable Xalu comes to an island called Luz. In the Christian Bible Luz is a Canaanite city in the region of modern-day Israel, Palestine and Jordan where most of the action in the Old Testament takes place. Canaanite is an ethnic term used to describe the indigenous people who were unequivocally slated for genocide by the Hebrew god. On Luz, Xalu finds the children who had long ago been stolen from his hometown by a king named Luxor. Sheltered from the idea of death (Luxor tells them those who die have just gone on a long journey) the children have grown old in an idealized, idyllic ignorance. In one panel Helguera describes Luxor's theory of why human society has become so unbearable that it requires a benevolent dictator to "remake the world."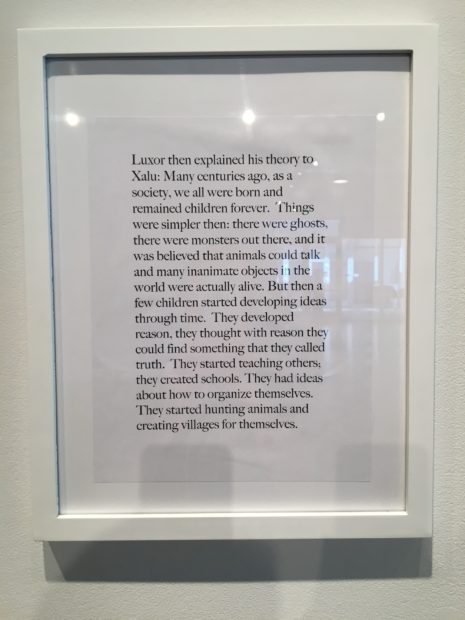 It's difficult to tell if Luxor's theory is Helguera's own, but after watching half a dozen videos of Helguera's lectures and performances, I'm inclined to think it is. Stripped down, it's all boiler-plate Marxist theory. For Helguera, reason and the pursuit of truth that led out of feudalism and into capitalism is the source of all hatred and human misery. Ultimately Xalu decides not to "liberate" the grown-up children from their blissful ignorance because he believes it would be too traumatic for them. He opts to leave them in "the shining of the present moment" with their ghosts, monsters and talking animals and under Luxor's benevolent dictatorship. I read this as Helguera's assertion that humankind would be better off in a state of primitive mysticism. I couldn't disagree more.
After reading a handful of Helguera's bizarre essays, watching several of his near-incoherent lectures to social-practice students about how to effect social change, and digging in to his borderline-fascist fable for kids, I find myself once again dismayed by the state of contemporary art education. Before he was Director of Academics at MoMA Helguera was the head of public programs and education at the Guggenheim for seven years. I believe that, contrary to Helguera and others' good intentions, the repeated devaluation of the individual artist in favor of some vaguely articulated idea of community is harmful to the overall progressive cause. Unless a community is comprised of aesthetically and politically enlightened individuals, it will be little more than a mob.
Through Nov. 19 at DiverseWorks, Houston.