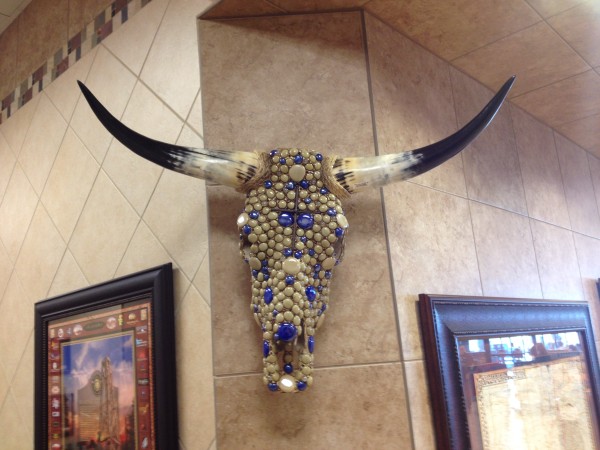 This is not art.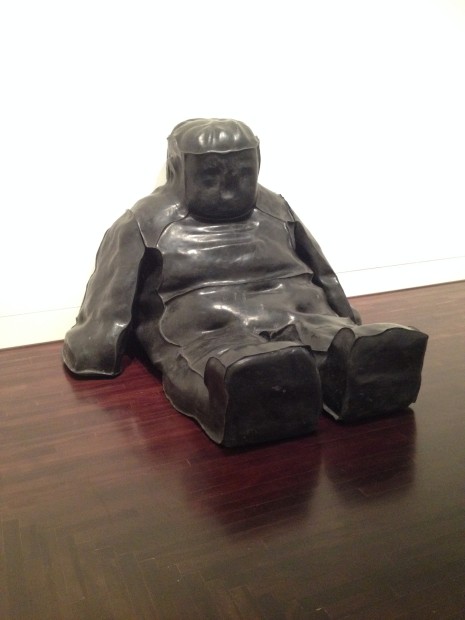 I was unfamiliar with Tom Claassen when I saw his large polyurethane sculpture at the Blanton. It's big. The piece stared blankly into the room with an unsettlingly domineering presence, immediately putting me on guard. Confrontation from the art seems rare for museums these days. I was glad to see this in the Blanton's permanent collection installation.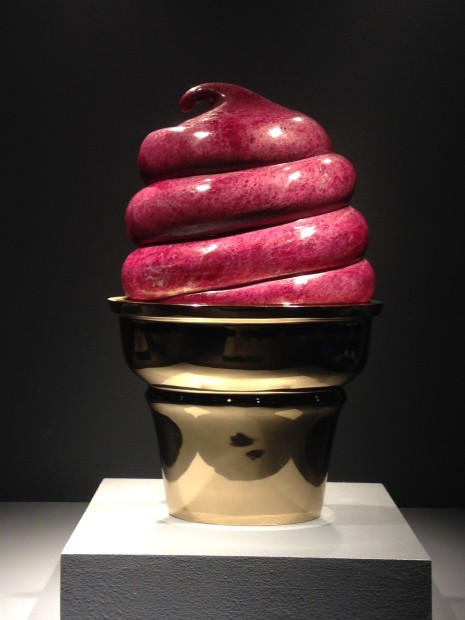 Mark Mothersbaugh's new show at the Austin Contemporary: Mothersbaugh bought the world's largest ruby (30,090 carats) and carved it into soft serve ice cream (or, perhaps more accurately, into a turd. Think poop-emoji). A poop-ice cream cone perfectly encapsulates Mothersbaugh's entire process: only through human de-evolution would this ruby be carved into excrement/a dairy-based treat instead of given to the Smithsonian.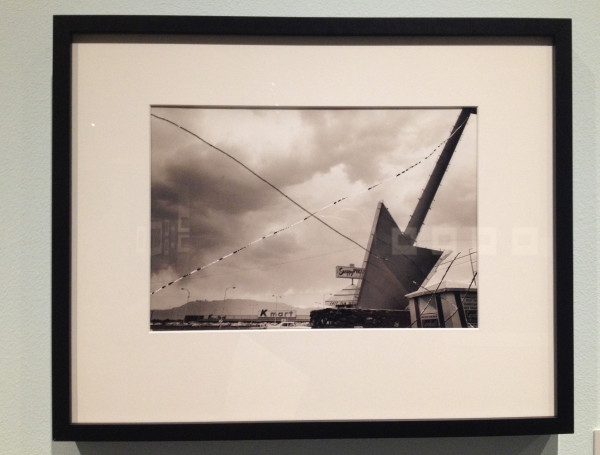 UT's Harry Ransom Center has a show of recent photography acquisitions that supplement the Center's archives and collections. This piece, by Thomas F. Barrow, is printed from a negative that was "cancelled" by the artist. By drawing an "x" through the image, Barrow exposes a process of photography by bringing attention to the surface quality of the negative.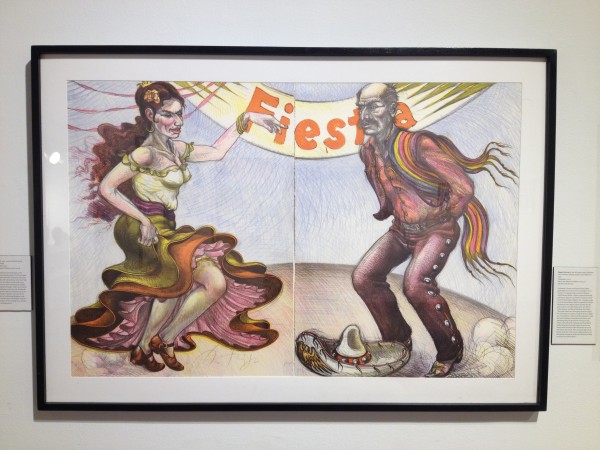 Luis Jiménez's lithographs are beautiful. The litho process captures his drawing style perfectly, and many of his prints have a finishing touch that makes each one feel unique. In this diptych, on view at the Mexic-Arte Museum, fine glitter is incorporated into each dancer's clothing.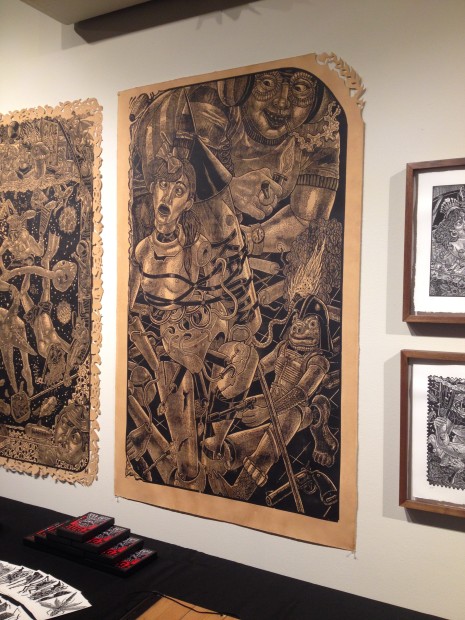 Tom Huck, an "Outlaw Printmaker" from St. Louis, Missouri, has been making regular visits to Texas for the past couple years. He creates intricate linocuts and woodcuts chronicling graphic country life, including bugs, dancing scenes, and The Hillbilly Kama Sutra. This was at Flatbed Press.
Christina Rees wrote about the UT/RISD exchange at the Museum of Human Achievement, but I had to include this video of William Udell's sexually charged jiggling blob. In person it was really engaging.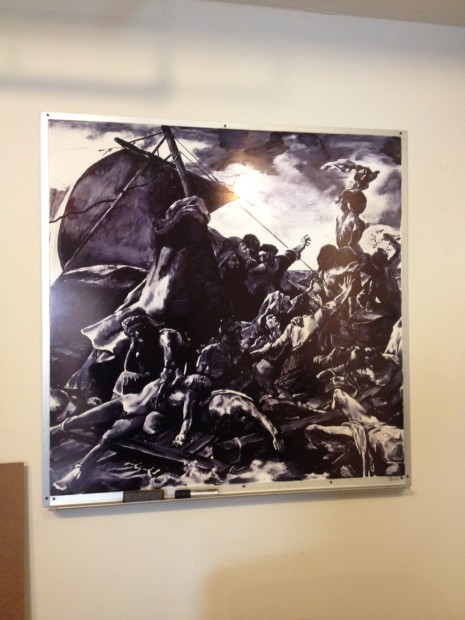 Seth Orion Schwaiger's solo show at Pump Project made use of the entire venue—something I hadn't seen in previous exhibitions there. Many of his works played with long sight lines and confronted the physical space of the gallery. This dry erase board Sharpie drawing was in Schwaiger's studio, serving as an informal addition to the show. It has a faux preciousness, playing with the notions of permanence and place that permeated the other works in the show.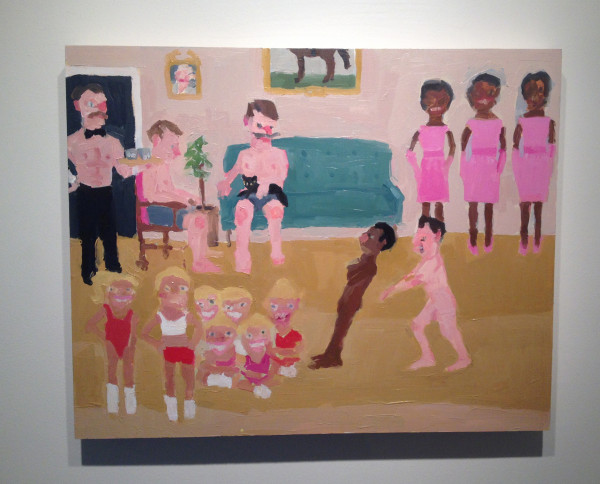 I was excited to see work by Jennie Ottinger at Pig & Pony. Her crude, impastoed oil paintings depict scenes of a mysterious, ritualistic quality: naked men trust-fall with each other in a comfortable domestic setting, while a group of blond-haired, blue-eyed gymnast kids and a Motown-esque trio look on.
Cameron Coffman had this work in Not Gallery's group sculpture show World War IV. Consisting of a wooden dowel and a fan motor, the work created incessant tapping sounds against the floor, acting as an auditory backdrop to the show. The piece is simple in its execution and effective as a hilariously useless noise-making object.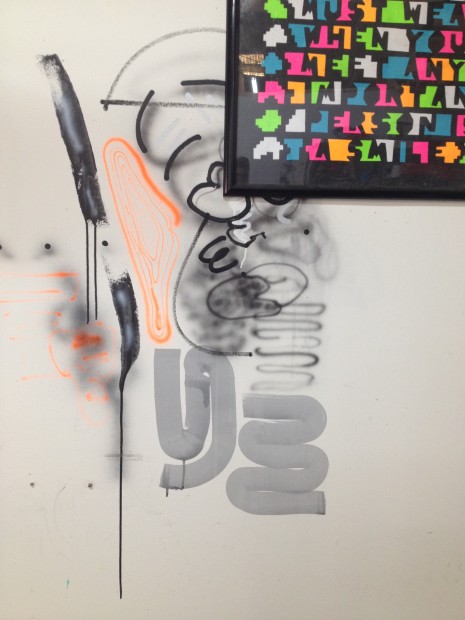 Studio detritus is fascinating and can be the best window into an artist's practice. This is one of Drew Liverman's studio walls in East Austin.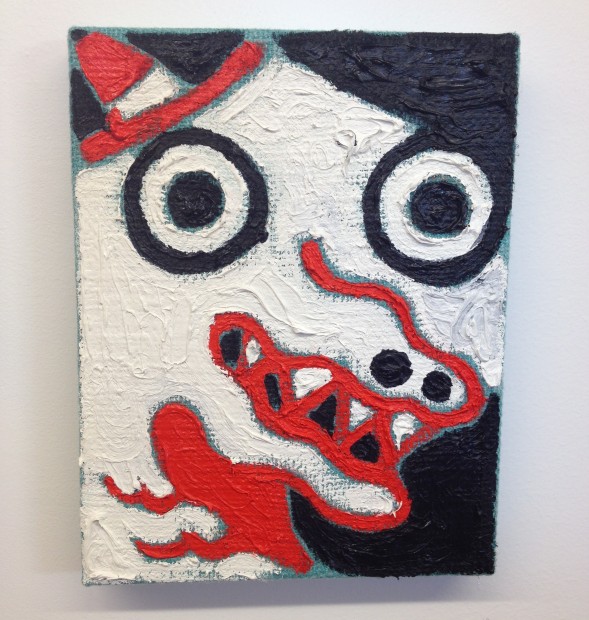 Liverman has a show of paintings up at Farewell Books. All of the works use a white, red, and black palette, and a few paintings use heavy furniture upholstery as their canvas surface. The gritty woven upholstery gives his work a sense of underpainting, adding a tough, thoughtful cool to the harsh, out-of-the-tube colors.
World War IV on view through March 5 at Not Gallery
Drew Liverman: PUTTANESCA BAYOU on view through March 20 at Farewell Books
Mark Mothersbaugh: Myopia on view through April 17 at The Contemporary Austin
Ben Jurgensen & Jennie Ottinger on view through March 13 at Pig & Pony
Look Inside: New Photography Acquisitions on view through May 29 at the Harry Ransom Center
Obra Gráfica: Selections from the Mexic-Arte Museum Print Collection on view through May 29 at the Mexic-Arte Museum