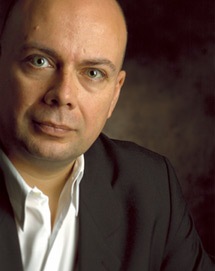 On Wednesday night, September 11, 2013 Peter Doroshenko, director of the Dallas Contemporary, gave a talk titled "5 Easy Steps to Becoming Almost Famous" to approximately forty eager art world types.
He urged his listeners to be brutally honest with themselves and to write out their strengths and weaknesses, and reminded the crowd that the successful artists they idolize live for success. The key is transforming yourself into the type of person you want to be. The background for most of his talk was a picture of a growling Damien Hirst in front of his famous shark.
1. Product. For Doroshenko, product is what you do in your studio, and also being able to communicate "who I am" and "what I am working on" in two to three sentences. Doroshenko believes that you can't just be good at cranking work out, but have to be able to describe your work and be able to write a one-page statement.  If you can't, he recommended getting a friend to do it for you. He advised artists to have a slick elevator-and-cocktail speech and to be extremely passionate about what they do.  Doroshenko admits this is common sense, nuts and bolts stuff, but it is necessary in order to take the next step.
2. Image. Artists must package themselves; particularly by being involved in articulating what their practice is about. He advises that learning never stops, not just locally but all over the world. When talking about one's work artists should be concise and able to articulate why what you are doing is important. For Doroshenko, being wishy-washy is very 70's. "You've got to have a story."
3. The Plan. Doroshenko posited that being famous means having a plan, which should cover the short, medium, and long term, with five to seven goals and three breakout goals. He emphasized the importance of writing this plan down to counter laziness. He advised that artists focus all energy outside of a studio practice on these goals, and that they tweak these goals according to how the world changes. Part of achieving these goals is making lifestyle choices, giving things up, and making sacrifices.
4. Belief. Doroshenko advocated self-examination, and that having belief in oneself takes a long time. He dismisses people who act like "major jerks, major freaks" by saying that they are "a marshmallow and can be crushed with a paperclip."
4.5 Doroshenko then segued into a talk about criticism, saying that is really hard, underpaid, and that critics don't get much in return. He asserted that everyone can have an opinion, but there is a difference between criticism and opinion. According to Doroshenko, when an artist encounters criticism they should ignore anything snarky or that is mere opinion. He recommended having impartial people look at your work as well as your friends, and recommended 7 to 10 studio visits per body of work. He didn't want you to worry too much about what other people think, and to remember that a negative review is not the end of the world. He says we always think in the short term, but should think 3 years, 10 years, 60 years from now; however, he noted, "If you don't have it by 90 then your time's up."
5. Networking. Doroshenko also recommended talking to people, networking, and making yourself feel comfortable with people. He recommended building peer relationships and being persistent, but advised that there is only so much you can do and it can't be your full-time job. He connected persistence to positioning, and reminded us that the art world is small and also political. Although he described politics as boring, it does exist, and whether an artist engages in art-world politics is a personal choice. He recommends collaborating with new people and changing up your coworkers. For him, it is healthy to bring in fresh blood, new ideas, and new feedback.
Doroshenko concluded by pointing out that it takes baby steps, and that "the basics work, the fundamentals work, it's in all of you, it's about being serious, passionate, defining things on paper, rolling up your sleeves, and doing it. ""Anything is possible," he said, "You are the only roadblock."