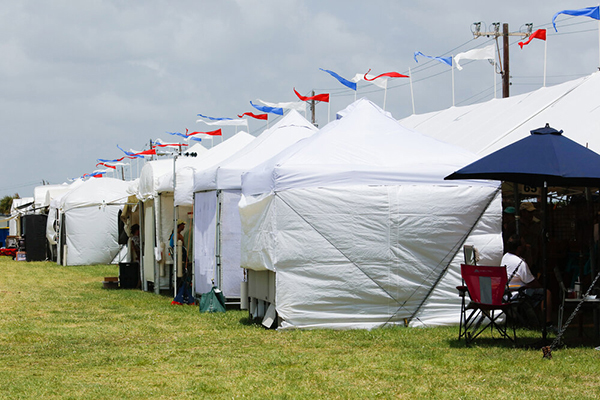 As of this writing, the Rockport Art Festival is on. With more than 10,000 attendees in past years, the annual festival showcases artists, awards, food, drinks, and music on the Aransas Bay. The deadline to apply for a vendor's booth is March 2, 2021. Individual artists working in painting, sculpture, ceramics, jewelry, glass, wood, photography, mixed media, pastel/drawing, and "other" are encouraged to apply.
Or perhaps, as the late Glasstire contributor (and artist) Paula Newton pointed out, seashells and hot glue — an excerpt from her 2019 news piece on the festival: 
"Like any decent festival, it has food, drinks, and live music. It is also right on the water next to the bird-filled beach, unpretentious but chatty locals (which include many South Texans who make the trip every year). Festival goers can wander through the old downtown which, for the size of the city, has a high number of galleries, junk stores, shell shops, and (even better) shops that sell little narrative scenes made almost entirely of shells. Get out your glue guns and join the fun!"
Beginning July 3, 2021, the event includes an Artists' Welcome Party (TBA) and a Sunday Artists' Breakfast at Rockport Center for the Arts. Booth fees begin at $220 per artist for a shared booth, or $325 for a single booth. Artists will be notified of acceptance status no later than April 6, 2021.
Awards, including "Best of Show" ($500) and "Best of Category" ($100), will be juried and announced on the first day of the festival. For more information, please visit the application page here. For recent coverage of Rockport's post-Harvey recovery, COVID response, and beyond, visit here, here, here, and here.