Glasstire counts down the top five art events in Texas.
For last week's picks, please go here.
1. Actions for the Earth: Art, Care & Ecology
Contemporary at Blue Star (San Antonio)
June 2 – September 3, 2023
From Contemporary at Blue Star:
"Blue Star Contemporary announces Actions for the Earth: Art, Care & Ecology, an exhibition curated by Sharmila Wood and produced by Independent Curators International (ICI). Actions for the Earth is a traveling exhibition that considers how artistic practices use kinship, healing, and restorative intervention to foster a deeper consciousness of our interconnectedness with the earth.
This exhibition turns to a group of interdisciplinary artists to engage with the overlapping, worldwide crises of our time. Ongoing climate change, entrenched social inequity, and renewed concerns over public health have all underscored the need for approaches that take on global responsibilities while caring for our local environment. For decades, artists have sought to find new antidotes to oppressive structures of power, and promoted greater understanding of the many ways that nature, health, and sustainability are intertwined."
2. 10th Annual Texas Juried Exhibition
Artspace111 (Fort Worth)
June 24 – August 26, 2023
From Artspace111:
"Artspace111 is pleased to announce that 43 Texas artists have been selected for the 10th Annual Artspace111 Texas Juried Exhibition by this year's jurors Vicki Meek, Independent Curator and Writer, Clare Milliken, Assistant Curator at the Modern Art Museum of Fort Worth and Luis Purón, Executive Director, Rockport Center For The Arts. A total of 55 pieces from artists all over the state of Texas will be displayed at Artspace111 from June 24 through August 26, 2023."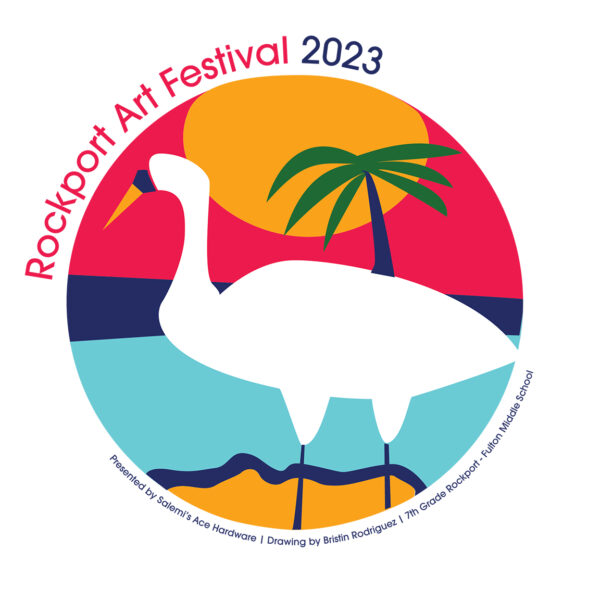 3. 55th Annual Rockport Art Festival
Rockport Harbor
July 1 – 2, 2023

From the Rockport Center for the Arts:
"Hosted by Rockport Center for the Arts (RCA), the event will be held on the Festival Grounds at Rockport Harbor featuring art by more than 120 artists including painting, jewelry, ceramics, woodwork, glass and more. The festival is presented by Salemi Ace Hardware.
Art Fest hours will be July 1 from 10 a.m.-6 p.m., and July 2 from 10 a.m.- 5 p.m. Tickets for the event are available online through June 28, in person at RCA, and on event days at the festival. Single-day festival tickets are priced at $10 per day for ages 13 and up (12 and under are free), with two-day festival VIP Passes available for $15 each, providing pre-opening access to the festival on both days starting at 9 a.m."
4. Yashoda Latkar: Who Says You Can't Go Home
La Mecha Contemporary (El Paso)
June 29 – July 22, 2023
From La Mecha Contemporary:
"La Mecha Contemporary is proud to present the solo exhibition Who Says You Can't Go Home featuring works by Las Cruces artist and a launch fellow of the gallery, Yashoda Latkar.
Latkar uses self-portraiture, family photographs, performative videos, and mixed-media spiced-infused installations to explore the relationship between migration and identity. Her creations are focused on the experience of living in an in-between space, belonging 'nowhere,' embracing the ambivalence even though the sense of being rooted, notions of a permanent home, and traditional routines are challenged. In its ties to identity, the lack of physical access to a particular place creates a lack of stability within being and belonging in the work of Yashoda Latkar."
5. Mary Lawton: You Can Do This! Pandemic cartoons
G Spot Contemporary (Houston)
July 1 – 15, 2023
From G Spot Contemporary:
"For more than three decades, Mary Lawton's cartoons have appeared in a wide variety of publications including The New Yorker magazine, Reader's Digest, Ms., The San Francisco Chronicle, Funny Times, Narrative, and The American Bystander. She appears weekly in the King Features syndicated strip Six Chix.
Her cartoons and paintings have been exhibited in Houston, Boston, Berkeley, the Cartoon Art Museum in San Francisco, and The Society of Illustrators in New York City."