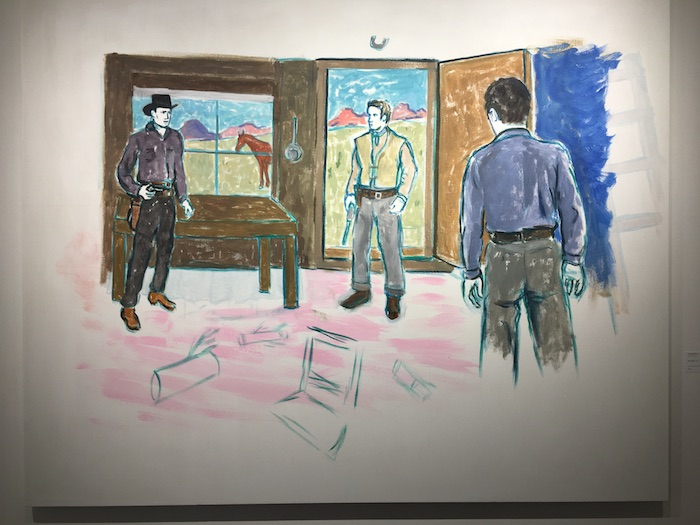 At one point, between about five and ten years ago, it seemed that nearly every young and mid-career artist from the east coast or Europe who visited Texas and then had a show here, through a residency or whatnot, had to make their show about Texas, or Texanness. It was generally annoying, because the work was often both cloyingly romantic and knee-jerk critical: spent bullet casings covering an entire floor, or an old beat-up Ford pickup brought inside the gallery space (wow!) so that all us dumb Texan art lovers could finally see what Texas is really about. The saying Coals to Newcastle comes to mind, but here rebranded as something like "Spurs to Del Rio."
I think this flood of identity politics and its invasion of art is one of the best things that's happened to this particular trend, because it's essentially killed it. Just as people, at this point, are only allowed to tell their own stories and not speak for others (which is truly a mixed bag when it comes to the potential fullness of narrative), it seems that, wherever they're showing, artists from elsewhere are being careful about ceding the floor to regional natives. This makes even more sense in Texas and other border states, and especially as Texas artists are ramping up the work they make about what it means to grow up and settle in such a politically charged and contradictory place.
(I don't think all the work about this region made by those from outside it is terrible. I think Richard Walker's video at Laguna Gloria a few years' back was good, and also Christian Marclay's harrowing Guitar Drag. I think nearly everything Teresa Hubbard and Alexander Birchler make regarding Texas and the Southwest is precise, haunting and lovely, but then, they do live here half the time.)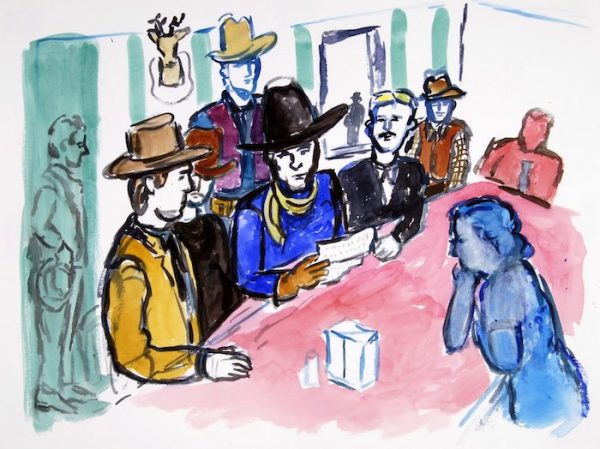 Linda Blackburn, who wasn't born in Texas, has been in Fort Worth for decades. She more than qualifies as an honorary Texan, whether she cares about such things or not, and she, along with her husband Ed Blackburn, has been making great art and influencing younger artists in this state and beyond since the 1980s. Her new show of paintings, up at Artspace111 in Fort Worth, is a quietly fantastic example of how an artist can turn the tables on those from the outside who've depicted the region in the past: her subject here is the common tropes of old movie and television Westerns.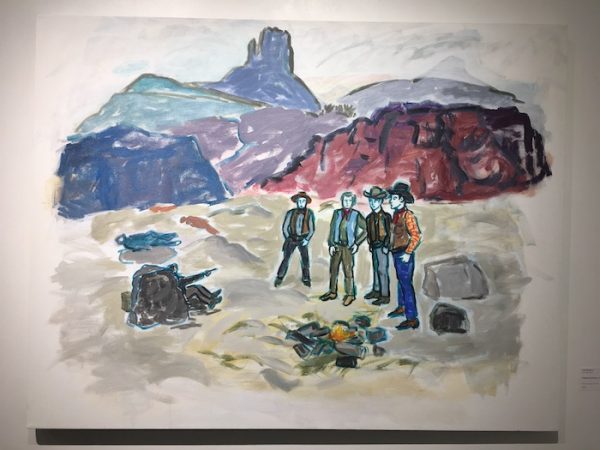 Given that these are paintings, the viewer has more than one thing to respond to. We've got the immediate richness of the familiar narrative itself — cowboys, horses, plateaus, saloons — and the way she's delivered it, which is in a characteristically dry, scrubby manner that feels very fast and intuitive. It almost seems like she worked on them while watching a beat-up VHS copy of The Searchers on a regular old cathode-ray tube TV: the color is desaturated (without slipping into hoaky sepia) and the dry, casual transparency of the paint allows the nubby canvas itself to stand in for arid atmosphere in the scenes. She's managed to impart a kind of dusty nostalgia through that bonding of paint and canvas, and it communicates time and distance — an evaporation that's taking place — that's as psychological as it is physical. We don't live like this anymore, and we probably never really did live like this, even if John Ford and John Huston tell us we did. There's a lot of humor in this work — a wry smile at how much stock we put into our own inflated mythologies, but, indirectly, there's also a reckoning of what the machismo and violence of the Wild West has wrought on our collective psyche.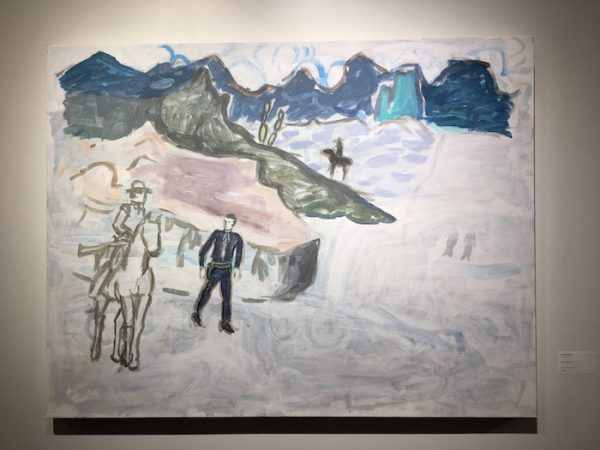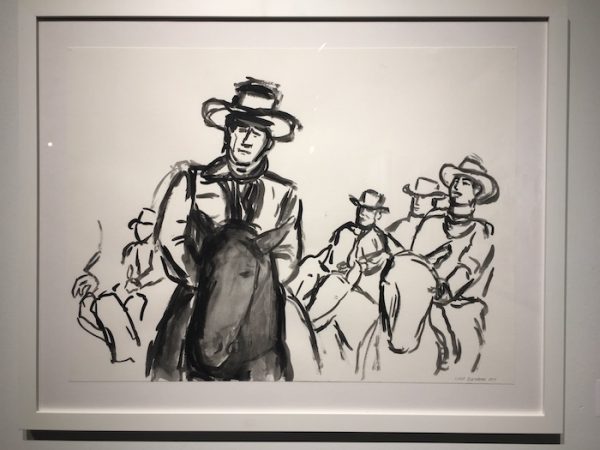 Many of these scenes feel like interpretations of specific film stills or freeze frames, and I'm sure Western aficionados will try to lock each painting to a certain movie or scene. And the scenes she paints are set-ups: they're rife with the tension of anticipation and mounting action. But for me, the whole show functions as a gentle commentary on how the movie version of circa-1870 has always been a formalized Hollywood mediation of a much harsher truth. At times Blackburn goes so dry and thin with the paint that she's essentially painting ghosts. None of the paintings are overworked or underworked; it takes years of experience to understand how to both push through and pull back on an idea, and Blackburn brings tremendous authority to these paintings. She knows that our collective memory of "home on the range" is foundational for our sense of self, but also only about as true as an abandoned film set.
'Linda Blackburn: The Law of the Saddle' is on view at Artspace111 in Fort Worth through May 5, 2018