Art at Halftime: Daniel Bernard Roumain
On September 6, composer Daniel Bernard Roumain, "the new face of classical music" said farewell to his two-year residency at the University of Houston's Mitchell Center with "a halftime show like no other": Roumain choreographed a combined performance by the UH Spirit of Houston Cougar Marching Band and the Grambling State University's Tiger Marching Band at the football game between the two schools at UH's spanking new TDECU Stadium.
Roumain's blend of funk, hip hop, and classical music is in demand as a bridge between races and generations, and outsized hopes for revitalizing classical music are pinned on him. I, too, was hoping for something special: when you're given an instrument like Grambling's Tiger Marching Band (They played at both Obama inaugurations!) you've got a lot to live up to.
The bands played Roumain's composition Hip-Hop Etude in C# Minor, and, to tell the truth, it was a little difficult to tell what Roumain had done differently from a regular halftime show, especially if the band is Grambling State, which is famous for its showmanship. Was it the way the two bands mixed together on the field? Was it the somewhat chaotic free dance movements they did during one segment, or was it the lack of marching? The huge stadium's poor acoustics made the rhythm muffled and muddy, and the finer details of the playing nearly inaudible. Like many Mitchell Center experiments, Roumain's halftime intervention it was an exciting idea, but the reality was underwhelming.
♦♦♦♦♦♦♦♦♦♦♦♦♦♦♦♦♦♦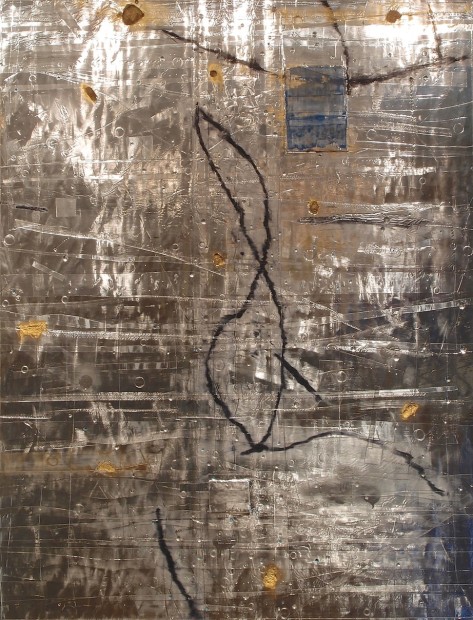 Larry Graeber: Traces at Houston Baptist University
Graeber's show, including three different bodies of work all completed in the past year or two, reads like a mini retrospective: oil paintings built from scraped slabs of color, cubistic trash-art sculptures made from lumber and crushed cardboard, and relief paintings on sheets of distressed foil-faced foam board.
The foam board pieces are Graeber's best. Their up-to-date material frees them from most of the cloying historicism that is Graeber's soft spot. Graeber smears the shimmering metallic foil with transparent paint, then dimples it with seductive pockmarks and craters with the enthusiasm of a newly minted grad student.
The oil on canvas paintings, geometric quasi-landscapes, are locked tight into a historical shadow: very Diebenkorn. Graeber's color sense is jaunty but a little naive.
I'd call the sculptures "atmospheric constructivism." Made from wood scraps, cardboard, string and trash, and slathered with thin, drippy paint, they have some of the abject sentimentality of Cy Twombly's whitewashed objects, but without the dead flowers. They are funky, but not junky: they don't wallow in nostalgia.
Whatever his medium, Graeber is enamored of patina—the paintings are knifed, sculptures slathered, the foam board dented and stained. He's clearly in love with making things, a love which makes him prolific, and also repetitive. The evocation of his studio process is the best thing about the work: you get the sense that Graeber is having more fun making this roomful of objects than we are looking at them.
Graeber is an inventive guy with a lot of formal sensitivity and a beaut of a work ethic. He's been working in San Antonio since 1971, but manages to maintain a refreshing amateuristic zeal that goes a long way towards excusing his many debts to various artists of 20th century.
Larry Graeber: Traces will be on view at Houston Baptist university through October 17, 2014.
 ℑℑℑℑℑℑℑℑℑℑℑℑℑℑℑℑ
 Air condition out the flo': The Menil Song Lyrics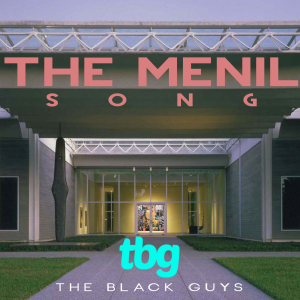 Robert Hodge and Philip Pyle II's Menil Song, released a few weeks ago, plays off the contrast between the Menil's restrained Euro-sohistication and the streetwise conventions of rap lyrics. It's is full of insider anecdotes the Houston art community will recognize: references to Uriel Landeros' Picasso vandalism, the Art Guys' tree wedding imbroglio, the idiosyncrasies of the Menil's Renzo Piano designed headquarters. The song even includes a micro-summary of the legacy of legendary Texas Southern University art professor John Biggers—the flow of the beat is interrupted to allow the narrator to speed-talk a footnote about Biggers like the rapid-fire disclaimers at the end of a car dealer's radio spot. Here are the lyrics, (as near as I can make out from a couple dozen listens, apologies for any inaccuracies):
Robert Hodge and Phillip Pyle II: The Menil Song Lyrics
Headed to the Menil
Hell yeah, I'm a go!
Air condition out the flo' and a book sto' (reading!)
It don't cost, off that Sul Ross
Dominique de Menil was a freakin' boss
that's right
It don't cost, off that Sul Ross
John De Menil was a freakin' boss
Whole neighborhood is painted gray (why?)
Admission free, Wednesday to Sunday
One of Houston's finest art havens
With a whole installation by Dan Flavin
Cy Twombly Gallery and that Rothko Chapel
But if you're tripping it can be a hassle
(Uh-oh) Damn, bro! Don't deface the Picasso
And and and the Art Guys married a tree but we're the Black Guys
so we goin' forever be
Riding by Menil slow, you don't need no cash flow, we the only negroes, Hodge and Phil
Riding by Menil slow, you don't need no bank roll, (yeah) we the only negroes, Phil and Hodge
Just one of them days
I hain't nothing to do
So I pick up my phone, and I hit the crew
(where you all at?)
Shit! nobody call me back but Phil
Hey, what up, man (what up, man)
Hey man, let's hit the Menil
The Menil?
Yeah the Menil,
Dog, we can chill
That Max Ernst painting swear to God that's just surreal
Surreal, surreal I just love the way that space feels
The size of their Warhol guy, man, mass appeal
My nigga, I love that Rauschenberg
And that Rothko pen is so relaxing
But where the hell is John Biggers?
(Who dat?)
You know, that professor from TSU that started in 1949 and stayed overtime, man, that boy was always grind?
He had beautiful mirror . . . (speed-talking  ??) . . .Africa. It was amazing.
But anyway, see back to the Menil, 'cause I think me and Phil be blazin'
But anyway, it's so cool with the AC
Menil, when you ain't got nothing to do
That's probably where you'll be finding me (let's go!)
Robert Rauschenberg, Marcel Duchamp
Riding by Menil slow, you don't need no cash flow, we the only negroes, Hodge and Phil
Riding by Menil slow, you don't need no bank roll, we the only negroes, Phil and Hodge
Riding by Menil slow, you don't need no cash flow, we the only negroes, Hodge and Phil
Riding by Menil slow, you don't need no bank roll, we the only negroes, Phil and Hodge
Jackson Pollock, Andy Warhol, yeah, Jean Michel Basquiat, Basquiat (fade out)
Robert Hodge's solo show of paintings, Destroy and Rebuild, opens this Friday, Oct 3 at at the Contemporary Arts Museum Houston. Pyle and Hodge's We're the Black Guys, an evening of Art Guys performances, happens at the Art League Houston on November 15.