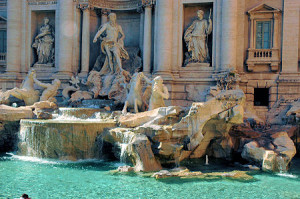 In anticipation of the Nasher Sculpture Center's exhibition of Nasher XChange, which is set to open in mid-October, the museum has been releasing details of each project one at a time. The Nasher XChange will be a citywide art exhibition consisting of ten newly-commissioned public sculptures by contemporary artists at ten sites throughout Dallas in celebration of the Nasher's tenth anniversary.
The next (eighth) project sounds mysterious. The details will come out tomorrow in what is billed as a "Media Announcement & Coin Toss," to take place at the NorthPark Center shopping mall in Dallas. Beginning at 12:30 pm, there will be a "casual lunch, media announcement and coin toss/'big' check photo-op at Dillard's Fountain." The remarks will come from Nasher Director Jeremy Strick, who will announce the project details, and NorthPark Center owner Nancy Nasher, who will announce the "benefiting charities."
So, there's a full day to guess what sort of public sculpture would be located in a shopping mall, how and which charities would benefit, and which of the remaining three artists whose projects have not yet been revealed (Lara Almarcegui, Rachel Harrison, or Charles Long) is responsible.
Even the location for the event sounds like treasure hunt instructions: "Meet at Corner Bakery's Indoor Patio Near Dillard's."