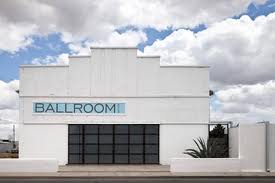 New York can't seem to get enough of Marfa. Last month, Manhattan opened the recently restored SoHo home of Donald Judd, referred to by NYTimes' Roberta Smith as "the template for all things Marfa," to the public. Then Playboy sent down a big New York artist to build a giant neon bunny on the desert highway in hopes of absorbing some of that Marfa hipness. Now, New York is bringing Ballroom Marfa to town in the form of Marfa Dialogues/NY this October-November.
Originally conceived as a symposium to broaden public exploration of the intersection of art, politics and culture, Marfa Dialogues was co-founded in 2010 by Fairfax Dorn of Ballroom Marfa, the contemporary arts center in Far West Texas, and Hamilton Fish of The Public Concern Foundation (PCF), a New York non-profit devoted to the advancement of public education around social and political topics.
Sponsored by the Robert Rauschenberg Foundation, Ballroom Marfa and the PCF, the interdisciplinary project will address climate change through art, activism and science. Marfa Dialogues/NY will feature two months of programming including community forums, art exhibitions, musical performance and environmental panels. Ballroom Marfa will present an exhibition at the Rauschenberg Foundation Project Space in Chelsea, and will orchestrate additional events with Marfa Dialogues program partners at that location.