"In a world where proving yourself is everything"… I present Similar but Different #27: Glitter!
Mariah Carey
Oliver Herring
"After its scheduled run, Meulensteen (formerly Max Protetch) took down their Oliver Herring show last week to the delight of neighboring gallerists. Many were complaining that Herring's bags of glitter were the cause of stray glitter making their way into their spaces. "We've mopped twenty times" one gallerist complained, noting that it was also a conservation nightmare as the material was getting stuck on paintings. This prompted a story regaled by a friend in which a receptionist at D'Amelio Terras responded very nervously to her observation that the gallery had a significant amount of glitter on the floor. "Look, we're aware of the glitter" she told the friend, "and we're doing everything we possibly can." I made mention of this ruffling of feathers over twitter recently, and had many a tweet returned with the sentiment that glitter is the herpes of the art world." Via: Art Fag City.
Karen Finley
The Constant Desire
Act I
(Enter in yellow dress. Hair in Chignon. Monologue from overstuffed chair.)
Baby Bird
…She dreams. She dreams of being locked in a cage and singing loudly and off key with her loved ones standing behind her whispering very loudly. "She has an ugly voice. Doesn't she? She has an ugly voice." Oh leave it to the loved ones to judge us like they do. It's always the loved ones who always interfere with our dreams… TDR
Vol. 32, No. 1 (Spring, 1988), pp. 139-151
Published by: The MIT Press
 Tony Feher
I worked at Lora Reynolds Gallery back in 2010 when  Tony Feher showed Pink Hole, an unfolded, glitter encrusted reincarnation of a three-dimensional French fry box. I loved it then and I love it still.
Polly Apfelbaum
Polly Apfelbaum's recent installation now on view at Hansel and Gretel Picture Garden in New York till April 28, 2012. From the press release:
"174 individual Revolts are fashioned of Plasticine rolled flat with glitter poured on top. Each is a delicate but fixed object created in Apfelbaum's studio, and then transported to the gallery via truck.
Apfelbaum played alchemist with a deftly improvised mix of pre-packaged glitter sets, academic color theory and boldly irreverent color play. The work resists being about any one thing, instead shifting between references—alien buffet, drugs to snort, disco altars, botched science experiment, post-post-modernist shopping mall."
Fiona Rae
Thomas Feulmer
Matt D. Clark and Kathy Webster

Collaborative team Clark and Webster, WE LIKE THE BOOM, made "an endless party celebrating an America of all glitter and no doom".  Shown  in the Upstairs Gallery at 500X in Dallas it had two large floor sculptures resembling molars covered in glittered Pop Art imagery.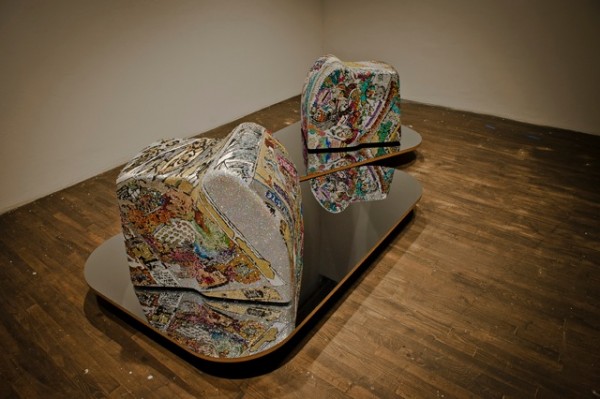 Andy Warhol
Andy Warhol's Diamond Dust series from 1980. Not really diamond dust, his shoes instead sit on a crushed glittering glass black background.
Glenn Ligon
Coal dust actually but glittery none-the-less. Go see his amazing exhibition Glenn Ligon: America at the Modern Art Museum of Fort Worth. A mid-career retrospective of his work it was originally organized by the Whitney Museum of American Art and surveys 25 years of Ligon's work. It is one of the most powerful exhibitions I've seen in a long time.
Watch and Listen: Audio guide stop for Glenn Ligon, Untitled (Conclusion) 2004.
Via: The Whitney
Dinah Shore
Finally may Dinah and I leave you with this important advice…
http://youtu.be/58IOGR4l-cI