Glasstire contributors offer up their picks for the best spring shows around the state. Think we missed something great? Post it in the comments section below!
AUSTIN
Alison Kuo: Colorful Food
1117 Garland
January 4 – February 14
Former Austin resident and current School of Visual Art grad student, Alison Kuo will present a psychedelic food-based performance and installation at 1117 Garland, Joshua Saunder's living room gallery. Kuo or a guest artist will operate a snack machine described as "part vending machine, part automated fortune teller and part grade school science fair project." Kuo is interested in investigating the interaction between providing and receiving desired goods. "Something about communicating with people using unusual food as a medium, a conduit, creates an art interaction that I've always wanted to have," she explains. "I made a 'snack machine' so I could control that exchange more, make it more explicit that something's happening that requires input from the audience, the guest and a weirding of my role as a disembodied hostess with manicured nails." – Katie Geha
Diego Bianchi: Into the Wild Meaning
Visual Art Center
February 1 – March 9
Artist, Okay Mountain member and show curator Sterling Allen met Diego Bianchi during a residency in Buenos Aires in 2010. Sterling describes visiting Bianchi's studio: "It was in an old warehouse and there were no solid walls, but rather he was working in a caged-in area made of steel fencing. Seeing his work in person (and in progress) in this dense crowded studio was amazing. It was hard to tell what was work, what was garbage and what was finished. I liked that ambiguity." Bianchi will turn the arcade space at the VAC into a make-shift studio, allowing his work to build throughout the month. The project reinforces Sterling's notion that the work seems "alive both in an anthropomorphic way and also in the sense that all of the objects hold this potential for change or use." – K.G.
Temporary Services: Socialized Media-Designated Drivers, Interactive Records and a Booklet Cloud
Texas State University Galleries
March 19 – April 12
Chicago-, Philadelphia- and Copenhagen-based art collective Temporary Services (Brett Bloom, Salem Collo-Julin and Marc Fischer) creates art that avoids the market, engaging in creating connectivity through social services. As they explain, "We move in and out of officially sanctioned spaces for art, keeping one foot in the underground and the other in the institution." For this exhibition the group presents three projects. One, Designated Drivers, consists of 20, four-gigabyte USB flash drives filled with works of art and other ephemera. Each of the drives is curated by a national or international artist. During the run of the exhibition gallery goers are invited to load up their computers and explore the information provided. – K.G.
BEAUMONT
Sally Chandler: The Lost World
Art Museum of Southeast Texas
April 20 –  June 30
Opening April 19, 6 – 8 p.m.
The Lost World is Houston artist Sally Chandler's time capsule of mythologized 18th- and 19th-century French sensibilities. People, birds, animals, aristocratic estates, old libraries and landscapes, elegantly tamed and gorgeously wild, crystallize an irretrievable past, both mysterious and unsettling. 84 paintings and works on paper, hung salon-style, overload viewers with whimsical stream-of-unconsciousness archetypes. Organized by AMSET, and guest curated by veteran Texas critic Susie Kalil, the show had its debut at the Ogden Museum of Southern Art in New Orleans last year. – Bill Davenport
CORPUS CHRISTI
Prophecy: An Exhibition by Day Wheeler and Jimmy Peña
K Space Contemporary
January 4 – February 22
Opening January 4, 5:30 – 9 p.m.
Every kind of refuse washes onto the beaches of South Texas. Prophecy, a collaborative installation by Corpus Christi artists Day Wheeler and Jimmy Peña, fashions plastic sea trash into a cast of grotesque pods and creatures, foretelling the slow decline of the ecological balance of the Gulf Coast. Constructions, some with light, sound and kinetic features, aim to create an ominous, eco-apocalyptic vision. Longtime collaborators, Wheeler and Peña have shared studio space for 14 years. Peña is self taught; Wheeler has an MFA and teaches at a community college. Both hope to touch a sensitive nerve in Gulf-aware Corpus Christi and make "a population where contemporary uncensored art is rare" aware that the world is facing an ugly future. – B.D.
DALLAS/FORT WORTH
Angela Kallus: New Work
Marty Walker Gallery
January 12 – February 16
After a twelve-year stint in Las Vegas where she went to be inculcated in the ways of the one and only Dave Hickey at UNLV, the painter Angela Kallus returns to her native Texas to begin a teaching stint at TCU. Kallus opens her first solo show in Dallas at Marty Walker Gallery with a collection of works that include a number of her circular disk paintings—meticulous spins of ridged color that recall vinyl records and garnered the artist quite a bit of attention while still in Vegas. She will also show newer, highly wrought paintings of acrylic roses which feel like a cross between the surface of a wedding cake and a Faberge egg—part frosting, part encrusted relic detail. These rose paintings in particular are grinningly garish—saccharine, but two steps removed from actual sweetness. There's a clever irony in them that belies the deep cut that Kallus makes into ideas of romance and femininity and their iconic visual conceits. Her skill in making these paintings is masterful, with a clear, enunciated proficiency in paint and its potential to visually and conceptually confound us. – Lucia Simek
Colette Copeland: Reflections on the Way to the Gallows (2010 – present)
500X
January 12 – February 2
Multimedia artist (and Glasstire contributor) Colette Copeland launches a show of video work she has been researching and making for the last three years. The six-part narrative video installation highlights the public executions of 21 women in Pennsylvania from 1682 – 1834, as well as the gallows sites of public lynching of women in Texas. Copeland makes connections between the illegal hanging of blacks in the South—lynching—and the legal public executions of females. Copeland notes: "Both occurred for public spectacle and entertainment—the consumption of death for prurient pleasure. It is interesting to note that most of the former gallows sites are now public parks—places for public gatherings." Copeland is keen on highlighting these atrocities as way of remembering what has been buried or glazed over by history in an effort to understand why these events happened and why we ignore them. Copeland's work also includes a web-based component which uses Google map software to create "dark tourism sites" where visitors can watch a short narrated video at each historical site on the map. – L.S.
Focus: Gary Simmons
Modern Art Museum of Fort Worth
January 13 – March 14
Hurricane Sandy waylaid this Focus exhibition of Gary Simmons work back in the fall, trapping both the artist and his work in New York and forcing the museum to reschedule the show until this January, which makes for a good way to start the new year. Simmons' large signature chalk drawings are smudged as if in the process of being erased, creating a motion-filled scene that's haunting and frantic. (In DFW, football fans and art lovers will have seen his work at The Death Star, er, Jerry's World, er, the new Cowboys Stadium.) Simmons' work explores themes of race, pop culture and class with imagery that investigates their intersection in American culture. Highlights of the Focus show will be an enormous blackboard-paint and chalk-drawing mural called Subtlety of a Train Wreck (1998), which depicts two trains trapped in the moment before impact as they careen toward each other head-on. Another, Starlite Theater (2010), shows the Dallas theater which was one of the first drive-ins in the country to allow black patrons in the 1950s. Showing Simmons' here in DFW, a metropolitan area still so racially fraught, brings a potent recipe for dialogue about our cultural divides. – L.S.
Getting To Know You: Terri Thornton
The Reading Room
March 9 – April 14
Artist Terri Thornton is fascinated by the ways that we attain knowledge—how each moment provides an opportunity for learning and intellectual growth. She takes the first few lines of the famous song "Getting to Know You" from "The King and I" as a jumping-off point for a series of drawings and related materials. Thornton explores ideas of reading in non-linguistic ways, "reading the stars, for example, or reading lips or the weather, body language, data and so forth." Thornton's interested in how art relies on image, and unpacks the idea through work that uses text as image and image as text for this show. Thornton's work is always subtle and contemplative, and her exploration of learning as process is bound to prove quietly loaded. – L.S.
Keri Oldham: The End Series
Kirk Hopper Fine Art
March 30 – May 4
Dallas-raised, Brooklyn-based artist Keri Oldham showed her The End Series paintings at The Reading Room last summer. She's back with an expanded series at Kirk Hopper this spring. A self-proclaimed cinephile, Oldham's paintings are of the ending fonts from well known films. Attached to the fonts are planetary shapes that hover in the void. Oldham is interested in "deep space and deep mind" and how the two play out in our connection with movies—the relationship we form with film characters and their stories in film. Her paintings play with the idea that the end of the movie is not the end of our experience of it. – L.S.
Andrew Douglas Underwood: The Fall of Bonnie and Clyde
McKinney Avenue Contemporary
May 18 – June 29
Andrew Douglas Underwood makes research-based artwork that sends him trekking all over the globe to gather information for the beautiful paper works, photographs, sound installations and objects that make up each body of work. Underwood is after romantically infused historical stories that point to wider ideas about grandeur and human fallibility. Recent works include an ironic look into the love tryst between Queen Elizabeth and the Duke of Essex and the duel between Alexander Hamilton and Aaron Burr. His latest endeavor was to track the story of the famed Dallas outlaw couple Bonnie and Clyde and gather tidbits of their adventures in order to create a parallel between their tale and literary stories of man's downfall—the Bible, Milton's "Paradise Lost"—reseating ancient religious symbolism alongside the villainous antics of one of America's dearest criminal duos. Expect to see a gorgeous installation with various components, including, I'm told, a sound piece that riffs on Clyde Barrow's saxophone skills. – L.S.
HOUSTON
Birds, Grids and Other Symbols: Art by Roberta Harris
The Jung Center Gallery
January 4 – January 30
Opening January 5, 5 – 7 p.m.
Every once in a while, an exhibit at the tiny Jung Center can surprise you. Right next door to the hulking metallic CAMH, it's easy to overlook their reverential but sometimes wooly-headed offerings. But a show like Roberta Harris's can restore your faith in, well, faith. Harris uses a quintessentially Jung Center mash-up of modern and primitive symbols to express and inspire hope, joy, encouragement, peace, kindness, strategy and imagination, and it works! Harris, a native Houstonian, has been exhibiting here since the 1970s, but this new show is part of a recent spurt of attention she's been getting in Dallas—including a 2009 retrospective at the Women's Museum and a solo show, Step Up, that opened at Kirk Hopper Gallery last March. – B.D.
Crónicas: Seven Contemporary Mexican Artists Confront The Drug War
FotoFest
January 17 – February 23
Opening January 17, 6 – 8 p.m.
FotoFest presents photography and video by young Mexican artists from Ciudad Juárez, Monterrey and the states of Sinaloa and Oaxaca. All of them came of age during the rise of widespread violence as drug cartels battled each other, the Mexican Federal Police and the military. Curated by Jennifer Ward, the show presents provocative interpretations of the complex, multi-party conflict and the media's response. Miguel Aragón literally attacks the newspaper images he appropriates: cutting, burning and drilling them to form ghost-like images of dead cartel members and civilians. Photojournalist Fernando Brito documents everyday death in Culiacán; corpses of murder victims contrast with the pristine landscapes where they are discarded. Marcela Rico photographs the fields and mountains of Sinaloa, adding smoke, fire, explosions and sculptures. Pedro Reyes organized a voluntary gun donation project that collected 1,500 guns in Juárez and melted them down into shovels that are now being used to plant trees. Edgardo Aragón stages videos using his young nephews and cousins to reenact the family's own history with organized crime. Houston-based Ivete Lucas montages appropriated media about the effects of political and policy decisions on the Mexican population. Jorge Arreola Barraza photographs empty billboards in Juárez, as casualties of the drug war and the failed promises of NAFTA. – B.D.
Tony Feher: Free Fall
DiverseWorks
January 19 – March 16
Opening January 18, 7 – 9 p.m.
Tony Feher is known for minimalist sculptures and installations created from plain-jane consumer materials—but can he dance? DiverseWorks has commissioned the acclaimed artist to create an interactive, performative installation combining music, dance and sculpture to coincide with his survey exhibition at UH's Blaffer Art Museum. Working in collaboration with local choreographers, dancers and musicians, Free Fall aims to expand the practice of all the participating artists and accustom audiences to experiencing visual, moving and sonic art forms simultaneously, even when they're not at the movies! – B.D.
Gunilla Klingberg
Rice Gallery
January 31 – March 17
Opening January 31, 5 – 7 p.m.
Gallery talk by the artist at 6 p.m.
At the end of January, Swedish artist Gunilla Klingberg will cover Rice Gallery's floors, walls and windows with an ornate mandala of supermarket, fast food and big box store logos, playfully proposing that the most ordinary commercial rituals can turn into something spiritual. It will be interesting to see how her high art, disinterested, European point of view plays in Houston, where culture is seriously impacted by intense branding, product placement, sponsorship and naming rights. – B.D.
 LUBBOCK
Rick Dingus: Excavated Archives
Louise Hopkins Underwood Center for the Arts
January 4 – February 16, 2013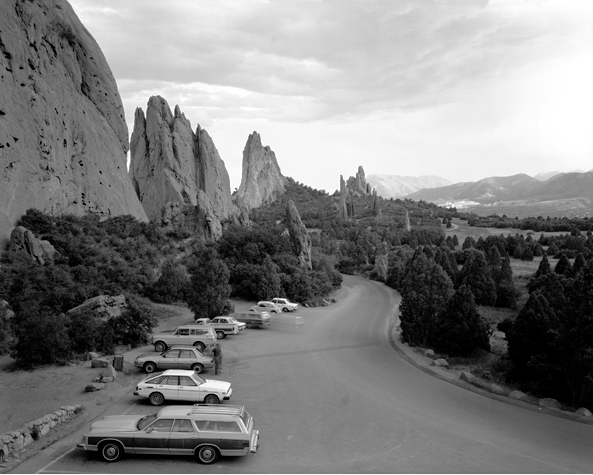 Last summer TTU Professor Rick Dingus discovered about 30 rolls of black and white film in deep storage. After years of digital processing, he returned to the darkroom to develop that film by hand; the results were interesting, prompting him to piece together a new look at a bygone period in his career as a photographer. The images record a recurring interest in "social landscapes",  seen not as untouched nature but as evidence of human engagement with the world — a mirror reflecting changing hopes, fears, and knowledge. -B.D.
MARFA
Rashid Johnson: New Growth
Ballroom Marfa
March 8- Spring 2013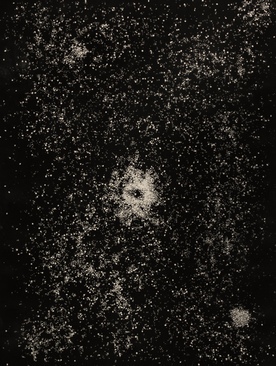 Chicago-born, New York-based artist Rashid Johnson creates a new steel and shea butter sculptures and starscape paintings in an installation exploring African-American intellectual history and pop culture. Crammed with historical references (what's shea butter?) and meditating on the the cultural phenomena that shape African-Americans as a social group while questioning the uniformity of "black experience," Johnson's work sprouts tags like lost airline luggage; try out "Afro-futurist narrative," "post-black," and "hijacking the domestic" and see how they fit! – B.D.
SAN ANTONIO
Real/Surreal: Selections from the Whitney Museum of American Art
McNay Museum of Art
February 13 – May 19
The Whitney Museum in New York comes to San Antonio in this broad survey of works from the museum's permanent collection. The show, comprised of 65 paintings, drawings, prints and photographs, promises to mine the dialectic of the real and the surreal. Featured are works by 20th-century giants such as Charles Burchfield, Paul Cadmus, Joseph Cornell, Philip Guston, Edward Hopper, Man Ray, Ben Shahn, Charles Sheeler, Yves Tanguy, George Tooker and Andrew Wyeth. – K.G.
Scott Martin
Blue Star Contemporary Art Center
February 28 – March 30
San Antonio photographer Scott Martin takes pictures late at night when the rest of the world is asleep. Using a camera and hand-held flashlights, Martin employs long exposures, painting with light, to create stark landscapes. The sites he photographs are often abandoned, reflecting on human presence and absence. Martin states, "For me, the interplay of light and shadow, and existence and invisibility, reflects a world both mysterious and possible, imagined and discovered." – K.G.
International Artist-in-Residence: New Works 13.1
Artpace
March 21 – May 19
Artpace's spring residents, Tala Madani, J. Parker Valentine and Adam Putnam, were selected by Suzanne Cotter, curator of the Guggenheim Abu Dhabi Project. All three artists make work that playfully and, often ambiguously, questions perception and representation. Iranian-born Brooklyn artist Madani creates humorous paintings and animations that perversely contort notions of manhood, machismo and power. Austin and New York artist Valentine reinvents a traditional drawing practice through her use of varied materials in sculpture, photography and video works. Her recent body of work explores the uncanny ability of the eye and the mind to anthropomorphize objects in the world. Putnam, a New York artist, incorporates performance, drawing, sculpture and photography into installations that draw from classical architecture. He explains his current work: "Recently I've been thinking about thresholds between insides and outsides—of interior-exteriors as a kind of working geometry, as the places where things get confused or rupture or break apart." – K.G.