This last April I attended a curators' symposium in Austin during the Texas Biennial. It was a day-long series of panel discussions and presentations hosted by Arthouse, right around the time Arthouse was enduring some serious criticism over its censorious and/or irresponsible treatment of two prime exhibitions and of its own confused and confusing treatment of its own (now former) curator. Odd vibes all around that day. (If you want to research the brouhaha, be my guest. The fallout in Austin has been tangible.)
Dozens of curators from every corner of Texas showed up at the behest of Biennial curator Virginia Rutledge to meet and greet and gripe and inspire. During one of the panel discussions, I spoke out about the influence of boards and committees. I said that curators at larger and more bureaucratic institutions can feel a bit shackled by the expectations of conservative or cautious governing bodies and board members. But I argued that we should still try to set an example for emerging artists and the art-loving public by finding alternative spaces to curate more experimental or risky shows outside of the places we formally work.
I think I acknowledged that most or likely all of us are overworked and/or underpaid, but said that I'd like to think we all got into this because we love art, and want to be around it and around living, breathing artists (most of time, anyway) and to generate great dialogue and just generally light some fires. Being gainfully employed by a large. conservative bureaucratic institution can be wonderfully stable, but it often comes with some political baggage. Obviously.
(At this point, a woman in front of me turned around and said, in a bitchy, soap-opera condescending tone: "We're all already doing that." I thought, "Really? Curators from major conservative institutions are mounting guerrilla shows right and left? Because I don't see it." "They sure aren't in Dallas and Fort Worth," I told her. I don't know what magical fairyland of curator superheroes she comes from, but it must be one awesome place.)
But it is hard. It's hard to find the time and energy to generate shows from scratch and with little to no money. Even so, curators, just by their title, often have some credibility that emerging artists and struggling artists are striving for, so it might be easier for us to do the asking and fill out the paperwork, so to speak (most of us can fill out loan forms in our sleep). We hope all these young artists and art historians fresh out of grad school will take the initiative and do what we're all begging them to do: "Don't wait for galleries to pick you up or ask you to curate. Organize your own shows. Do it yourselves." Houston and Austin are ahead of the curve on this front, with young artists showing a resourcefulness even the most type-A curator could envy.
There's also the question of contracts, in which a curator may be bound to his or her institution in way that discourages curating outside his or her primary employment without express permission. But I queried a handful of major curators at big institutions, and they all said they were allowed to curate outside their main jobs. And loopholes abound. Work with collaborators/partners in crime, and there is always creative language and titling that can snake around obstacles.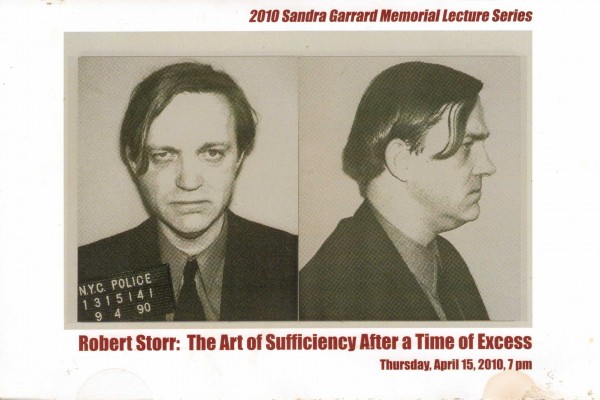 For me, one of the most agonizing things about institutional curating is the long lead time. Large shows have to be organized so far in advance that there's no room for spontaneity or the impulse to go with the thought that woke you up in the middle of the night. I get some flexibility at my venue, though the luxury of spontaneity disappears with tighter budgets and higher expectations. But you can find a way to show what you want to show, for the most part, in another venue. You just can.
Today's economy has afforded the keen-eyed curator plenty of abandoned buildings to pester landlords about: I doubt many slumlords would turn down a bona-fide curator looking to use and even improve their space for a week or a month. Obviously you can't put a delicate, brittle Rauschenberg in a space with no current museum facility report, but you can sure show 90% of the most interesting art that's being made right now in your own backyards.
Here's the deal: Temporary non-profits, pop-ups (yes, we're tired of the term but it's accurate), apartment galleries, house galleries and all manner of new types of alternative spaces are where the energy is right now.
Ryder Richards and I were recently guest speakers in a class for MFAs at TCU. We were asked by Eric Eley, the class professor (and a good artist new to Dallas) to talk about how we got into curating, but really, in the two hours we talked (Ryder talked, I rambled), the only time I felt myself get really excited and wired was when I was imploring the students to strike out on their own, find unexpected venues and mount their own shows. Commercial galleries are strapped and scared; young talent isn't being snatched up at the rate it was pre-recession. (That was all mostly a myth anyway.)
Of course I had to bring up the Good/Bad Art Collective—I'm like a broken record that way—but that legacy is just so valid right now. Luckily, TCU does have some sophisticated MFAs who are taking charge of their own fates with a new project called "Homecoming." It launches in December. I'm sure you'll be reading more about them on Glasstire and elsewhere in the near future.
Indeed, in Dallas/Fort Worth, not-for-profit and spontaneous curating is enjoying a mini boom. Maybe not by the curators of the largest institutions—though here I'll give a major shout out to Jeremy Strick and company at the Nasher, who is making that place the most interesting and lively museum in the region by curating shows in unexpected parts of his building and programming the hell out of it—but some smaller and quieter things are happening in dignified and impressive ways.
Michael Corris, chair of the Division of Art at SMU, maintains the Free Museum, an ongoing series of smart shows, in his own office. Karen Weiner took her art interest to the next level by opening the Reading Room, a permanent space that works like a much-needed salon for discussion and shows. There's Subtext Projects, run by some very smart young women in Fort Worth who find spaces and cook up some great stuff, and recently Brand 10 in Fort Worth opened as an artist-run permanent space.
There's plenty of buzz on the non-commercial Oliver Francis Gallery in Dallas, with the guy who runs it, Kevin Rubén Jacobs, saying he'll curate outside his new space, too. Stephen Lapthisophon and Anne Lawrence are curating independent shows; Ryder Richards has been curating two (at my last count) worthy ongoing projects outside his job at Richland College the whole time he's been around. I'm sure I'm missing a few. But, more of this, please.
In the classroom talk with the TCU MFAs, the original Modern Ruin came up as well. It wasn't easy for me and Thomas Feulmer to organize that bank show outside of our full-time employment, but damn, it was worth it. And we did something like it again, just a couple weeks ago. Quick and dirty. It lasted one night, in a borrowed and cleaned-out Fort Worth bungalow, and we and the artists turned it around in a couple of weeks. The art was great—even stronger than I had expected, actually—and the crowd and the energy followed. Now I'm sitting here wondering about a hat trick.
So that's my message for the week. Curators, high and low, for major institutions and minor non-profits: get cracking. The artists and your local scenes need you more than ever right now, and you will be a happier person when you do the right thing.
_________________
Christina Rees was an editor at The Met and D Magazine, a full-time art and music critic at the Dallas Observer, and has covered art and music for the Village Voice and other publications. She was until recently the owner and director of Road Agent gallery in Dallas. Rees is now the Curator of Fort Worth Contemporary Arts, TCU.