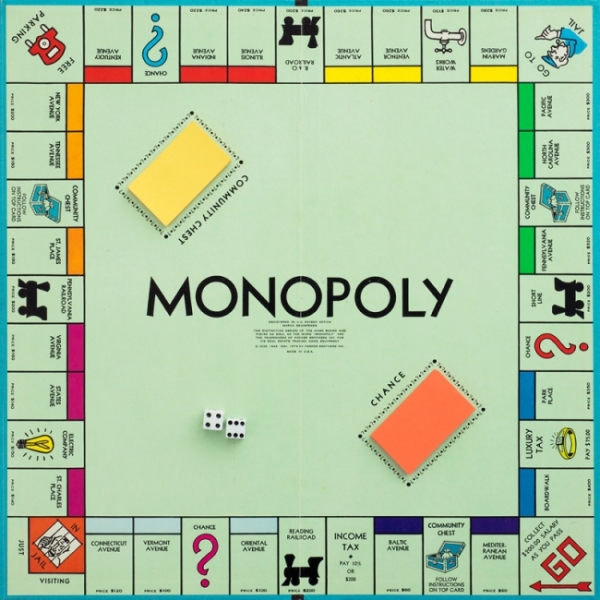 Mike Osborne's Monopoly exhibition at Holly Johnson Gallery in Dallas presents an elegiac look at contemporary Atlantic City. The locations of the photographs correspond with spots on the Monopoly board. The game's competitive, enterprising spirit is undercut by the urban blight depicted in the photographs.
Osborne was inspired by a 1972 essay by John McPhee titled "The Search for Marvin Gardens." The essay collapses three ambitious themes into an inventive, disjunctive narrative. The reader is given a place at a fictitious Monopoly tournament. Each time a player lands on a spot, McPhee gives a detailed account of Atlantic City history, its early real estate investors, and also his own travels through the city, which by then had fallen mostly into squalor.
For Monopoly, Osborne mostly eschews the thematic fireworks that occupied McPhee. Osborne doesn't tackle history nor does he address the game's penchant for having regular people behave like opulent war chiefs. But he does share McPhee's favor for "narrative truth" over documentary. That is why situations of emptiness and woe in some of the pictures are invested with a poetic force and certain street scenes emit and reflect light like visionary theater settings.
The one picture that I think has some relationship with the board game, other than just the place name, is one taken on Connecticut Avenue. Osborne shows a sophisticated, even cunning sense of play with that connection and stretches the relationship loose and thin. That building marked "Flagship" may well be some hub of authority, but it feels a long way off, and seems to have no bearing on the day laborers or corner men in the street. These men have replaced the high society game tokens and they hardly seem in a race to acquire that boarded up property on the corner. There is no evidence that its authority or initiative has served them well. In fact, it is impossible to discern what these men consider a win for the day. Within each hoodie is a private world.
The shadows of traffic cameras in a picture taken on Virginia Avenue, like the far-off building labeled "Flagship" in the previous picture, invoke Osborne's leitmotif of a scarcely visible, probably ineffective authority that is always watching or threatening to watch. An even more pronounced theme is the inability of casinos to fertilize the land for other sorts of industry. They stand alone, these casinos, presenting a risible self importance amidst sickly trees and weedy lots.
In this picture of Virginia Avenue, a leafless tree and a kitschy, Arabic-themed lamppost stand in the middle ground. Any sense of mystery implied by the lamppost is dulled by the empty tree and ends at the deadpan facade of the casino. And there along the wall, in the shadows: those weird-looking hints of some distant authority.
The lamppost is a feebly optimistic sign, and the man nearest to it in frame is trying to muster a bit of optimism and confidence as he smooths his thinning hair before going through those unrevealing glass doors. The man nearest the empty tree seems to be leaving the casino by an alternative route; perhaps this is a side-door escape. Easy to imagine the phone call has to do with a bank-account balance, or lack thereof.  The two men suggest a loop of hopeful entries and worried exits, a pattern just as fixed as those poor roots of the tree, locked beneath an iron grate and cement.
A picture taken on Baltic Avenue also concerns a scarcely visible authority. It is questionable whether the police cruiser has dominion over this empty field. Standing alone and occluded by the pouring rain, it looks more ridiculous than vigilant.
The surveillance camera in a picture from Pennsylvania Avenue occupies a marginal place. The central display is made up of golden pins and pendants of religious images. It is doubtful, though, that these images are valued for their meditative qualities. They're probably good luck signs for the betting tables. And it's a good bet that these symbols were hocked. Their service is reduced to a money-changing scheme of icons for casino chips, because casinos don't truck with icons or art.  And notice that the shopkeeper has relegated the watches to the lowest shelf of the display. Time is another system of authority a casino culture wants you to ignore. Casino culture is neither creative nor provisional; its mode is the wager and other types of lopsided transactions. The shopkeeper looks like an earnest man, but it's probably a predatory relationship he has with customers: the lure of bling for the newly flush; a bit of quick cash for those who are bust. Notice he's dressed like a dark harlequin, a player in an economic farce.
The casino in this picture from Baltic Avenue shines like a god. Its power for casting light is something the ugly utility poles and power lines seem incapable of aspiring to. But the glare is too shrill to nurture anything. The casino's panoply seems to have blown apart any scheme of mortal initiative and left a sere field.
The grim environment in most of these pictures undercuts the glow of quick cash opportunities like the one in this picture taken on Dr. Martin Luther King Jr. Blvd. (formerly Illinois Avenue). One might admire the enterprising spirit, but it hardly seems optimistic.
Although Monopoly was inspired by "The Search for Marvin Gardens," it is not a photographic essay. We don't see how the people of Atlantic City live, or what it is like to work at a casino or rely on a casino or resort-made economy. The means by which families stay together in reduced conditions and the forms that inspire them are not depicted. Nor, conversely, are the pressures that drive families apart. And we witness none of the quick thrills or licentiousness that usually occurs in environments like these. What the pictures show instead are the artist's compelling manipulations of space and light. Like all master photographers, Osborne makes his own luck. He relishes coincidence and sudden changes in the light. I suspect it was the muse that brought Osborne to Atlantic City, not civic-mindedness, although maybe that drove him, too.
I should add that I'm a temperament that favors poetry over sociology. I don't define "grace" narrowly as optimism, but rather I describe grace as a blooming emotional oddity or mystery. Owning these biases, it doesn't matter to me whether Monopoly ties into some larger civic lesson McPhee was trying to get to. I admire the art, the flashes of lyricism Osborne finds in empty, dismal environments, and his skill for revealing hints of grace that radiate within the absurd.
Monopoly continues through December 20 at Holly Johnson Gallery, located at 1411 Dragon Street, Dallas, Texas 75207.