Sensory Substitution, Devices, Perception, Alternative Displays, Bone Conduction Hearing, Parametric Sound, Tactile Visual Displays, HipHop, Gastronomy, Echolocation, Accessibility, Hardware, Physiology, Bionics, Tongue Display Unit, Electrode Vibrotactile Stimulation
These are the keywords listed in Aisen Caro Chacin's MFA thesis on sensory substitution. In the year and a half since she left Houston for The New School, she's been called a rising star by Golan Levin, exhibited at the New York Hall of Science and was named Popular Science's Project of the Month for November. In a few words, Caro Chacin is trying to spread the wealth of crossed sensory experience to non-synesthetes.
Carrie Schneider: Can you describe sensory substitution for the layman, and what it has to do with your thesis at the New School?
Aisen Caro Chacin: By channeling sensory information from one sense to be processed by another, different sense, sensory substitution explores the plasticity of the brain. I am researching sensory substitution through case studies of experimental devices inspired by theories in this field. For example, I've made bone-conduction-hearing music players for listening through teeth, echolocation headphones for auditory spatial processing and tongue displays for tactile sight.
CS: The project that has received the most attention is Play-a-Grill, but can you talk about the research behind it and how it has led to other projects?
ACC: The Play-a-Grill was the first device of this thesis research. It began with the idea of bone conduction hearing and realizing the potential of merging it with the hip hop fashion jewelry object "the grill," that is worn on the teeth.  This placed  me on a path of research for physiological anomalies and potential of the senses. Then I found the work of Paul Bach-Y-Rita, a pioneer in the sensory substitution field, who created tongue display units, a novel way to display visual information through tactile information. I recreated his experiment in mergence with the aesthetics of Beta Tank, a non-working prototype of the PopMatrix. This then led me to the idea to create a spoon with this technology for gastronomic visual experiences, called the SpoonMatrix.
Then the research became more about creating alternate displays for information, and moving away from the screen. Prosthetics and special abilities research led me to Daniel Kish, a blind man who uses mouth clicks for echolocation to perceive his surroundings with sound. I thought that echolocation is a great and novel application for parametric sound technologies (a focused beam of sound utilizing ultrasonic sound waves rather than the properties of audible range frequencies, which are omnidirectional). So I created the Echolocation Headphones, a directional speaker mounted on soldering glasses. The speaker blocks the wearer's view, which causes them to use the sound reflection from the speaker to map and navigate the space around them.
CS: We met in Houston through Labotanica's School of Latitudes, and I remember you saying you wanted to learn how to really build stuff. Can you talk about what were you doing in Houston before you went to New York?
ACC: Yeah! Labotanica! The whole of Project Row Houses was hugely influential in my work as a social catalyst, you can see the influence of the Third Ward in my Play-A-Grill. During the School of Latitudes I was collaborating with Tyson Urich, we were exploring new gastronomic experiences by going to people's houses and making gourmet and experimental dinners with the supplies they had around their house. Now that I think about it, I think this stemmed from the gallery in my apartment freezer, the N gallery, thinking about food arrangements and alternative spaces for artistic expression as a viewing.
Ayanna Jolivet McCloud created many opportunities for experimental sound in Labotanica. I performed there with Girl Band. Influenced by the sound community and various events such as Jonathan Jindra's Binarium Experimental Sound Series, I keep my experimental sound roots here in Houston. The sound project Incoming Call in collaboration with Alex Tu and Melanie Jamison is still on foot. We perform in telepresence, I call it telejamming. We call unsuspecting performers on stage, and now that I am in New York, I am also dialed into the performances. Melanie and Alex are both key artists with whom I started the Supercolliding Introspective Review (SIR), a critique group who then curated the show SUSY which was an impromptu pastiche of visual and sound art. The show is inspired  by the concept of supersymmetry, where all particles have an invisible superpartner. The scale and performative-interactive aspects of this show were a bit new for the Houston art scene, especially for the interactive part. I started tinkering with electronics in UH when I created my first circuit in collaboration with Jack Hukill, we made an antenna. Ever since then I fell in love with electricity and the new frontier for sculpture as a device.
CS: TX/RX is a local hacker space that's filled to the brim with creative, intelligent people. Last time I visited, folks were working with Arduino and building awesome technology like 3D printers and scanners. They also teach classes and host open houses. For some reason the word hasn't gotten out about TX/RX even though they are open to collaborating with artists. You found them a few years ago when they were based in Caroline Collective.
ACC: Yeah, that's when I learned about the hacking community of TX/RX, who are now one of the biggest hacker spaces in the U.S. Their mission and community is a fantastic merging of the engineering and artistic talent of this futuristic city. Houston sits on this great platform of creativity and technology that wasn't brought to light until TX/RX came along. Here I met incredibly smart people such as Forrest Flanagan, and I reconnected with Kelly O'Brien whom I had met in other art warehouses previously. Sometimes I wish I could be here in Houston just to hang out at TX/RX more often and promote the hacking and DIY electronic culture to the youth of our city.
The GVS-X was my last project shown in Houston for The Future is Now at Skydive. It's a galvanic vestibular stimulator experiment that works as a remote controller for humans. Electrodes are put on the back of the subject's ears, at the end of the mastoid bone, to activate the vestibular system in the inner ear that keeps a person's balance. And with this I left to pursue my design and technology MFA at Parsons, The New School in New York City.
CS: What's next for you?
ACC: I just finished a new iteration of the Play-A-Grill that I call the Future Tech Grill since it was made for the host of "Daily Planet"'s "Future Tech" for Discovery Channel Canada. We are talking about showing this device in their show in January. This project has brought many prospects, like working with the National Technical Institute for the Deaf in Rochester, NY, and an upcoming collaborating with speech fluxus artist Chris Mann, who I'm developing another bone conduction device with. Beyond, I will finish my thesis in April and then hopefully will be teaching in the Parsons Design and Technology Department, bringing classes that merge biology, tech and art in partnership with Genspace in Brooklyn, the first U.S. biohacking community lab.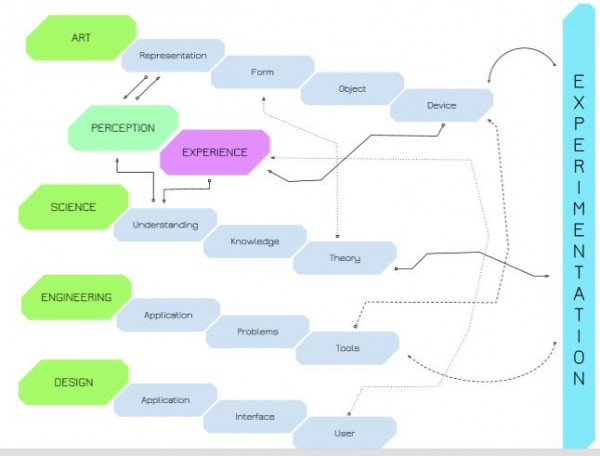 All images courtesy of Aisen Caro Chacin unless otherwise noted.
________
Carrie Schneider is a Houston-based conceptual artist.