Luminaria, the San Antonio-based nonprofit dedicated to producing an annual event and promoting the arts, has announced more than 40 artists who will be featured in its 15th contemporary arts festival.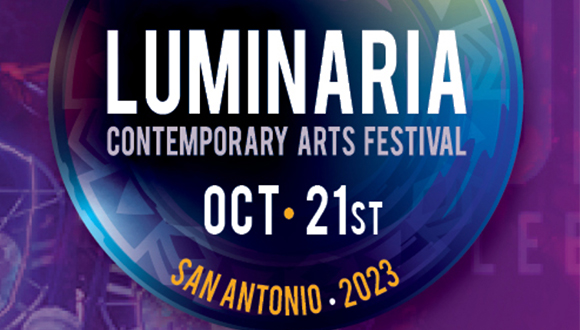 This year the event will be held at the city's newly renovated Hemisfair grounds and at the Henry B. Gonzalez Convention Center. The festival will include two live-music stages, five large-scale digital art projection areas, an art exhibition in the gallery at the Mexican Cultural Institute, large art installations and sculptures, a spoken word stage at Universidad Nacional Autonoma de Mexico – San Antonio, and more.
In a press release, Yadhira Lozano, Executive Director of Luminaria, said, "San Antonio is a city that embodies our shared cultures that are full of vibrant and diverse art. Luminaria provides artists the opportunity to flourish in their craft by providing innovative ways to showcase their work, advance their professional development, and build an expansive network through the Luminaria Contemporary Arts Festival."
Each year, Luminaria hosts an open call for artists who wish to participate in the event. This year's featured artists were selected by festival curators Isaac Cardenas, playwright and spiritual leader of the Tap Pilam Coahuiltecan Nation; Ashley Mireles, the San Antonio River Foundation's Public Art Curator; Obafemi O. Ogunleye, founder of Òlàjú Art Group; Shayla Shimmy, a burlesque and ballroom performance artist; and Patricia Vonne, an international touring musician and seasoned actress. See the full list of selected artists below.
The Luminaria Contemporary Arts Festival will take place on Saturday, October 21, 2023 from 6:00 p.m. to midnight. Learn more about the event at the Luminaria website.
2023 Luminaria Contemporary Arts Festival Featured Artists
Digital Art
Emilie Duval
Seme Jatib
Yuliya Lanina
Femi Ogunleye
Peter Ray
Park SangHwa
Abel Zuniga
Film
Robb S. Garcia
Fine Art
Veronica Castillo
Luis Coss
Mauro De La Tierra
Ana Hernandez
Raisa Melendez
Mauro Murillo
UNAM San Antonio
Installation
dadaLab
Ballet Folklorico Sol de San Antonio
Essentials Creative
The AM Project
Music
audrey
Buttercup
DELENDA
DJ DoubleOhTevin
Favour Alabi
Los Texmaniacs featuring Flaco Jimenez
Mariachi Las Coronelas
Moon Tokki
Patricia Vonne & The Infidels
Performance Art
Ballet Folklorico Sol de San Antonio
Caliente Hot Glass
Forza Dance
Little Amal
The Magik Theatre
Shayla Shimmy
Urban 15
Sculpture
Wanderlust Ironworks
Spoken Word
Anthony "Mr. G" Gordon and His Amazing Friends
Faith Janee
Voices de la Luna