Glasstire counts down the top five art events in Texas.
For last week's picks, please go here.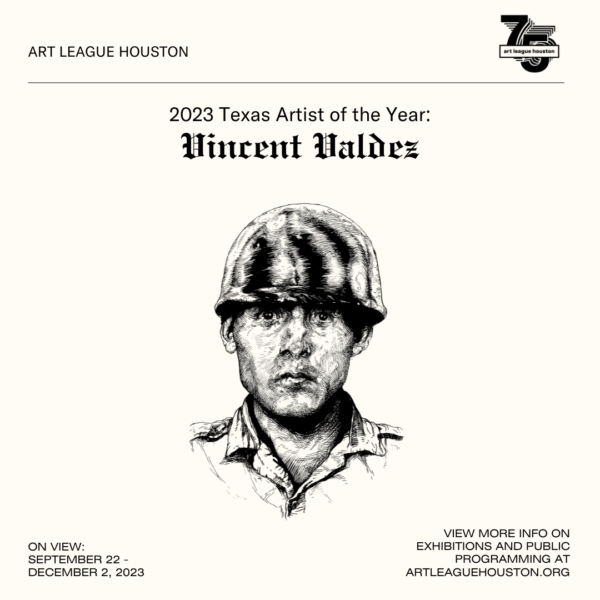 1. 2023 TEXAS ARTIST OF THE YEAR: VINCENT VALDEZ
Art League Houston
September 22 – December 2, 2023
"In his exhibition as the Art League Houston (ALH), 2023 Texas Artist of the Year, Vincent Valdez examines memory and remembrance from both personal and cultural perspectives. His installation piece, Siete Dias/Seven Days, features an installation of twenty-one banners suspended from the gallery's ceiling that showcase a handful of the over 150,000 individuals who have disappeared in Central and South America since the 1970s.
Central to Siete Dias are fourteen haunting portraits of disappeared individuals drawn from an archival calendar originally published in 1980s Central America. These ghostly depictions exude a palpable presence, organized in a chapel-like arrangement, with three rows of portraits inviting visitors to contemplate the enigma of their absence."
2. Jammie Holmes: Make the Revolution Irresistible
The Modern Art Museum of Fort Worth
August 11 – November 26, 2023
From The Modern Art Museum of Fort Worth:
"Jammie Holmes: Make the Revolution Irresistible is Jammie Holmes's first solo museum exhibition. Working closely with the artist, this survey is organized by curator María Elena Ortiz.
Holmes creates captivating paintings that show the visual and conceptual significance of the Black figure. Challenging stereotypes, Holmes explores notions of masculinity, mourning, childhood, and race. His works are filled with emotion and painterly gestures; his figures are often depicted in vulnerable situations or simply engaging in moments of contemplation. Rooted in the lived experiences of Black communities in the United States, Holmes is part of a continuum of painters that explore the human figure in current social and political conditions."
3. Ariel Wood: raze
Grayduck Gallery (Austin)
August 26 – October 1, 2023
From Grayduck Gallery:
"raze is an exhibition centering bodily experiences of installation, deconstruction, extension, alteration, looking, and being seen. Raze, as in 'to pick clean; to tear down; level to the ground,' becomes directionally complicated when what is being destroyed is below ground level, or perhaps hanging from the ceilings. To bring it to the ground may not be an act of destruction; just as being shaved clean might feel like an act of rebirth.
Ariel Wood makes objects and structures evoking plumbing and drainage. This system of infrastructure is inherently physical — its fluidity requires the utmost connection between parts — as well as political. How the human body encounters a bathroom, and more specifically a public restroom, is especially charged as these spaces purport to demonstrate gender, intimacy, privacy, and hygiene. This mix of physical materiality and sociopolitical pressures gives plumbing an implicit set of relationships that Wood works to manipulate, emphasize, and transgress."
4. Behind the Lines: The Art of Texas Monthly
The Witliff Collections at Texas State University, San Marcos
July 5 – December 8, 2023
From Texas Monthly:
"The Wittliff Collections, at Texas State University, opened its newest exhibit last month — and its contents may look familiar. Behind the Lines: The Art of Texas Monthly will give visitors a behind-the-scenes look at the work that the Texas Monthly art department has created over the past half century. From original artworks to archival photographs, the exhibition aims to celebrate five decades of storytelling in the Lone Star State.
The Wittliff — which includes the Southwestern Writers Collection — has been home to the Texas Monthly archives since March of 1994 — making this collection of TM artifacts the most extensive in the magazine's fifty-year history. The name of the exhibit, Behind the Lines, references a former editor's column that aimed to give readers a look behind the curtain and into the editorial process. The goal of this exhibit is to do just that."
5. Albert Gonzales: A Story to My Son
Carver Community Cultural Center (San Antonio)
September 7 – October 13, 2023
An artist statement, from Carver Community Cultural Center:
"After becoming a father and being confronted with my own experiences from my childhood, I embarked upon an emotionally raw yet creative journey within my painting practice. Every painting in this series, complete with each brush stroke brought back visions from the past, prompting deeper reflection and understanding of the events that formed my identity. I proudly present this exhibition A Story To My Son, I mentally prepare myself for meaningful discussions between me and my family with the general public as we continue our growth together; this sense of self-discovery will remain with me throughout life's ever-changing phases."