One half of the dual artist exhibition Wintersnow Snowinters at Austin's grayDUCK gallery focuses on portraiture. The pieces by Pat Snow are interpretations of "selfies"—the digital self-portraits common in social media and shot with smartphones—which, I would add, he collected from friends.
When I think of self-portraits, I think of Van Gogh and his many varied settings and attire, the same melancholic face staring back at us, almost demanding that we take note. A man Artaud says was "suicided by society," Van Gogh seems to be saying, "Are you seeing this?"
What, then, do selfies say? The faces are smiling, suggesting, alluring, mysterious, confident, coy. They represent people as they want to be seen.
Snow interprets the images through a technique that gives oils a loose, translucent watercolor quality, except for the black, which solidly outlines the figures like a screen print. Solid colors like red and orange are splashed or smeared across these faces. Text appears in the margins:  "She counted the minutes from solstice to solstice in anticipation of the long night of summer." Another reads, "Stop Killing the Vibe," in bold letters right across a woman's face.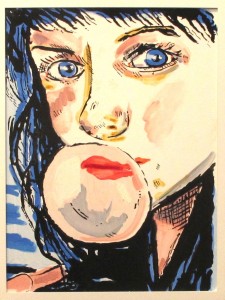 The results mimic Lichtenstein in articulating the soap opera seediness of digital exchanges. Some of Snow's subjects, in Bubblegum for instance, appear as nameless imitations of pop icons, likes models posing in Maybelline commercials. Others, as appear femme fatales on the covers of 1970s detective novels, such as the subject of Stop Killing the Vibe.
This work shows almost no correlation to that of Matthew John Winters in the other half of the gallery. Snow turns digital photos into paintings using his watercolor technique, but the transformation in Winters' work isn't so decipherable. Decoding his artist statement, however, I think that he's attempting to exalt the artistic process (i.e. turning raw materials into ideas and images). Art-making can be a kind of magic, as he suggests, but the insistence on it distracts from the qualities of the work itself.
Winters' collection consists of reclaimed wood panels, painted variously with acrylic, spray paint and metallic enamel, as well as large graphic illustrations done in ink on paper. The panels maintain the characteristics of the wood, particularly in Pink Mountaintops, while embracing design aesthetics from previous decades. El Dorado (Remember Your Training)—which depicts the black acrylic outline of an airplane over three-dimensional rectangles done in gold, brown and orange metallic enamel—has that nostalgic Urban Outfitters feel to it. I don't mean that as an insult; Urban Outfitters is good at ripping off the authentically hip.
Winters' illustrations are idiosyncratic mash-ups confined within vaguely recognizable forms. Moosebeetle takes the shape of a beetle with a moose's antlers, and Godhead reminds me of the supercomputer Deep Thought (from "Hitchhiker's Guide to the Galaxy"), though Winters probably had something else in mind.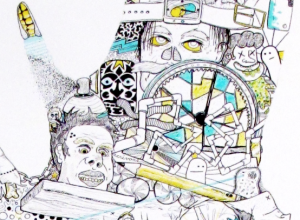 Within these drawings, a cornucopia of characters stare at us through the assortment of odds and ends—a broken telephone, a factory, radio tours, chromosomes, dice, bones, burgers, the moon. There are narratives in these works, snapshots of humanity. More significantly, Winters appears to employ a somnambulant drawing style that foregrounds the "connection between process and journey" that he writes about in his statement.
I'd have to stretch to correlate this method with Snow's through the notion of transformation. It would be like me trying to connect Winters' work back to Van Gogh's portraits. We could say that Winters' illustrations contain more than the shapes formed by their outer boundaries. And we know that Van Gogh believed a scene or an object contains more than just itself. It's an interesting theme for discussing art, perhaps throwing in William Carlos Williams' poem "The Red Wheelbarrow" for context, but we might connect any two artists by arguing that they're going for something deeper than form or mimesis.