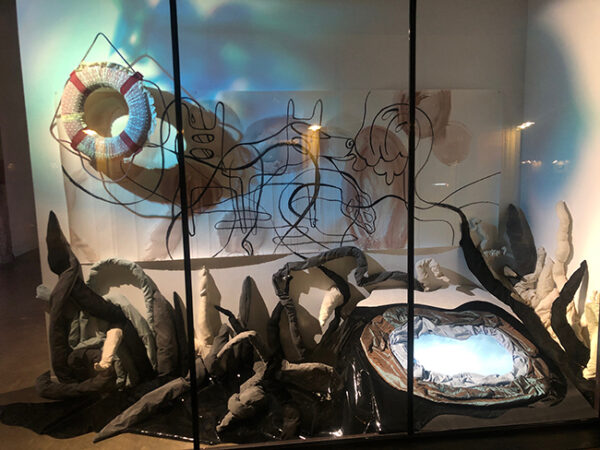 Note: the following is part of Glasstire's series of short videos, Five-Minute Tours, for which commercial galleries, museums, nonprofits and artist-run spaces across the state of Texas send us video walk-throughs of their current exhibitions. This will continue while the coronavirus situation hinders public access to exhibitions. Let's get your show in front of an audience.
See other Five-Minute Tours here.
Kate Csillagi & Brooke Gassiot: Meet Me at the Water at ICOSA, Austin. Dates: Jan 19th – Feb 14th, 2021, on view 24/7.
Via ICOSA:
"An installation by Kate Csillagi & Brooke Gassiot.
"2020 locked us down and tethered us to our immediate surroundings. Without escape, the fault lines in our interconnectedness are unveiled. Meet Me at the Water is a collaborative installation that delves into the pauses that the pandemic has demanded of an insatiable materialistic culture. With nowhere to escape, our discomfort rises and this time calls for transformation. We search for answers and are, at last, receptive to change. Go to the water.
"Inside the window of ICOSA, Csillagi and Gassiot create scapes using video, mixed media, and shadow play. The exhibition is viewable through the glass only to ensure everyone can safely peer inside at any hour of the day. Please wear your mask and come check it out!
"Kate Csillagi (b.1981) is a multimedia artist hailing from Austin, TX. Her works unearth psychotropic, sacred, and primal imagery while maintaining a whimsical approach. Inspired by animals, archetypes, and dreamscapes, her work explores themes of duality, the supernatural, and the playfully forbidden. Csillagi attended the School of the Art Institute of Chicago and Evergreen State College exploring a wide range of materials, media, and delving into critical theory. Early on, Csillagi created zines, designed flyers, and album covers. Csillagi has shown her work and contributed to renegade art spaces throughout the United States in Reno, Nashville, Columbus, Virginia City, New York, Olympia, and Austin. Her work has also been featured in the Fusebox Festival and Fields Magazine. Kate is also a former and founding member of artist run collective ICOSA in Austin, Texas. www.katecsillagi.
"Brooke Gassiot. Above all, Brooke Gassiot wants people to feel when they experience her work. Whether it is through light, video or sound, she wants to grab the viewer's attention with an emotional immediacy. Gassiot is an Austin, TX based interdisciplinary artist whose work ranges from sculptural light boxes, video installations and lighting to painting and surface design. Her workvhas been exhibited at Lawndale Art Center in Houston, The Contemporary Austin, Blue Star Contemporary Art Museum in San Antonio and has been commissioned for Juniper Restaurant andvmilk + honey spa, as well as other corporate and private residences. She holds a Bachelor of Fine Arts (2006) from University of Texas at Austin, studied art in Italy on full scholarship and was named 'Best of Austin Arts' in 2013 by the Austin Chronicle. She is one of the founding members of ICOSA Collective. www.brookegassiot.com."