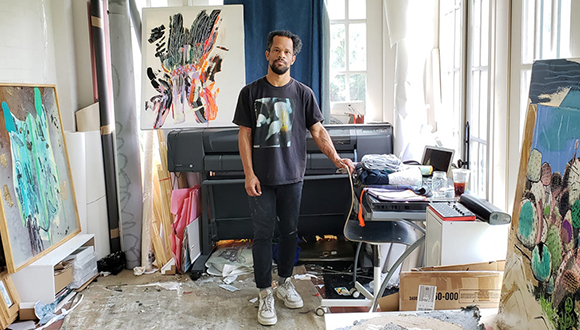 Note: the following is part of Glasstire's series of short videos, Five-Minute Tours, for which commercial galleries, museums, nonprofits and artist-run spaces across the state of Texas send us video walk-throughs of their current exhibitions. This will continue while the coronavirus situation hinders public access to exhibitions. Let's get your show in front of an audience.
See other Five-Minute Tours here.
Jonathan Paul Jackson: A Reminder to Breathe at Presa House, San Antonio. Dates: February 5 – February 27, 2021.
Via Presa House:
"Jonathan Paul Jackson (b. 1984) is an African American visual artist and curator from Houston, Texas. Mostly self-taught, Jackson is a prolific painter, sculptor, and illustrator. His works combine mark-making and experimentations in color, medium, and surfaces. Frequently turning to artists like Henri Matisse, Andy Warhol, and Paul Gauguin, Jackson again looks to the masters in his latest collection of 34 works.
"In A Reminder to Breathe, Jackson finds inspiration in Claude Monet's garden paintings from the early 1900s. Using nature as his muse, Monet gave the French citizens the Water Lily series, which provided a sense of peace and calm post World War 1. In 1920 France built the Musée de l'Orangerie for Monet's large-scale water lily paintings for the French citizens.
"In his approach, Jackson uses his latest works to provide a sanctuary of tranquility and reflection for the Texas citizens during these uncertain times. The collection of paintings and photographs of landscapes and flowers taken in his home garden and his travels across Texas reflect a moment by merging digitally printed photos with hand embellishments, creating an abstract-expressionist interpretation of the landscape."