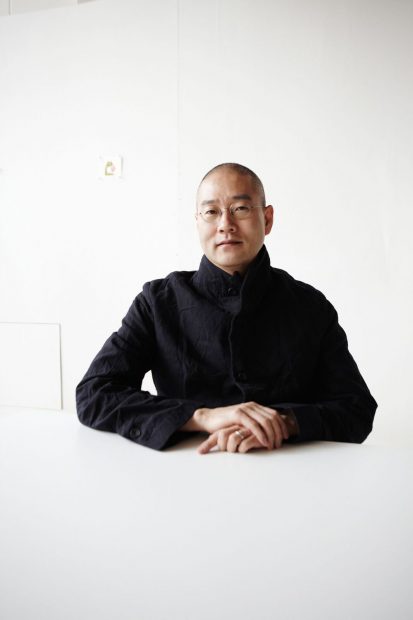 On Wednesday, October 17, 2018 at 7PM at the Nasher Sculpture Center in Dallas, international art star Do Ho Suh will be the featured speaker of the Patsy R. and Raymond D. Nasher Lecture Series in conjunction with the University of North Texas School of Design in Denton.
Do Ho Suh was born in 1962 in Seoul, Korea and lives and works in London, New York, and Seoul. Suh has shown all over the world and several times in Texas, and is particularly known for his large-scale, immersive fabric recreations of interior architectural spaces. These works are quite process-driven, with the first step of the process being rubbings the artist makes of his personal or familial dwellings, which are then used turn as the source material for his 3-d recreation of the spaces (down to minute details). His sculpture Fallen Star 1/5, which depicted the collision between two houses that Suh had once lived in, showed at the MFAH in 2009, and his piece Karma was shown in the museum's 2007 show of works from the collection of Robert, Jereann, and Holland Chaney. A varied exhibit of the artist's scrim works and light boxes showed at the Contemporary Austin in 2014.
When writing about Suh's piece Fallen Star 1/5 for Glasstire, John Devine wrote of the work:
"Suh's Fallen Star 1/5 (2008) is easily the tour de force of this exhibit. It's a 1/5th scale replica of the historic register apartment building Suh resided in as a student at the Rhode Island School of Design. It's split open on one side like a dollhouse. A traditional Korean house of the same scale, not unlike the one Suh grew up in, has crash landed into the other side of the apartment building, strewing debris. This clash of cultures (with an aspect of predestination – an agent took Suh to the same house his brother had lived in a few years prior) is played out with dumbfounding attention to detail. One does not find 1/5th scale furnishings just anywhere, so everything within the apartment building – every piece of furniture, every poster and painting on the walls, the stairways – has been meticulously fashioned by Suh and his assistants with hilarious fidelity. "
Suh's talk marks the 18th annual UNT Nasher Lecture Series. Previous speakers have included Ann Hamilton, Jonathan Hammer, and Sarah Thornton. Tickets to the lecture are free, but registration is required. You can register here.