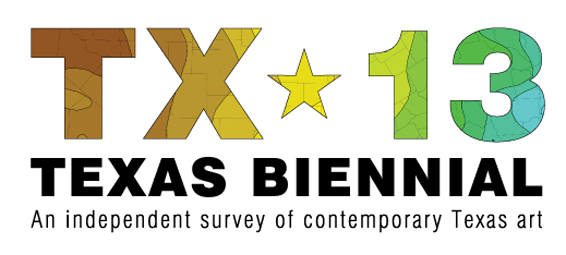 The 5th Texas Biennial, taking place at multiple venues across the state September 5- November 9, 2013, has chosen a long list of curators:
Bill Arning Director, Contemporary Arts Museum Houston
René Paul Barilleaux Chief Curator/Curator of Art after 1945, McNay Art Museum, San Antonio
Christian Gerstheimer Curator, El Paso Museum of Art
K8 Hardy Artist, New York
Teresa Hubbard / Alexander Birchler Artists and Faculty, Bard College, New York and University of Texas at Austin
Annette Lawrence Artist and Professor, University of North Texas, College of Visual Arts and Design, Denton
David Pagel Art critic and Associate Professor, Claremont Graduate University, Los Angeles
Bárbara Perea Independent curator, Mexico City
Christina Rees Curator of the Galleries, Texas Christian University, Fort Worth
Dario Robleto Artist, Houston
Noah Simblist Associate Professor of Art, Southern Methodist University, Meadows School of the Arts, Dallas
Jeremy Strick Director, Nasher Sculpture Center, Dallas
Clint Willour Curator, Galveston Arts Center
Curators were identified in consultation with Virginia Rutledge, curator of the 2011 Texas Biennial, who is returning to the project as Curator-at-Large. Each curator will select work for a group survey exhibition taking place Blue Star Contemporary Art Center in San Antonio (with selected performance works presented at CentralTrak in Dallas) from submissions to an open call to all artists living and working in Texas.
Applications for the 2013 Texas Biennial Open Call for Art will be accepted online beginning January 1, 2013.