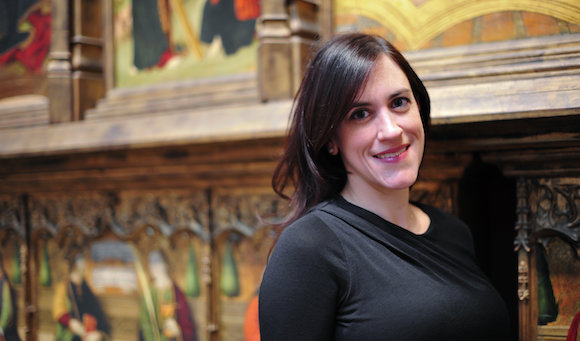 Nicole Atzbach, Curator of the Meadows Museum at Southern Methodist University, died at age 42 on November 4 after a brief battle with cancer. Her funeral service was held in her Colorado hometown the following week, but the Meadows has announced an upcoming memorial service for Atzbach in Dallas, which will take place at the Meadows Museum on Saturday, December 9 at 3 p.m.
Mark Roglán, Meadows Director, says: "Nicole brought intelligence, curiosity and insight to her position as curator at Meadows Museum. She was fascinated by the stories behind artists and their work, and sought creative ways to share their inspiration with museum patrons, enabling them to appreciate magnificent art in a new, enlightening way."
Atzbach joined the Meadows in 2010, after a stint at the Kimbell. She was a graduate of Brigham Young University's Art History program and "completed the master's program in fine and decorative arts at Sotheby's Institute of Art in London." The Meadows has shared highlights of Atzbach's impressive curatorial tenure at the Museum:
Picasso/Rivera: Still Life and the Precedence of Form (August 6–November 5, 2017)
Process and Innovation: Carlotta Corpron and Janet Turner (February 14–August 21, 2016)
Between Paris and Texas: Marie Cronin, Portraitist of the Belle Époque (February 14–June 5, 2016)
Góngora/Picasso: Graphic Poetry (September 16, 2012–January 13, 2013)
The Many Lives of Mary Magdalene: A Selection of Images from Bridwell Library Special Collections (September 18, 2011–January 15, 2012)
Esteban Vicente in America: Collage, Color and Somewhere In Between (May 15–July 31, 2011)
Spanish Muse: A Contemporary Response (September 12–December 12, 2010)
Again, the memorial service for Atzbach takes place on Saturday, Dec. 9, 2017 at 3 p.m. at the Meadows Museum in Dallas.
"In lieu of flowers, the family has requested that donations to a scholarship fund set up by them for her children may be sent to Geoff Atzbach, 3020 Hollycrest Dr., Colorado Springs, CO 80920."
For more on this, please go here.