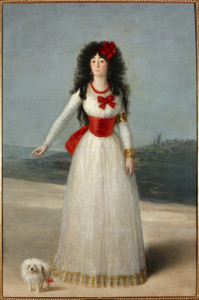 Via the Dallas Morning News: SMU's Meadows Museum has announced that next year it will show a singularly impressive collection never before exhibited outside of Spain. In what will be the most important show in the 50-year history of the Meadows (next year is its anniversary), The House of Alba collection is made up of priceless and rare works spanning 500 years of collecting by one illustrious and very well-connected Spanish family. The collection up to now has been held in the family's three private palaces across Spain.
The collection includes paintings by Goya, Rubens, Renior, Titian, Velasquez, and others, plus "…16th-century tapestries by Willem de Pannemaker and 19th-century furniture created for Napoleon III. Selections also include illuminated manuscripts, books, historic documents, miniatures, antiquities, prints, sculptures and drawings. Among those will be documents related to Christopher Columbus." One such document is Columbus' personal handwritten list of sailors on board the Santa Maria in 1492.
I'll call it now: This will be, deservedly, the most well-attended exhibition ever at the Meadows. The show also helps mark the 100-year anniversary of SMU. The curator for the exhibition is Dr. Fernando Checa Cremades, the former director of the Museo Nacional del Prado in Madrid. "Treasures from the House of Alba: 500 Years of Art and Collecting" opens April 18 and runs through August 16, 2015.
(photo: painting by Goya, courtesy House of Alba Collection and Meadows Museum)