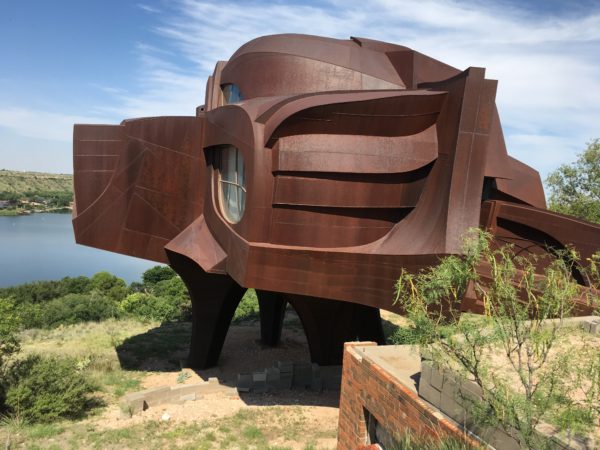 When I was in Lubbock this last February, I was getting a mini art tour of the Texas Tech campus and asked the artist Scotty Lloyd Hensler, my impromptu tour guide, to take me to "the Bruno thing." He did. I loved the steely half space-pod/half four-legged beast immediately, maybe even more than I had predicted. I have a tendency to anthropomorphize art, architecture — you name it — and this creature, rescued from neglect and obscurity only a year earlier, has a fantastic presence in front of the architecture building. Quiet, poised, and perfectly proportioned.
Robert Bruno, its maker, died in 2008 at age 64. Very little of his work exists anymore or is traceable, but he did go on to design and build a whole house based on this earlier sculpture. Bruno's Steel House, which overlooks the lake in Ransom Canyon just east of Lubbock, isn't a Panhandle art pilgrimage destination ranked up there in popularity with Cadillac Ranch, but a well-researched article by the Dallas Morning News' architecture critic Mark Lamster in early 2015 made a lot of people far more aware of Bruno, and this house, than had been the case in recent years.
When Lamster wrote his piece, the house had been empty and the interior off-limits since Bruno's death. Bruno had been working on it for more than 30 years and moved into it, incomplete, before his death because he wanted to experience it, but according to those who knew him, he had never been particularly interested in finishing it. For him, the satisfaction of the house was in his endless re-designs, tweaks, construction and engineering solutions (he was not a licensed architect). He wanted the open-ended and hands-on experience of it. And he mostly worked on it alone.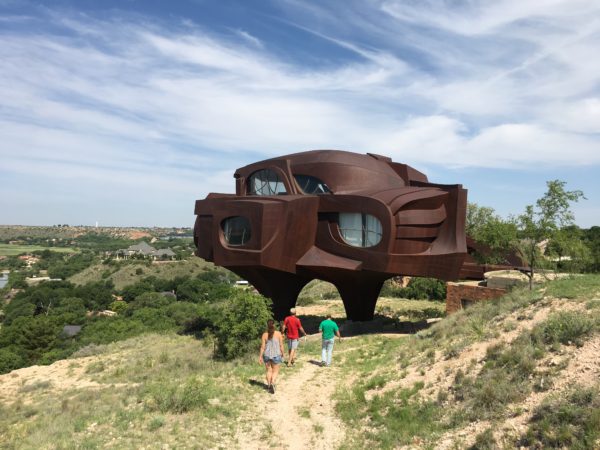 You can tour it now. I did the week before last. You have to know who to contact (a friend and former employee of Bruno's who now acts at the house's custodian; the Bruno family still owns the house but don't live nearby), and this person, Henry, will either give you a tour, or he'll leave you at the front door to explore the house on your own. You have to pay. You have to listen to Henry's sober and lengthy preamble, which includes an odd refrain that he and his buddy will keep interlopers out of the house while you're in it, and that you can shoot photos, video, meander through it at will and for as long as you'd like. I was there with three friends, and after Henry had emphasized the total privacy thing for the fourth or fifth time, we all started looking at each other like: What does he think we're here to do? Shoot a porno? Cook meth? I don't know. But evidently what happens in Bruno's Steel House stays in Bruno's Steel House.
With that, I'll say the experience of walking through the 2200-square-foot interior is illuminating, consternating, and for me, depressing.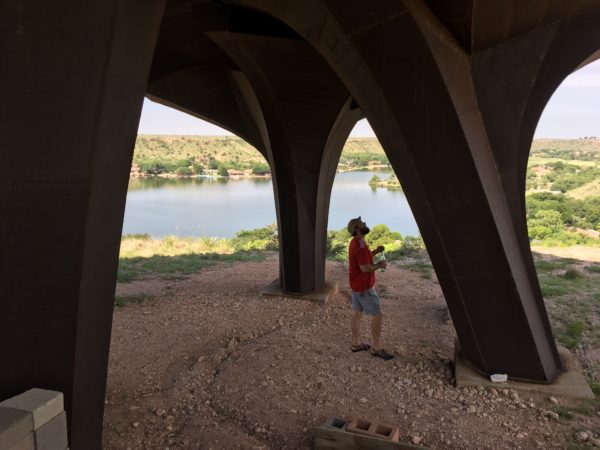 This surprised me, because we wandered around the outside of it for ten minutes in the morning heat while waiting for Henry to show up, and the exterior doesn't disappoint. (Though one friend, the artist Jon Whitfill, said when he first got close enough to touch an outside wall: "Well, he wasn't the best welder." He didn't sound snarky; just a bit surprised.) Lamster in his article had described it as "a lumbering pachyderm, an automatic pistol or some kind of vehicle from Star Wars." Let's put it this way: if I had been a kid growing up in that Ransom Canyon neighborhood in the '70s and '80s, I would have lurked around the building site every day and bugged Bruno to let me help, let me let me look, let me move in. The outside is pretty enchanting, and it fires the imagination like crazy. It looks like it landed there in 1976 — straight from outer space — just to take in the lake view and maybe get a drink, and decided to stay.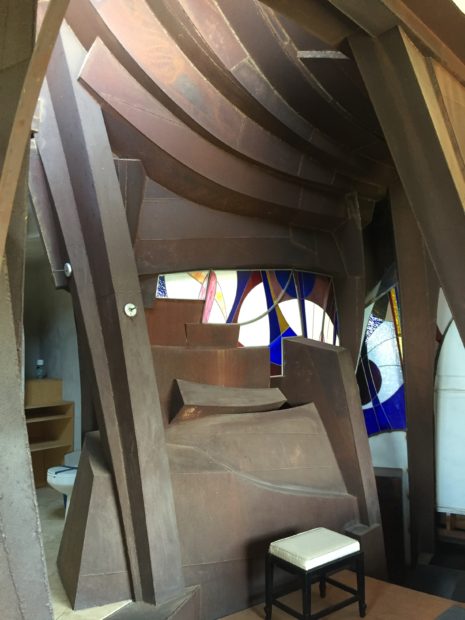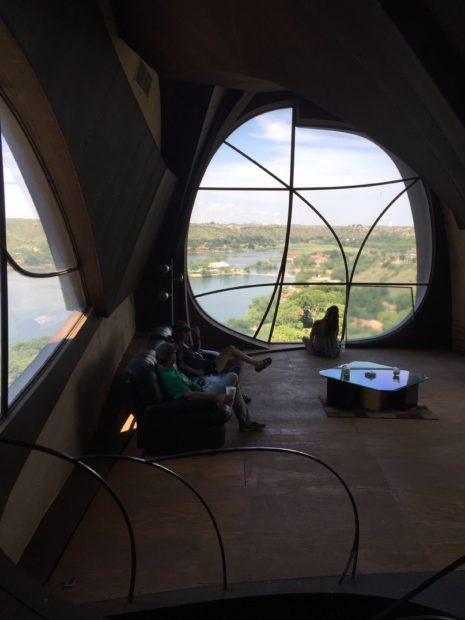 And, once we got in, it's wasn't really the initial entry and main living room of the house that got to me. Those are about presentation and seduction, I think. Henry isn't totally off-base after all, because you do think about what a rad party you could throw here.
But it was the tertiary spaces and the details that felt off. Bruno wasn't building any kind of conventional domestic space — and I wouldn't have expected it — but architects (who, granted, can be hostile or at least passive-aggressive in their decisions) seem to take seriously that when creating a house they're designing a machine for living. It seems Bruno really was just making a giant abstract artwork that you could theoretically live in. It doesn't make it less interesting, but it does evoke the profundity of his solitude, and how in that strata of solitude we make decisions that feel entirely personal — that can read as inaccessible or unapproachable to others. You could say "quirky", but that's not giving full recognition to how interior, cramped, and dark his desk area and workspace are, deep in the center of the house's belly, hard to reach, molded into swooping, nonsensical curves out of fleshy fiberglass. ("This is where the eggs are stored," said the artist Matt Williams). The bathrooms and kitchen are basic afterthoughts. The flooring is an uneventful beige stone tile. And the house hasn't enjoyed any maintenance since Bruno died. This may have been the thing that shifted my experience from happily curious to sad and confused.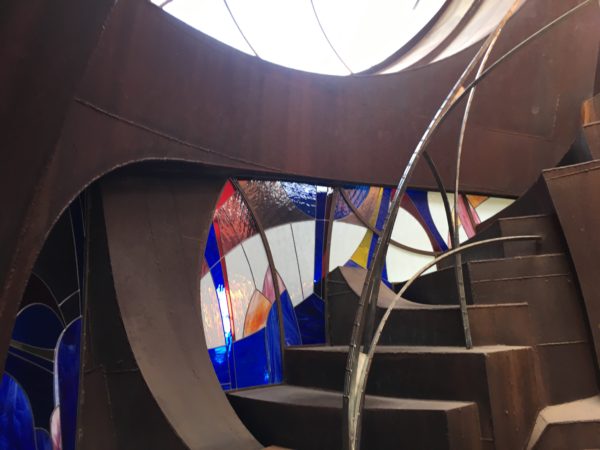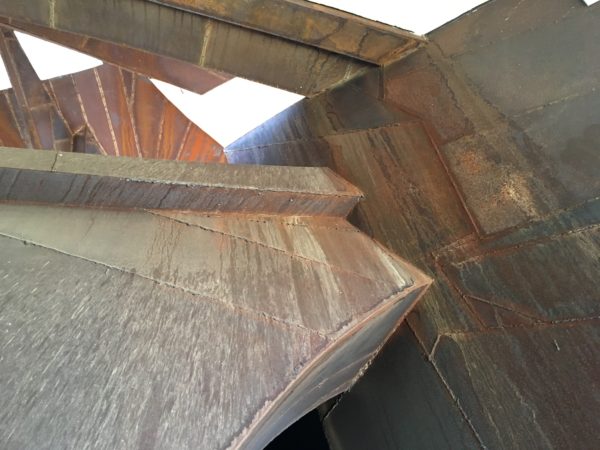 This house really is Bruno's primary legacy, but big stained sheets of styrofoam block doorways and cubbies, and a big missing window pane is replaced by an old scrap of plywood held in place by ancient clamps. Floors are unfinished and uneven, jagged edges of uncapped steel lurk around various corners. The bedroom is a strange minimal jumble of furniture dominated by a bed with a plastic-covered box spring and a cheap pastel duvet. Filing cabinets in the egg chamber are full of Bruno's very personal papers (I snoop. I also doubt I'm the only one.) What's going on here? The house in this state is a not-ready-for-primetime player. It's odd, and it certainly sets it apart from all the mercilessly Instagram-ready travel destinations out there, but it doesn't seem fair to Bruno or his vision.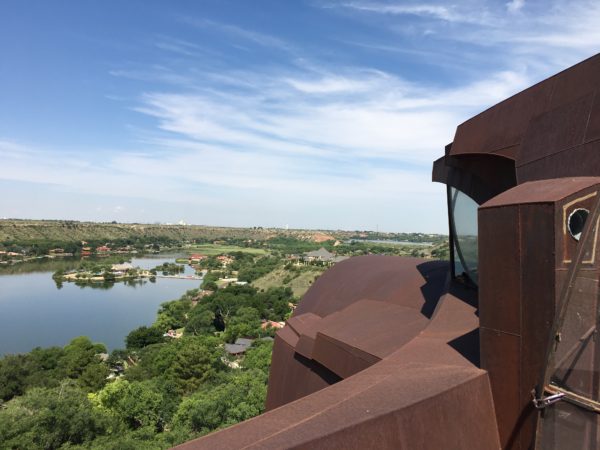 The pachyderm on the Tech campus is completely resolved and satisfying; it comes off like the school's superstar. It's all exterior. Bruno may have achieved this state with even the interior of Steel House if he had lived long enough to see it through (or see it further along than he got), but he didn't. Walking through the inside of the Steel House felt a bit like an uncomfortable moment wedged between Bruno and his masterpiece, like a bit of coitus interruptus. And while I'd like to think my friends and I are entirely sympathetic to unfinished works of art, I wondered if the house was merely unfinished, or if the entire premise had become unresolvable. Maybe that was the point.