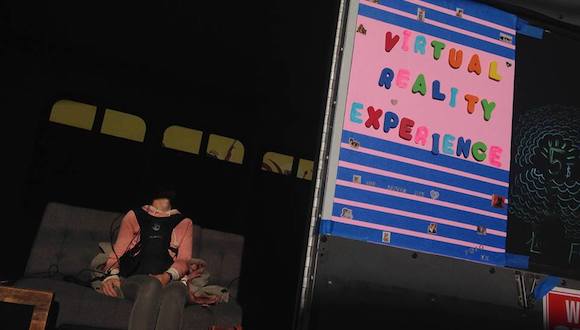 Today, March 18, Austin art space Pump Project is hosting a virtual reality experience by Flatsitter, an interdisciplinary collaborative that uses video, film, software programming, performance and installation to comment on contemporary society. Sitting in Pump's parking lot will be The Dream Wanderer, a Ford Econoline transit shuttle that has been repurposed into a roving virtual reality "gallery." After making stops at Miami Beach's Satellite Art Fair, SOUP Experimental Space in Tallahassee, and New Orleans' French Quarter, the bus is pulling into Austin (for a second time) on the tale end of SXSW.
Flatsitter is screening its new immersive VR piece titled Lily Dale. The work takes its name from a New York town that is known to have a history of spiritualism, and whose residents claim to communicate with the dead. The piece will be on view from 12-8PM today at Pump Project.
If you can't make it to Flatsitter's virtual reality presentation, never fear—there's more VR on the way. In April, Fusebox Festival will feature Spam's, "a post-retro-futurist virtual reality dining experience" where visitors will dine on an array of net art and VR experiences.