A friend and I used to have an ongoing joke about writing a blog titled Double Feature. In this fantasy blog we'd review films that seemingly had nothing in common with one another. Odd pairings might include Precious and The Jerk or as it so happened one weekend in New York, Wes Anderson's Fantastic Mr. Fox and Lars Von Trier's Antichrist. So in the spirit of the blog that never was, I bring you my SXSW review of the Wayne White documentary Beauty is Embarrassing and Lena Dunham's new HBO series Girls.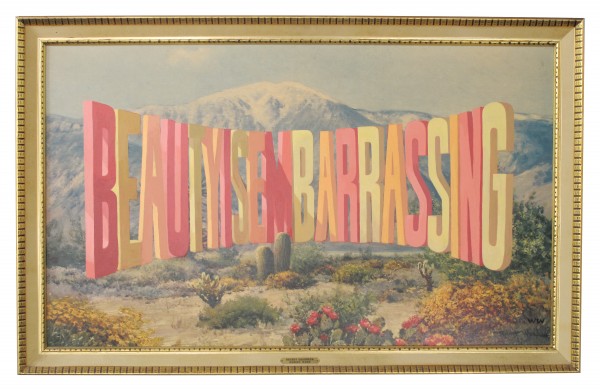 I first heard about Wayne White from my good friend, Paul. We were in our early twenties and living in New York, taking in whatever culture we could afford—movies, plays, museums, readings. Wayne White was showing a suite of paintings and Paul, having grown up in Tennessee knowing White, took me to the Clementine Gallery. The works on view were thrift store paintings embellished with lettering. The letters are often big and blocky, shaded to look like they fit into the space of the original Bob Ross-like landscapes. Almost sculptural in depth, they spell out: "CLUSTERFUCK" or "TELLMEYOULOVEME" or "IMPORTANT/ VAGUE." The paintings are a play on the "frame" of the picture, a majestic landscape littered with language.
There's the obvious comparison to Ed Ruscha which is brought up in the documentary of White's life, Beauty is Embarrassing. White says "Fuck you" to Ruscha along with any number of things throughout the film (at one point he reflects in his Southern twang, "That must be the American dream . . Fuck you.") And while Ruscha's word paintings are cool, flat, and ironic, White's works are dense with perspective as they riff on traditional notions of skill and technique in painting. They're also really funny, even goofy. The paintings don't take themselves too seriously. Which might be what is at the heart of this excellent documentary directed by Neil Berkeley: art is hard, it is necessary, but it can also be a lot of fun.
We see this demonstrated through White's time in college collaborating on puppet shows and then later through his tenure on Pee Wee's Playhouse. We can thank White for such loveable characters as Randy, Dirty Dog, Mr. Kite, and my favorite the singing Flowers. Life and art are not separate in this documentary, thus, we see White collaborating on a project with his son and there is a wonderful homage to White's wife, the cartoonist Mimi Pond.
No matter what project White is working on, a sense of play pervades. This makes me think his work is more in the spirit of Allan Kaprow than Ruscha, as Kaprow defined the Happening as "A game, an adventure, a number of activities engaged in by participants for the act of playing." And this is what struck me throughout the film, that we can be playful in our art and life without having to be infantile. Play, as it would seem to exist in White's world (and "world" might be the best word to describe his art) is often purposeless, simply a mode of being and creating.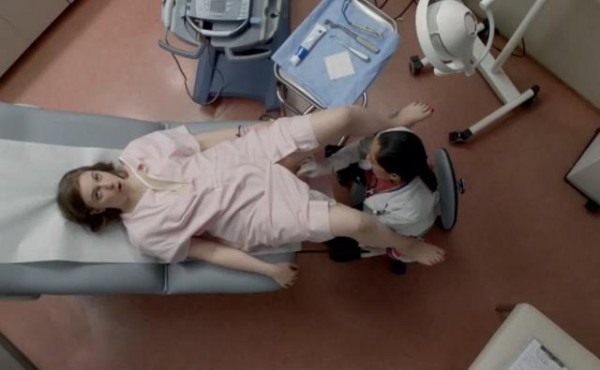 Lena Dunham's Girls is hilarious. It's also heartbreaking and more truthful than anything I've ever seen on TV. The show is written, directed, and stars Lena Dunham, the daughter of art stars Carroll Dunham and Laurie Simmons. The show is produced by Judd Apatow. I went to the screening of the first three episodes with two girls who are actually in their early twenties, the target audience for the show. These girls are incredibly hip—blue hair, gypsy jewelry, bra-less. I wondered if they would be too cool for the show and was pleased to find that they found it as profound as I did.
The premise of the series is essentially the struggles of four girls in their early twenties living in Brooklyn. In the first episode we see the main character, Hannah (Dunham), cut off from her parent's funds. Another has Jessa, played by the mesmerizing Jemima Kirk (the show also stars Zosia Mamet who I would watch in anything), headed for an abortion. And the third describes Hannah's coming to terms with her HPV diagnosis. In the hands of anyone else, these topics would be played out and trite. But through the perspective of Dunham, the 25 year-old who made the indie film Tiny Furniture, it's precise, transparent, and thoughtful in its portrayal of the experiences of young women today. It's also really really funny.
Almost all the characters are listless, without a job or confused about relationships. The sex they have with boys who are far from being men, is generally awkward and only ever just okay. At one point, after having intercourse with a guy who is not her boyfriend, Hannah turns her head and states hopefully, "I was really close to coming that time." Obvious associations to Sex and the City are there, however, this show is less neat. Whereas one character in Girls asks "Are you a Samantha or a Carrie?" it would be impossible to make such concrete archetypes out of these girls. What Dunham constantly asserts is that the relationships that we have with ourselves and our closest friends are complicated and constantly in-process.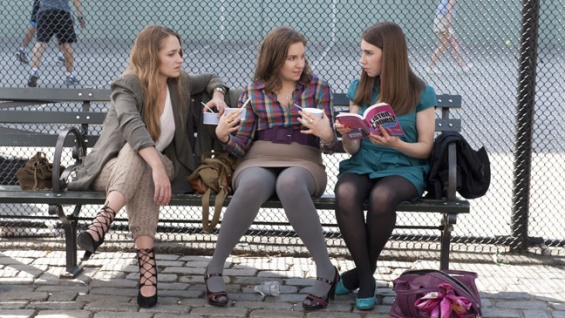 I'm no longer a girl, but the episodes struck a cord, a reminder of the days when I was a girl trying to figure it out in New York. Many scenes are shot framed through doorways, creating the sense that the viewer is just in the other room, looking in at the action. This intimacy extends to the relationships between the girls—they sleep in the same beds, bathe together, discuss important things while one is on the toilet. Dunham, like White, has created a world that is specific and true to her life experience. Art and life are once again interchangeable.
Both Beauty is Embarrassing and Girls end with dancing, as if moving to music were some sort of affirmation of living. White does a kind of herky jerky jig like he's inhabited the stiff movements of his puppets. Whereas Dunham's Hannah, coming to terms with her HPV diagnosis, types on twitter "All adventurous women do" (STD as marker of woman hood). She gets up from her desk and unselfconsciously dances around her bedroom. Through the frame of the door, we see her moving, and then her best friend comes home and dances with her.
** A group of paintings by Wayne White is now on display on Domy Books, Austin. Don't miss it.