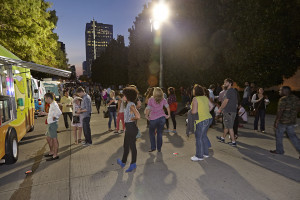 The Dallas Arts District is throwing a Summer Block Party on Friday, June 19 from 6 p.m. to midnight; Flora and Harwood will be given over to pedestrians, and it all promises a lot of open doors and festivities.
The Nasher Sculpture Center, the Crow Collection and the Dallas Museum of Art are all participating by staying open late (for free!) with special screenings (A Fish Called Wanda, The Avengers and more), a free meditation session,  live bands The Walden Twins and Quiet Company, and of course the museums' exhibitions are open as well. There will of course be gourmet food trucks galore, activity tables, scavenger hunts… the whole nine yards.
This is all co-hosted by the Texas Commission on the Arts and The Dallas Foundation. For more info, go here and here.