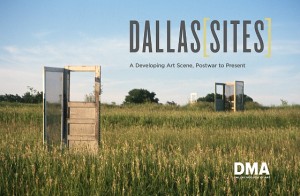 The Dallas Museum of Art is covering all the bases in presenting the city's art history. In commemoration of the 50th anniversary of President Kennedy's assassination, they (and the Amon Carter Museum) put together the Hotel Texas exhibition, which, by most accounts, is both haunting and charming. At the same time, they have presented DallasSITES: Charting Contemporary Art, 1963 to Present, which examines what's been happening in the Dallas art scene in the 50 years since then. And then, to emphasize what's happening at this very moment, they've handed over the main gallery to local artists and curators for the month-long experimental exhibition DallasSITES: Available Space.
They did all that research and now the DMA has publicly released its new e-catalogue for DallasSITES: A Developing Art Scene, Postwar to Present, a free computer coffee table book. This is the second time they've used the Online Scholarly Catalogue Initiative (OSCI) toolkit—an open-source suite of tools funded by the Getty Foundation and developed by the Indianapolis Museum of Art for publishing online scholarly art history catalogues. The Dallas Observer notes:
In other industries, open-source technology like this toolkit wouldn't be so compelling, but for cultural institutions searching for ways to make their collections and exhibitions more sharable and researchable while operating on limited resources, it's revolutionary.