The latest act of art vandalism occurred yesterday afternoon at the Jeff Koons retrospective at the Whitney Museum of American Art.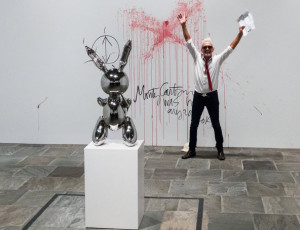 A man splashed a red substance on a blank gallery wall on the third floor of the Whitney, was quickly apprehended by security and removed by the police. He was later taken to a hospital for evaluation. In this case, no actual art was damaged.
Whether motivated by artistic frustration or some confusing, conceptual performance art notions, getting attention by making a mess of other artists' work seems to be a growing trend for artists. In February of this year, a painter walked into the Perez Art Museum Miami and smashed an Ai Weiwei vase valued at $1 million. Here in Texas, we've produced some impressive art vandals: Waco artist Joe Magnano was arrested in March for making a huge mess of Prada Marfa and, in 2012, Houston artist Uriel Landeros sparked an international manhunt after adding his own stenciled spraypaint to a Picasso in the Menil Collection.
The online journal Hyperallergic has the most interesting article on yesterday's incident. The author posits that the vandal may be Hungarian-born Canadian performance artist Istvan Kantor, one of the founders of Neoism, and that the "red substance" may have been his own blood.
(Photo by Antoine Lutens via The New York Times)