Aurora Picture Show's Festival of Mini-Cinema
This weekend, Houston's Aurora Picture Show will present its 17th Annual Extremely Shorts Film Festival–a popular annual event featuring a grab bag of varied, new, short (under three minutes) film and video works from around the globe. Guest jurors for this year's program are Austin-based duo David and Nathan Zellner, makers of the feature films Goliath, Kid-Thing, and most recently, Komiko, which premiered at Sundance this past January. The Zellner Brothers and a few of the participating filmmakers will be in attendance at the screenings this coming Friday and Saturday (June 6 and 7), where audiences will be treated to a selection of nearly 30 song-length films and encouraged to vote for which three should receive cash prizes.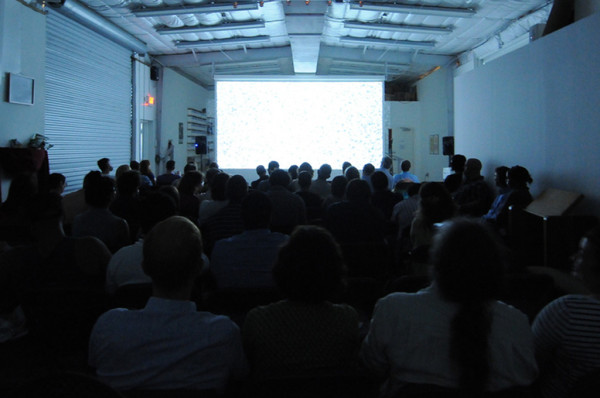 The Aurora has been elevating a diversity of original little oddities in this open call, juried festival since the late 1990s. Since their early festivals, the Aurora has grown quite a bit as an organization, enthusiasm for and accessibility to moviemaking has exploded worldwide, and our attention spans have inversely shrunken to favor bite-sized experiences over epics. All of this has kept the festival an interesting and palatable annual experiment. With no other thematic constraints than diversity and brevity, Extremely Shorts is a funky cross-section of vastly different visions, stories, and moving image techniques. No categories and the promise of no tedious time commitments allows audiences to let their guards down and enjoy a diversity of movie vignettes.

I was able to preview selections from the upcoming festival. My tastes gravitate toward the program's more personal, experimental, and oddball stuff–animated charcoal drawings and cutouts by Andover artist Auden Lincoln-Vogel, Chicago filmmaker Kera MacKenzie's intriguing single-moving-shot through a room of unusual objects, Austin filmmaker Abinadi Meza's dream-memory constructed from found super-8 film footage, Portland filmmaker Ian Berry's examination of the remnants of a personal relationship. But these and other favorites really work well–perhaps best–sprinkled in alongside all of the program's various little stories, dramatic scenes, simple jokes, personal glimpses. The eclectic mix of moments creates a dynamic montage.


I won't go too into detailed descriptions here, since the pieces are simple and short (and also to keep your reading of this under three minutes). But I encourage you to go to the always lively and often surprising variety pack that is the Extremely Shorts fest this weekend.
Extremely Shorts Festival screens at the Aurora Picture Show on Friday, June 6 (7 & 9PM) and Saturday, June 7 (7:30PM). Saturday's screening followed by the Awards Reception. More info HERE.