MFAH's movie jukebox hosts a rarely-seen favorite of CAMH Director Bill Arning.
The Museum of Fine Arts Houston's "Movies Houstonians Love" series is easy to overlook and under-appreciate. The Monday evening screenings seem sporadic, and are a bit of a gamble. But it's pretty amazing that every month or so for nearly a decade, this major museum has given over resources and their nice theater to the whims and inspirations of a variety of prominent citizens: Menil Director Josef Helfenstein, chef Monica Pope, Houston Symphony Musical Director Hans Graf, and rapper Bun B, to name a few. Organized by MFAH Film Curator Marian Luntz, it's an interesting, ongoing experiment and uncommon community collaboration that allows for cinematic exploration through eclectic, personal choices. It's basically a movie club—a cinema jukebox with well-known, local figures at the helm and in a nice, big theater equipped for 35mm film projection. MHL screenings are definitely the more random, "wild card" choices on the MFAH film calendars. But I'm wholly in favor of wild cards (especially if they're recommended by interesting folks) and I applaud the museum for its longevity in this ever-changing program that presents different perspectives and connects people through cinematic experiences.
Later this season, FotoFest founders Wendy Watriss and Fred Baldwin and Kyrie O'Connor of the Houston Chronicle (and frequent panelist on NPR's "Wait Wait… Don't Tell Me!") will present their picks. But sooner up to bat is Contemporary Arts Museum Houston Director Bill Arning. On Monday, November 25th, Arning will introduce a favorite of his—Max Ophuls' 1955 film Lola Montès, to be shown in a newly restored, widescreen 35mm print.

Arning first sought out this melodramatic movie spectacle in the early 1990s after hearing friends—filmmaker Todd Haynes, film editor/actor Jim Lyons, and artist Anthony Viti—swooning over it. But he attributes his love for the wildly stylized, artificial, glamorous, and seductive film to his encountering and identifying with Glam Rock in the early 70s as a gay teenager. "Blame David Bowie for this passion," he says. "Bowie and Roxy Music gave me a language in which the conspicuously inauthentic expressed much deeper emotions and more profound truths than what I perceived as the navel-gazing poetics of the hippies." Seeking cinema that spoke this language of woven artifice and theatrics, Arning first found underground film. "I can't imagine having developed the sensibility I bring to my work today without Cinema Village in New York, seeing Pink Flamingos, Kenneth Anger's oeuvre, and Warhol films at Anthology Film Archives." Later, he would find glorious discoveries in the feature films of directors like Douglas Sirk and Max Ophuls.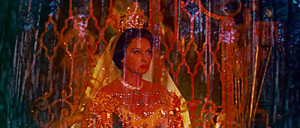 Ophuls' final film, and his only movie in color, Lola Montès is a dazzling dramatization of the life of the notorious 19th-century courtesan and showgirl, and a meditation on the perils of celebrity and the follies of romance. "When I first saw Lola, I thought it was so unlike anything else," Arning says. "The central conceit—a woman forced to repeatedly tell her romantic history as a circus act—was so outlandish that I couldn't believe this film could ever have been made. The story of Lola's loves are compelling in themselves, especially after you learn that the real Lola did, in fact, perform the stories of her loves to stay alive—even if it was only as theater, not circus." About starring "femme fatale" Martine Carol, he added, "Ophuls really uses the lack of talent and beautiful object-quality of his lead actress. Her passivity—literally being carried into scenes and told what to do—becomes an overarching metaphor for Lola's lot in life." Arning is as impressed with the ornate aesthetics and Ophuls' formal decisions. "The insanely long, curving tracking shots, the visual interruptions of the picture… The experience is visually exquisite and never boring. The artifice of this and Ophuls' other masterpiece, La Ronde, make Un Chien Andalou look like Neorealism!"

"The chance to see a restored print projected is my selfish reason for the night. I would be embarrassed if no one came, but sitting alone in the Brown Auditorium with Lola projected above me would be total pleasure…like have Las Meninas to oneself for the night." I asked Arning if there was a particular shot or scene that has really stuck with him, and he pointed to the ending. "That might be the most heartbreaking scene in cinema history." I won't spoil it with a description here. You'll just have to see this Technicolor, Cinemascope spectacle for yourself. You would not be the first to "boo" the film loudly, but you would also not be the first to proclaim it the best film ever made. It's a gamble, but I like those odds.
Lola Montès (1955, Dir. Max Ophüls, France, 35mm, 115 minutes) will be screened at the MFAH Brown Auditorium on Monday, Nov. 25, with an introduction by CAMH Director Bill Arning. More info HERE.