In contrast to my recent sprawling New York posts (1, 2, 3, 4), the following is an attempt at a leaner wrap-up of my trip to Los Angeles for bi-coastal balance. (Not covered here are two excellent exhibitions: James Turrell at LACMA and Forrest Bess at the Hammer. I did check them out, but I am assuming we are already familiar with them in Texas because of their time at the MFAH and the Menil Collection.) Without any more preamble, here are some show-by-show highlights…
Orange County Museum of Art / California-Pacific Triennial 
Curator Dan Cameron rethinks the traditional California Biennial by broadening his scope to include work along the entire Pacific Rim from Los Angeles/San Francisco, Latin America, Australia, Korea, China, Thailand, and Japan. What made the show good was the quality of some of the individual works and groupings that allowed threads to emerge without didactic themes or categories. The following pictures try to draw out a few of my own sub-themes that I noticed as I wandered through.
IMAGINED WORLDS, STRUCTURES, AND SYSTEMS
Whiting Tennis' salon-style wall of paintings, drawings, sculptures look like outsider/off-the-grid encampments with the formal dexterity of someone entrenched in Cubism. The work is rough yet elaborately precise, striking an interesting balance as monuments to a humble, off-kilter modernism.
Mexico City artist Pedro Friedeberg's surreal prints and works on paper are of intricate rooms made from text and fantastical architecture that look like psychedelic MC Eschers. Friedeberg is most well-known for his "Hand-Foot Chair" of the 1960s.
Japanese artist Masaya Chiba uses a straight-forward, realist style to paint enigmatic still lifes full of everyday objects, clumpy plaster molds, and snapshot photographs. They are like self-contained worlds and systems with odd combinations of objects to create ambiguous scenarios. In one, a pet turtle is surrounded by lion paraphernalia and reminded that he/she is "not a lion." I read this as a clever critique of Japanese isolationism; it definitely speaks to a domesticated life sealed off from a more violent, predatory world. Even if it may not add up to a grand statement, I love the personality and eccentricity of the work.
I imagine Mark Dean Veca's faux-baroque throne (pictured below) to be an exhibition favorite and consistent Facebook profile picture update. It is fun, well-done, and smartly placed at the end of a long entry space by the café.
SECOND LIVES OF FOUND/DISCARDED MATERIALS
Gabriel de la Mora removes a ceiling from an 1882 house and presents it on the wall as an abstract ground for aesthetic contemplation.
Toward a similar end as de la Mora, Honduran Adan Vallecillo recycles inner tubing from used-tire shops to create a large-scale abstract topography of patches, marks, and valves.
ACROSS CULTURES / EXCHANGES BETWEEN EAST & WEST
Kim Beom's funny video takes a Bob Ross approach to artistic agony and abstract expressionism. The calm instructor shows how each stroke is supposed to be the length of one primal scream.
Wang Guangle from Beijing updates a traditional Chinese painting technique known as "coffin paint" to create a minimal, receding black void that he slowly painted, a stroke a day over the course of several months. The process alludes to a tradition in the northern Fujian province where people used to buy a coffin when they turned sixty that they would paint with red lacquer once a year. The act was meant to celebrate their survival and to remind them of their impending death.
L.A. Louver / Joel Shapiro
I am extremely biased because I worked with Joel Shapiro on an installation at Rice Gallery. In his current exhibition, Shapiro creates a sophisticated room-sized work that plays with line, color, volume, and the architectural container (floors, walls, and ceiling) to which it is tethered. In this installation, Shapiro's elements fill the entire gallery space with an economy of means. For example, one white beam extends into the entrance/foyer area to hint at what is to come as you turn the corner into the gallery. Subtle shifts of color, line, and angle occur as you look at the work from different vantage points.
Gemini G.E.L. / Exhibition of Elizabeth Murray and tour
This was a once-in-a-lifetime experience to be able to tour the Gemini G.E.L. shop with Sidney Felsen, who co-founded the print workshop in 1966. Since then, Gemini has worked with the likes of John Baldessari, Vija Celmins, Ann Hamilton, David Hockney, Jasper Johns, Edward Kienholz and Nancy Reddin Kienholz, Ellsworth Kelly, Bruce Nauman, Claes Oldenburg, Robert Rauschenberg, Ed Ruscha, and Richard Serra on sculptural editions and prints. The word "collaboration" is often thrown around in the art world, but looking at the work that has been done in the studio, seeing Felsen's own personal photos of artists working (and often goofing around) and hearing Felsen's stories, it seemed that Gemini could be a case study of a rare, completely artist-centric place. They work with an artist through the creative process and beyond, often establishing deep, enduring relationships with artists that last an entire career.
Above is one of Felsen's wonderful photos. He said he snapped this after Rauschenberg had been printing for 8-10 hours straight and went outside for a break to ride his bike around the parking lot.
Perry Rubenstein / Candice Breitz
South African artist Candice Breitz's video installation trilogy, The Woods (2012), is a conceptually layered look at Hollywood, Bollywood and Nollywood (Nigerian film industry). In crisp, high-def video shot with professional crews, Breitz captures three scenarios:
1. The Audition (Hollywood) = In commercial-ready inflections, aspiring child actors deliver motivational and often generic instructional messages by acting gurus on how to nail an audition and keys for acting success.
2. The Rehearsal (Bollywood) = Slightly more established child actors in Mumbai recite platitudes taken from an interview with a famous Indian film star pontificating on his success and celebrity.
3. The Interview (Nollywood) = An interview done with two adult actors, Chinedu Ikedieze and Osita Iheme, who are little people and have achieved widespread fame by playing children in popular African movies.
The result of the trilogy is something both heartwarming and slightly creepy as precocious children dream big and also robotically mimic adults. At over three hours, I could not watch the whole thing, but I will have another chance since it will be shown at Blaffer Art Museum in the Spring of 2015.
Matthew Marks / Tony Smith
Some might think this looks incredibly boring, but I loved the way it suited Matthew Marks' space. The rectangular blocks were just above seven feet high, and their simple configuration had a wonderful way of opening into angles and small passageways and closing back into a unified form as you moved around the sculpture.
I also LOVE Tony Smith's Smoke sculpture in LACMA's entryway (below) …

Hannah Hoffman Gallery /  Jorg Immendorf
I liked this collection of odd objects and paintings from the 1960s, some leftover from Immendorf's happenings, partially inspired by his teacher Joseph Beuys. They are seeped in political absurdity, like the block painted with the German flag and marked with Immendorf's made up word "Lidl," which is defined as the noise created by a baby's rattle. Immendorff was actually arrested when he paraded in front of the parliament building in Bonn, dragging this painted wooden block (above).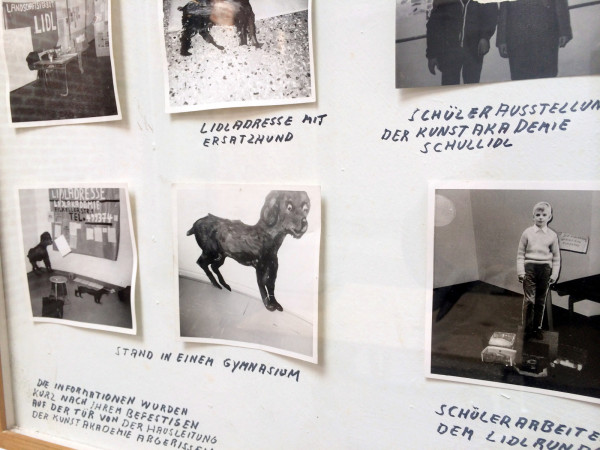 David Kordansky / Lesley Vance
Lesley Vance's small-scale, sophisticated paintings felt like dense, internal worlds made through an extremely sensitive attention to material and technique. Tightly rendered in smooth scrapes of smeared/blended color and contrasted with denser, monochromatic pools and slivers, they reminded me a little bit of a cross between Arthur Dove and Georgia O' Keefe. Difficult to describe, but very nice to look at.

Machine Project / Alvarado Caverns and Mystery Theater
As part of Machine Project's "Machine Transformations" series, Chris Weisbart camouflaged the art space as a convenience store. Once inside, it reveals itself to be anything but a run-of-the-mill bodega. A bombed-out bathroom leads to a cave equipped with Disney inspired/haunted house DIY special effects and a descending spiral staircase to a stylized theater. I wish I could have caught a performance, but I got stuck in the never-ending LA traffic. This blog post on Gizmodo sums up the experience well with more images.
LACMA / David Hockney, Seven Yorkshire Landscape Videos, 2011
David Hockney's sensual videos of seven Yorkshire landscapes is worth visiting. Hockney hooked up eighteen high-def cameras up to a car that slowly moved through and captured fragmented views of different types of landscapes, from dense vegetation to rural forests/hillsides. Thought about in tandem with Hockney's paintings, it gives the wonderful sensation of the painter's roving eye.
One of my favorite things is strolling through works from the permanent collection and coming across random finds. Tauba Auerbach's amazing RGB Colorspace Atlas (Volume 1, 2 & 3), 3,200 pages of digital offset printing on "Mohawk Superfine" paper, is currently on view in LACMA's installation of some pieces from their contemporary collection.
Unfortunately my trip was unexpectedly cut slightly short, so I did miss some things on my agenda. Los Angeles appears to have a lot of new spaces that are popping up over the last few years. Here are a few that I had hoped to visit: 356 Mission, Francois Ghebaly Gallery, Night Gallery, Weekend, and Public Fiction. Until next time …